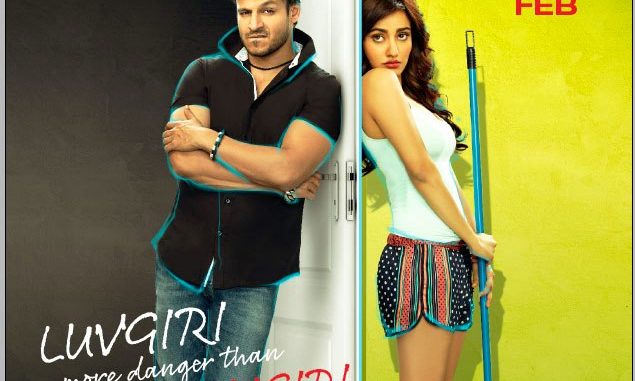 Movie Review
Jayantabhai Ki Luv Story
Cast: Vivek Oberoi, Neha Sharma, Nassar, Zakir Hussain
Directed by: Vinnil Markan
Review by: Faisal Saif
Ratings: * * 1/2
What do you do when the Recession Period hit's you hard and you are forced to adjust with your Life? What do you do when your Luxurious Life-Style brings you down to the Mumbai-Slum area? What do you do when you find out that you have a 'Gangster' as your Neighbor?
Jayantabhai (Vivek Oberoi) is a Gangster in Mumbai with a Heart of Gold. But that doesn't mean he cannot bash up 20 people at the same time. Simran (Neha Sharma) is a cute girl who works in Mumbai on a High Post and lives her life lavishly till the day 'Recession' hit's her company. Simran is forced to give up all her Lifestyle and after a long struggle she finds a new home in Mumbai's Slum Area. A place that she was never ready for.
Destiny gives her a 'Surprise' of Jayantabhai as her Neighbor. Opposites attract and Jayantabhai falls in love with Simran. Simran too get's attracted to Jayantabhai's Gangster (Bhai-Giri) style.
As far as the Performances goes, Vivek Oberoi and Neha Sharma sizzles on the screen. They try and churn out an amazing chemistry which goes with the accurate flow. You might have seen Vivek performing a 'Gangster' several times on the Big Screen. But this time you are sure to fall in love with Jayantabhai especially for his funny lines such as "Huaa toh Huaa, Warna Maal-Puaa". Neha Sharma is an actress who is full of Promises, And will go a very long way in the coming days. Rest of the cast including Nassar and Zakir Hussain are effective and good.
Vinnil Markan shows full command to his script. Especially for a 'Feel-Good' and genuine From-The-Heart first half. The second half of the film is little slow and dragging at many points. Cinematography is eye-catching. Musically, Sachin-Jigar shows promise once again. Editing part was the important factor that required some concentration.
Jayantabhai Ki Luv Story is a cute and funny movie that deserves a view. The film also has some enjoyable moments, But has a dragging Second Half too.