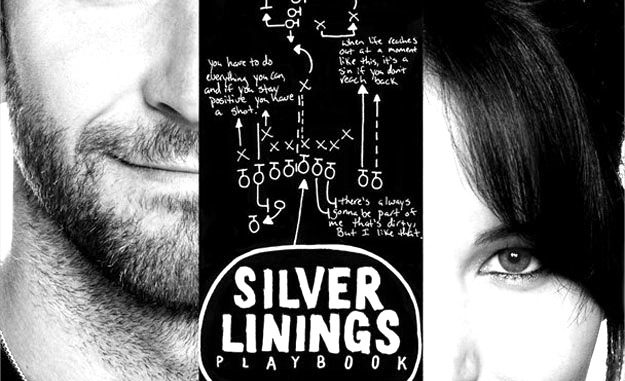 Movie Review
Silver Linings Playbook
Cast: Bradley Cooper, Jennifer Lawrence, Robert De Niro, Anupam Kher, Chris Tucker
Directed by: David O.Russell
Review by: Faisal Saif
Ratings: * * *
The film is directed by David O.Russell who had earlier made critically acclaimed 'Three Kings', Silver Linings Playbook has 8 Academy Awards nominations with some of the most respected and Top-Notch actors with breath-taking performances.
Patrizio "Pat Jr" (Bradley Cooper) a man with bipolar disorder. Pat Jr was sentenced to a mental health facility by the courts after brutally assaulting the man his wife, Nikki, was having an affair with. After being released from Baltimore Mental Health facility, Patrizio hopes to get back together with his spouse while being counseled by his court restricted therapist Dr Cliff Patel (Anupam Kher), who tries to keep Pat Jr grounded in reality.
Not to forget, A wedding-song was being played when Pat was assaulting his wife's Lover.
But Pat Jr finds it difficult to stay balanced especially whenever he hears his wedding song which causes him to lose all control. He also finds it difficult to now live in the care of his parents, especially his unemployed and crazily superstitious father Patrizio "Pat Sr" Solitano (Robert DeNiro) who tries to fund his restaurant dream by betting on football games featuring his favorite team. Patrizio Sr also craves to spend sometime with his son Pat Jr.
Pat Jr is set up with his best friend's sister in law Tiffany Maxwell (Jennifer Lawrence) a recovering sex addict who lost her job and her direction after the death of her husband. Both Pat Jr and Tiffany are seemingly made for each other even though Pat Jr continues to long for his wife.
Bradley Cooper as Pat Jr and Jennifer Lawrence as Tiffany Maxwell are class apart. In fact, It is said that Tiffany's part was also discussed with Angelina Jolie and Anne Hathaway. But Jennifer Lawrence lived the role to an extent. Robert De Niro is amazing as usual as the father Pat Sr. Anupam Kher makes a huge impact as the therapist despite of the presence of a challenging talent in front of him. Chris Tucker has a small, But a meaningful role.
The film follows a very sweet, comical and meaningful journey, But in the last minutes, It loses its originality pertaining to used plot devices and an ending so sickly sweet that it looks like more of a 'Bollywood' film. With eight Academy Award nominations, Silver Linings Playbook features some excellent performances from its entire cast.
You can watch this film with your loved ones as this one doesn't give you a Bore View! A pure 'Valentine' movie to look forward to.