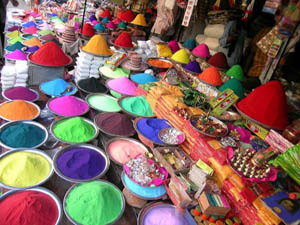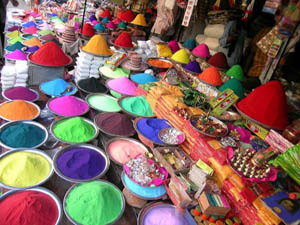 Think if
Holi
was about a single colour. How dull would be the local outlook, the little happiness of playing with colours. Wishing one another 'Happy Holi' by smearing
colours
would become limited to a simple ritual.
The fact is, Holi is Holi because of the super colourful smorgasbord of dry colours, or gulal as we lovingly call it. They charge up the mood and the overall atmosphere with their enthusiasm, while drawing the closeness to them.

But there is significance of these red, blue, yellow and green of Holi; do they hold a unique meaning? For some it is a time spent with family and relatives, while there are others who feel Holi is a day of love. A day when colours speak
…sometimes, the language of the heart.

'Gimme red'

"Red is the ultimate colour of love," said Ashrita, a first year student of Political Science, who intends to spend holi with her friends at a farm in Lonavala. "I am going to keep loads of red gulal with me and use it on my boyfriend. He would instantly know what I want to say with it," she gushes. But Ashima believes that holi is about how artistically you use colours and what communication you want to sound. Particularly why she has painted her bedroom walls red with freehand golden strokes in preparation for holi. "This is my way of surprising my friends and getting them into the mood for the festival of colours," she says.

Though blue stands for calm, solemnity, it is also believed to be the colour of the thinking mind. The colour blue has often been linked with a gloomy state of mind, but 'holi blue' has a different connotation altogether. Ritwick, a student of 12th class said, "The colour blue describes me best, and this year for holi I have got different shades of only blue." But what is most inspiring about Ritwick's way of doing holi is the fact that he has fabricated up the colours at home, together with his friends. "We are a group of blue-loving folks who thought of painting our world blue for a day by of course raiding our kitchens," he jokes.

Green…amen!

Vitality is one aspect of the colour green, but for some green is a way of reliving old happy memories. "By a strange coincidence, on our second date, my boyfriend and I ended up gifting each other green-colour stuff. He got me a lovely green cocktail dress, and I, a moss-green tie," says Mithila, a manager with an American bank. "Till today we can't stop laughing about it; how we both managed to keep the gifts a surprise and yet got the same colours," she says. So this holi she is planning to use green gulal on her boyfriend and remind him of their most memorable evening together. "This is my way of teasing him, only I shouldn't get surprised in return," she quips!
'Mellow with yellow'

"Yellow is the colour of sunshine, the colour of happiness and the colour of love," says Sushmita, pursuing a degree in fine arts. In preparation for holi she has painted a few pieces of earthen pottery a sunflower yellow. "I have tossed them in a corner in the living room, they look so beautiful and happy," she says. "I have also used turmeric powder among other ingredients to churn out a packet full of organic yellow colour. Though I am not much of a holi player, I wish to colour my people, especially my fiancé with this lovely, warm colour," she explains.

'Feminine in pink'

"My girlfriend has asked me to colour her with only pink gulal this time, not to mention pink is her favourite colour and she can't stop obsessing about it," shares Gaurav, a team leader at an insurance firm. Pink is not just another girly shade, its vibrancy is enough to spread joy around. Small wonder, pink is the most preferred gulal colour, what with all and sundry sporting a sachet of pink gulal. "Pink makes a bold statement, it is both decorative and volatile," says Stuti, a second year student of commerce who has already shopped for pink accessories like a hair band, earrings and belt as a part of her holi getup.

'Uniquely purple'

"I
love
the holi purple, unfortunately not many vendors stock this colour of gulal," says Sanjana, a teacher in kindergarten, who has been scouring the markets for the past couple of days for a packet of rich purple powder. "It's not that I haven't other colours on me. But violet turns out to be my husband's favourite colour and I want to keep the colour just for him," she shares. "That'll be my 'I love you' message in true holi style," she is quick to add.

'An orange revolution'

"I have recently upholstered my room in shades of orange in the run up for holi," says Sharmistha, a PR executive. Not just that, she has even stocked up a few pouches of organic orange colour for her friends when they come to see her. But for Arunima, a content writer with an online travel company, orange is the perfect holi colour, also because it is the colour of a deliciously ripe papaya, and it's already season for it!
Article viewed at: Oye! Times at www.oyetimes.com