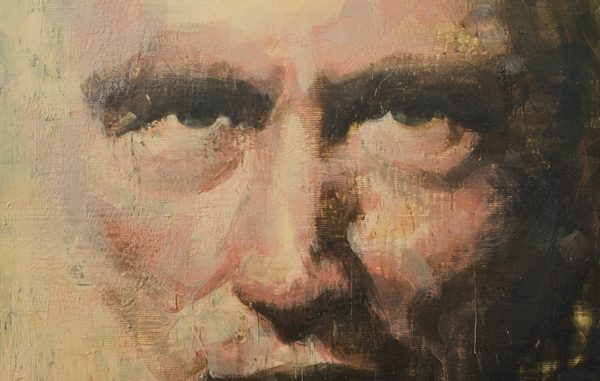 You can publish this article on your website as long as you provide a link back to this page.
This article was last updated on April 16, 2022

Black October – An imagined social and historical context of terrorism and the suspension of human rights in Canada

Tony Scherman uses pigment and oil paint infused melted wax which is a method known as encaustic painting to create larger than life canvasses of historical figures and events. In the show that runs to November 26th at the Georgia Scheman Projects the artist focuses on late Prime Minister Pierre Trudeau's response to the kidnapping of Pierre Laporte, arguably the first challenge to Peace, Order and Good Government since the hanging of Louis Riel.
The approximately seven foot by seven foot Trudeau images are juxtaposed against smaller canvasses of Trudeau's celebrity lover Barbara Streisand, his arch nemesis Renee Levesque and representations of the catholic church which is widely accepted as being the defining influence in Trudeau's life.
Scherman has previously dealt with historical subjects and events such as Napoleon, the French Revolution, Abraham Lincoln, the scourge of new world slavery, the War Between the States, and Hitler's sex life.
Scherman's daughter Georgia who is in her own right a widely acclaimed curator, art dealer and the owner of the Georgia Scherman Projects has also chosen to include much smaller portraits of Marx and Machiavelli in her father's exhibition to further emphasise the complex character of the Canadian prime minister who was arguably the most beloved and the most hated leader of the country, and irrespective of which view one those view one holds, certainly forced Canada to grow-up and made Canadians take their rightful place in a new world order previously unimagined but now taken for granted.
Scherman demonstrates his mastery of the art by startling the viewer with the ability that encaustic painting permits of rich layering that creates a sense of depth and vibrancy on the finished surface which is unachievable with water colour or oil.
The method of encaustic painting was used in the early post Christian period by Greeks and Romans for portraits and decorative panels and then forgotten. This art form which was revived in the 1950's by Jasper Johns has been taken to a completely different level by Scherman who has been experimenting and perfecting this ancient method of mixing oil paints, pigment and wax. The technique requires lighting fast application of the pigmented wax on to the stretched canvass with only the ability to make minor changes with a hot iron. Critics have variously described Scherman's workas being "subtle", "startling", "elegant" and "gritty".
The paintings titled "Conversations with the Devil" and "The Death of Pierre Laporte," speak of and to a time of unprecedented social, linguistic and political strife in Canada that forced us to come of age as a nation. When I was studying law at McGill University 20 years after the October Crisis, francophone classmates described to me the very painful feeling of being the "other" when they beheld Canadian soldiers with automatic weapons at each corner of Peel and Sherbrooke streets in the heart of Montreal. As with all great art the absence of knowledge of this context that underlies this project may make the exhibition less meaningful to some.
Scherman obtained his Masters degree from the Royal Academy of Art in London, England. Before to restricting himself to the wax medium he has worked in other mediums, taught, lectured travelled the world and exhibited his work.
My favourite is the sombre and yet uplifting miniature portrait of Barbara Streisand smiling, perhaps laughing in the knowledge that she knows more about our leader who is her lover than we know. The miniature of Renee Levesque brings to mind a portrait of an enigmatic youthful Shakespeare yet to surprise the world with his creative or destructive convictions and talents. The painting of an unusually beautiful catholic nun from an unidentifiable order exudes the hidden and forbidden sexuality familiar to those who encounter women wearing the Hijab in some Middle Eastern countries. One cannot but help wonder whether the only thing that protects this Bride of Christ from the chaos of everyday life, other than her robes, is a wisp of cloth designed by Victoria's Secrets.
Tony Scherman: "Black October" continues at Georgia Scherman Projects until November 26. The Gallery is located at 133 Tecumseh Street, one block west of Bathurst Street and one block north of King Street in Toronto.
Viresh Fernando is an itinerant writer, lawyer and chartered accountant based in Toronto, Canada
Article viewed on Oye! Times at www.oyetimes.com