Award winning colossus of choreography, Longinus Fernandes, who choreographed the dance for the song 'Jai Ho' from the movie 'Slumdog Millionaire' was recently in Brampton, Ontario at Tré Armstrong's (judge on 'So You Think You Can Dance Canada !') new dance academy to kick off the Bollywood dance classes.
Q. Did you or anyone ever think 'Jai Ho' would become a world- wide hit?
LF: Absolutely not. Nobody did. And it is thanks to the people's choice award here at The Toronto International Film Festival that the song and movie reached the heights it did! A big 'Thank You' to you Torontonians!
Q. Do you think that Bollywood dance is here to stay in North America ?
LF: 110%! It most certainly is! Look, even a pure Canadian like Tré is incorporating it in her new dance academy- A New D.A.I.E. (pronounced DAY). This is only the beginning of a new AGE! Imagine the International Indian Film Academy (IIFA) awards ceremony in Toronto earlier this year was sold out in a matter of minutes!
There will be many more Hollywood films starring Bollywood heroes and vice versa. An imminent release is MI: IV starring Tom Cruise where Anil Kapoor has a cameo.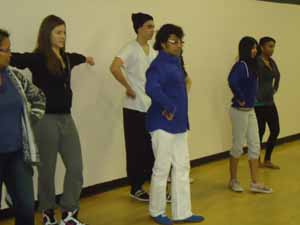 Q

. How do you feel about being invited to a Canadian celebrity's studio to conduct classes?
LF: It is without doubt a great honour! Tré has been so kind as to ask me to come here. I was in Dubai working on the choreography of the film 'Unforgettables' by Arshad Pathan and just flew in from there.
Q. How do you feel about not being mentioned in the credits of the original release of 'Slumdog Millionaire?'
LF: Oh, I felt very sad and did not know how to broach the subject to Danny Boyle. However I did finally muster the courage to approach him and Danny, with the heart of gold that he has, promised to more than make it up for me and mentioned me at the Oscars and from then on it has been upwards for me! I have collaborated in so many films, both Indian and foreign, including Julia Roberts'- 'Eat, Pray, Love!'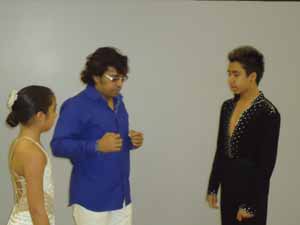 Q.
What are your plans for the future?
LF: Keep on doing what I do and spreading the good word about Bollywood dance and music. Make use of all the opportunities that come my way and the rest will follow!
Following the short but insightful interview, Longinus went on to do what he does best; teach students how to dance and show his inborn prowess in choreography, including how to cross Bollywood's dance style into Latino salsa which is gaining more and more popularity in Bollywood films.
Article viewed on Oye! Times at www.oyetimes.com