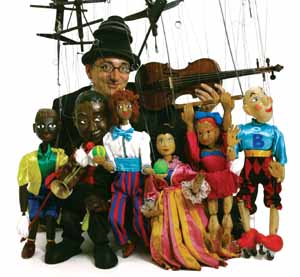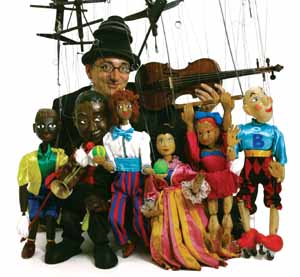 I attended a children's puppet show at the Sanford Fleming Building at 10 Kings' College RD. where Mr. Bruno Descaves performed with his group of puppets called the Tropical Troupe. Yes, the auditorium was a free show and was open to the public. On Saturday, he is doing a show, but it is a private event.
In the opening, Mr. Bruno came out bedazzled in a court jester costume, opening up with one puppet acting a tight rope type walker. The Lou Armstrong puppet was next and performed a 'What a Wonderful World' rendition. He used another character called mamma's puppet which blew up a balloon and floated, gaining an applause. Descaves is very imaginative and joy to watch, especially for children.
During his performance, he entertains all by making warner bros style cartoon noises into his handless mike, while creatures from the Australian outback can be heard. He is quite imaginative, reminding me of Mr. Dress up, a late Canadian children's performer! A dancing octopus played the drums to an Eurythmics song, while swooping over the audience members, all on strings. At intervals, he played the violin. The juggler puppet was another imaginative creation.
In another scene, a kid from the audience volunteered forward and he showed the child how to pull the strings on a contraption that operated a group of puppets which formed a music band on strings. "For children it is a beautiful show," someone told me beside me, while admiring the show. Sumba the dancing puppet followed. "Very artistic for children," came more positive feedback from another. Mr. Bruno keeps the show going by playing the violin, pulling the puppets ahead of him, making the music band of puppets play before us. Very imaginative!
My favorite was the Lou Armstrong puppet and Sandra The Trapeze puppet, who with the pull of the strings resembled a character from a circus, sailing through the air. He then tried to end the show on a gypsy serenade with his violin. Yes, he enthusiastically did an encore to the Beatles' song Let it be and twinkle twinkle little star, gaining more acclaim!
After his performance he had a question and answer with the audience. All the puppets are especially handmade, rare, and life like. Mr. Bruno is from Brazil, where he lives with his wife and family. He started making puppets when he was six years old and it was a paper Mache puppet of a princess. He later went into making mini machines for the science fair and travelled around, playing the violin. He went to Japan, became fluent in Japanese, made puppets, went to Australia, and created the Lou Armstrong puppet in LA. He studied puppets with what he called The Puppet Masters. "It is good to have strict teachers," he said. "With discipline and hard work, you will learn a lot and feel very good." He started doing puppet shows when he was age 27, or age 28. Mr. Bruno learned the violin at age fourteen. "Working with hands makes me feel good."
His accent was difficult to understand at times because people were asking him questions all at once. But I do understand he admitted to doing 60 shows a year in China, at once 4000 kids came to a show, amazing him. Mr. Bruno admits he has a physics degree. "Studied nature and what is real. In the end everything is the same. Physics includes particles and waves.
Everything is connected when you study physics—you have authority. This world is not just matter; there is more than what you see. More you study; it is a grand old world you feel." In his own roundabout way, he explained through his background in physics he brought the puppets alive. This is his first time in Canada and he has been to fifty-six countries. "Every country is like a flower," he continued. "They all smell differently." He left Brazil on October 27th to be back in two months. Mr. Bruno actually owns a photography studio back home where he finds himself stuck behind a computer. The puppetry brings him the physical activity, hard work, and the exercise that goes with it, bringing joy to his life and to those he performs for.
According to his website, he is performing in Toronto until December 21st. It is worth to attend if you have children. For more information go to http://mrbruno.net/ .
Paul Collins, author of Mack Dunstan's Inferno / Mystery of Everyman's Way