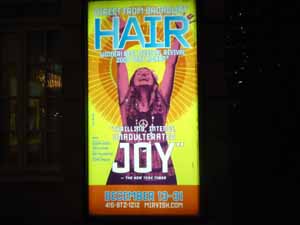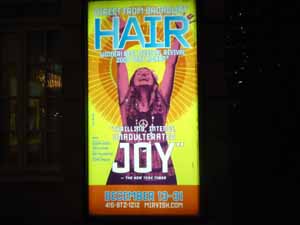 Opening to a packed house on Dec 13 at the Royal Alexandra Theatre in Toronto, '
Hair' ,
the Tony award winning revival of one of the 60s' great musicals, enthralled the enrapt audience as many attendees relived the hippie era.
The play vividly depicts a pivotal and indelible moment in America's history and culture- The Vietnam War- that gave rise to many questions, movements and ideas that are still relevant today such as pollution, war and social injustice among many others. A time when the indomitable youth in all its blissful exuberance and painful agony challenged established norms and customs and questioned government policies. A new dawn that gave rise to avant-garde notions such as 'if you can't be with the one you love, love the one you're with', mach-speeding the female liberation movement and more. It was a time of fast changing social mores.
All this is fabulously presented with intense energy by the performers who frequently interact with the audience, even handing out flowers for the spectators to sport in their hair and to join in being a flower child. The main focus is on a student, Claude, who has received his draft card summoning him to the army to go fight the 'yellow man to protect the country that the white man stole from the red man'. Claude is torn between his parents' wishes for him to go join the armed forces and joining his friends in burning his draft notice and defying the order. Confusion will be his epitaph…or will it?
Yeah , let your hair hang down and go check out this informative and in your face magnificent play with amazing renditions of all time musical favourites and hits like 'The Age of Aquarius', 'Hair', 'Easy to be hard', 'Good mornin' Starshine', 'Let the sun shine in' and more! It will definitely make your evening!
The musical runs through till Dec 31 at the Royal Alexandra Theatre.
Article viewed on Oye! Times at www.oyetimes.com