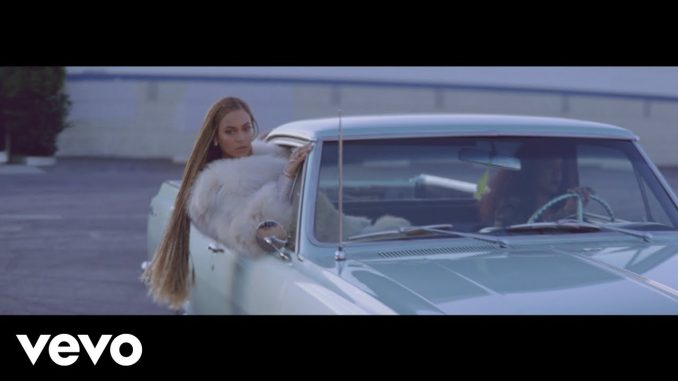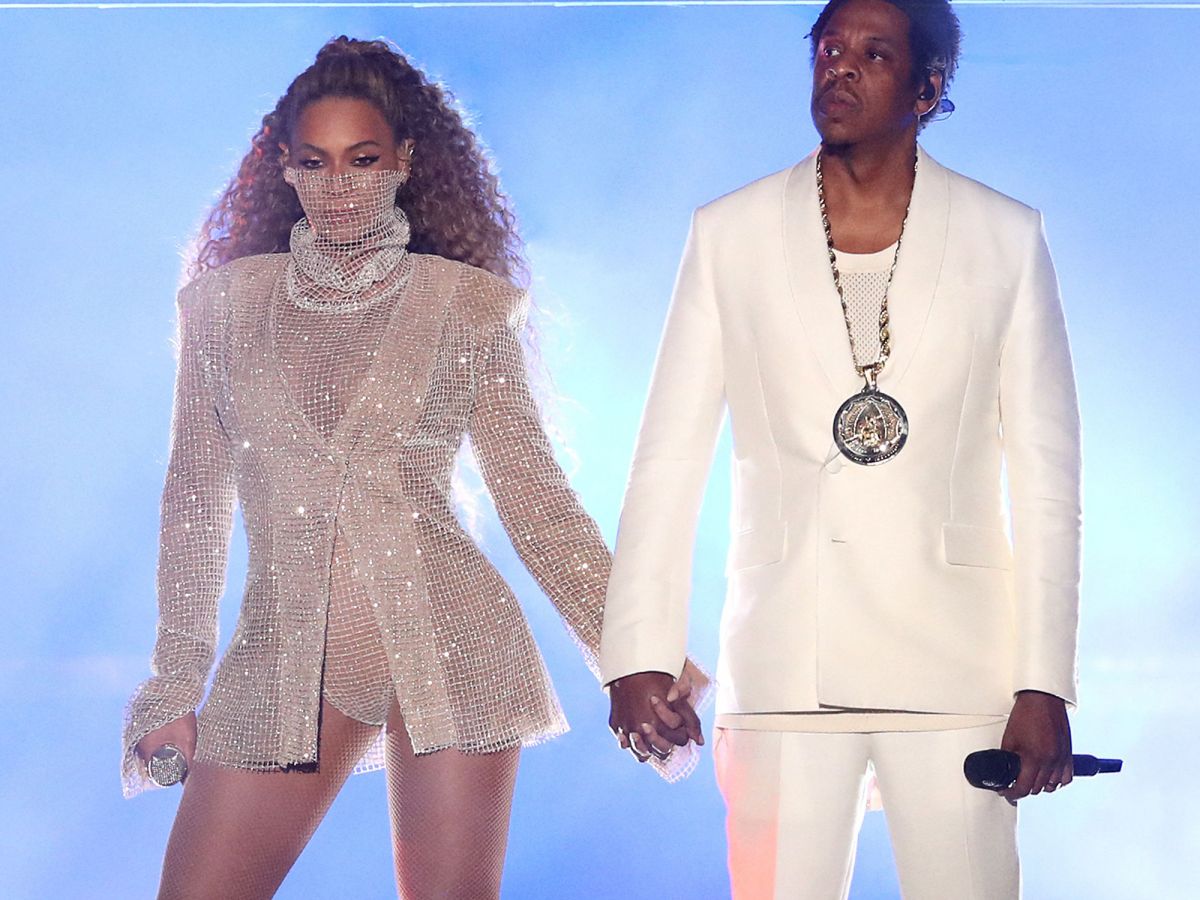 When Beyoncé and Jay Z dropped Everything Is Love this weekend, they reminded us that they are untouchable. After all: who else can you imagine renting out the goddamn Louvre for a music video?
The star couple took us on a specially curated tour of the Parisian museum in their video for "APESHIT," featuring everything from the Venus de Milo to the massive Galerie d'Apollon (which offered up a close-up of Bey's star sign, Virgo). Over a dozen works were featured in the video — not to mention close-ups and detailed shots — and, as with everything Bey and Jay do, there's so much more to it than just a gorgeous image.
Here, we unpack why the power duo may have included some of the artwork they chose in "APESHIT," and break down its historical meaning versus how the Carters use it.
Don't try this in the Louvre with a selfie stick.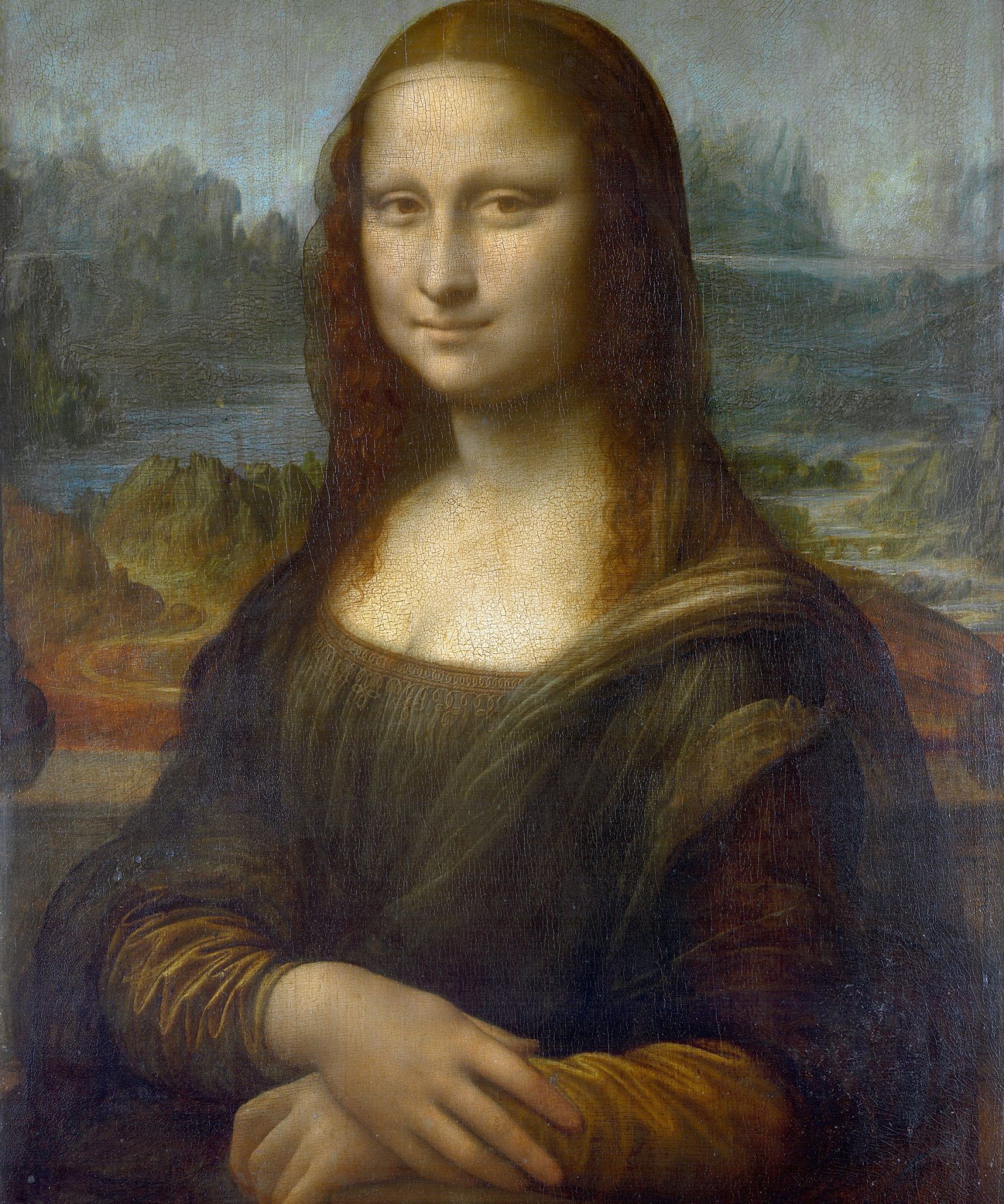 Mona Lisa, Leonardo da Vinci (1503-19)
Be it for scholarship or selfies, when you go to the Louvre, you see the
Mona Lisa
. This is exactly what
Bey and Jay did four years ago
, following the birth of baby Blue.
Twitter memes and jokes aside, the contrast between that image and this one is striking. As always, the Mona Lisa remains suspended in time, coyly smiling to herself as she has since the 16th century. But Beyoncé and Jay Z make no secret of their own growth, personally and creatively. "APESHIT" opens with Bey and Jay standing in front of the iconic da Vinci yet again, hand-in-hand, gaze locked on the camera, and we see their star power in full effect — so compelling that La Gioconda herself blurs in and out of focus behind them, her gaze following the pair as if to say, Game recognizes game.
In flexing their dominance, Bey and Jay also relish their role in shaping our popular culture. At one point, a young Black couple sits before the painting, a woman gently picking a man's afro — giving Black culture the same weight and importance that we give the Mona Lisa, what is otherwise our default for greatness.
Photo: VCG Wilson/Corbis via Getty Images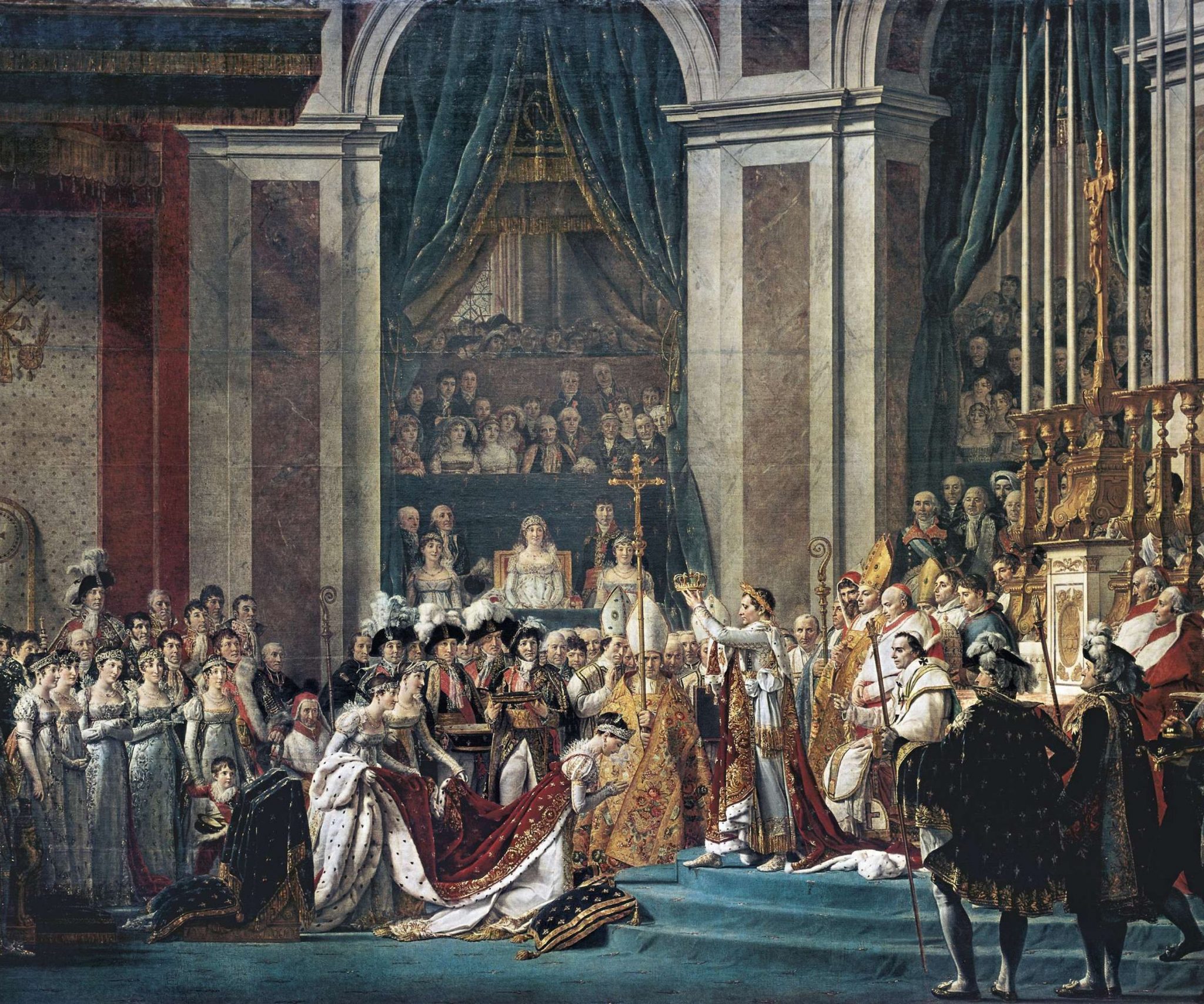 The Coronation of the Emperor Napoleon I and the Crowning of the Empress Joséphine in Notre-Dame Cathedral on December 2, 1804, Jacques-Louis David (1806-07)
When appointed Emperor, Napoleon did not let the church crown him. He crowned himself, audaciously asserting himself as independent in every sense, then proceeded to crown his wife Josephine as his Empress.
The layers here can go on forever. Napoleon, firstly, was not exactly self-made — his rule was built off of stolen land and the exploitation of Black and indigenous bodies. Josephine was born in the Caribbean to a wealthy white Creole family — while their connection likely begins and ends with French colonialism in the Americas, her history is probably not lost on Beyoncé, whose ancestry on her mother's side is Louisiana Creole.
In the video, Beyoncé is flanked by a line of Black women linking hands together in a show of strength before the massive painting, and their presence alone debunks its narrative. Beyoncé stands right in front of Josephine, appearing as though she is to be crowned instead.
Photo: AISA/Everett Collection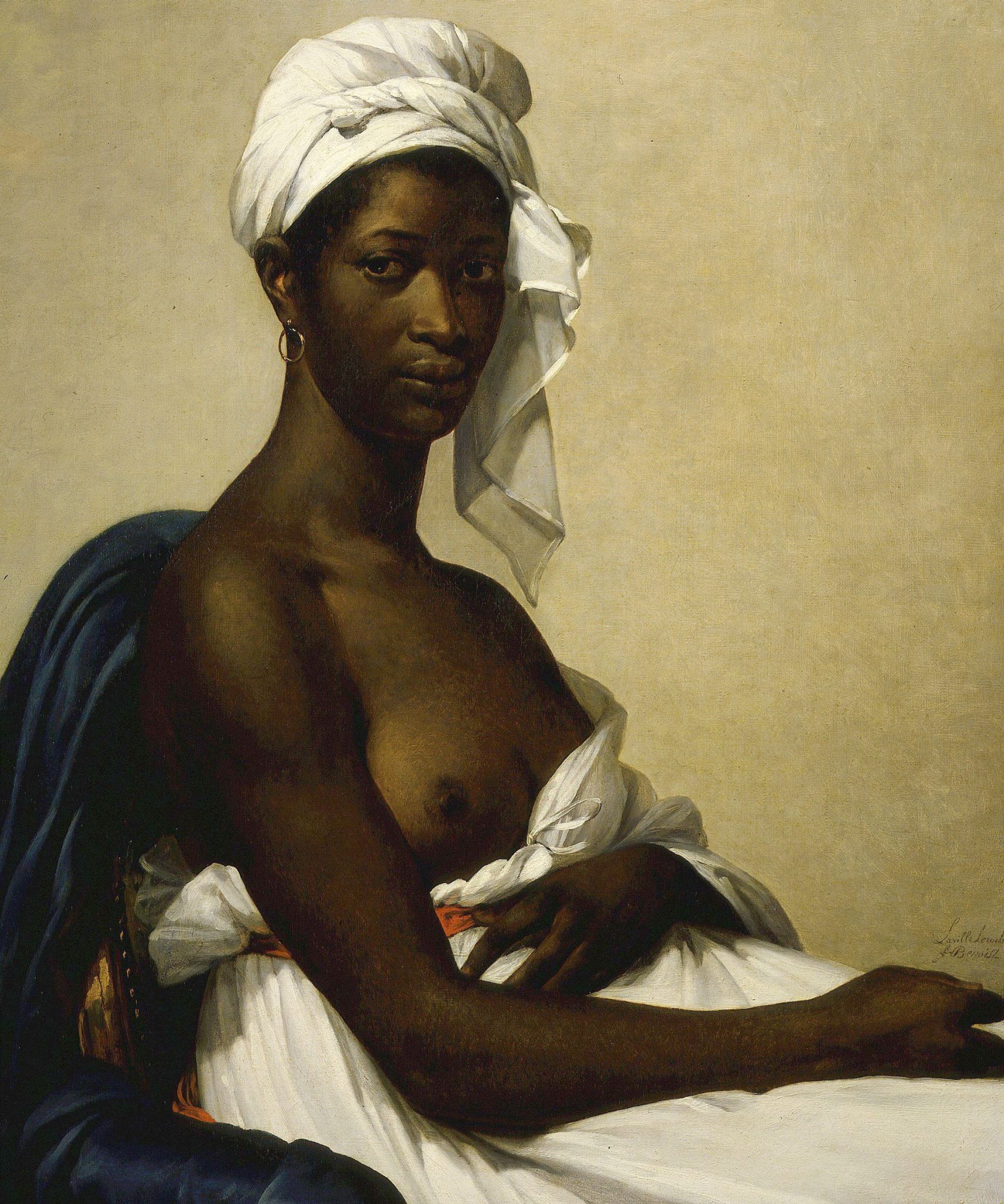 Portrait of a Negress, Marie-Guillemine Benoist (1800)
Judging by its extensive collection of classic Western art, one can guess there likely aren't many images of Black people in the Louvre, and what images do exist likely depict Black bodies in slavery or servitude. So Bey and Jay's decision to show Benoist's
Portrait of a Negress
is deliberate and profound, as it is a painting that centers on a Black woman without depicting her in any state of subservience.
However, it also spotlights the glaring lack of Black art, full stop, in the Western canon. Not much is known about the sitter, including her identity — and that omission others this woman, diminishes her importance, and shifts the conversation to the (white) painter, or to the Louvre, or to any number of otherwise accepted subjects within our major artistic institutions. The inclusion of Portrait of a Negress in "APESHIT" isn't necessarily to highlight how revolutionary this piece is. It's to highlight how elite circles deliberately exclude non-White bodies and identities in the first place.
Photo: Alfredo Dagli Orti/REX/Shutterstock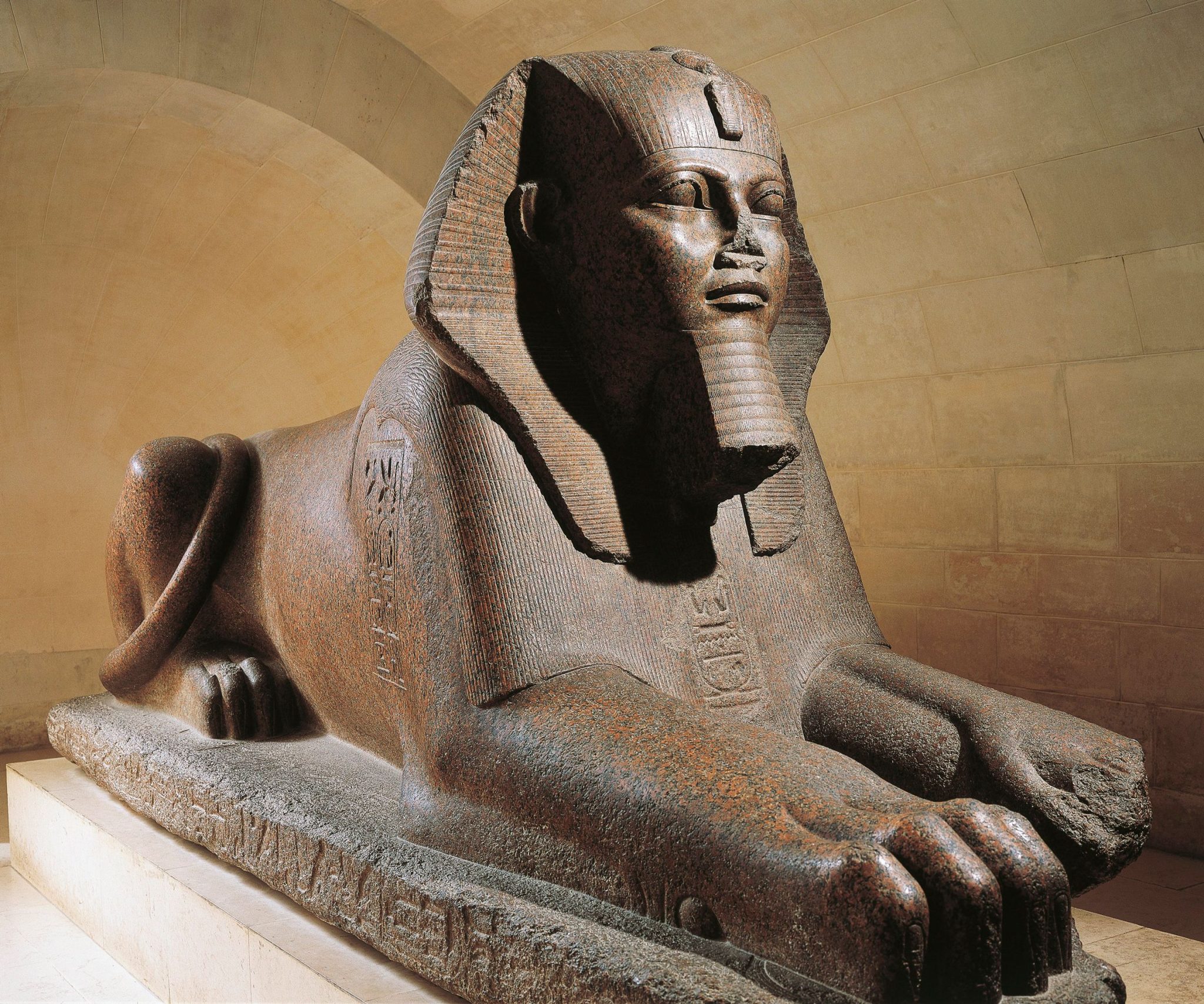 Great Sphinx of Tanis(c. 2600 B.C.)
In "BLACK EFFECT", Beyoncé raps, "I will never let you shoot the nose off my Pharaoh." It's likely a reference to the Great Sphinx of Giza: its nose was pried off at one point, and popular myth suggests Napoleon's forces broke it off with a cannonball while establishing a French presence in Egypt.
That history comes rushing to the forefront as Bey and Jay stand before the Great Sphinx of Tanis. The Great Sphinx is the crown jewel of the Louvre's Egyptian wing — and isn't that, in itself, such an unnatural sentence? The sphinx recalls countless other pieces of African art and culture that often stand isolated, sanitized, and exotified in major artistic institutions like the Louvre — which, for better or worse, uphold a history of Western dominance and exploitation by colonialist forces, just like Napoleon in Egypt.
At this moment, Beyoncé and Jay Z call out the disparity, but they go one step further: welcoming a crew of dancers to join in celebration, they reclaim it.
Photo: DEA / G. DAGLI ORTI/De Agostini/Getty Images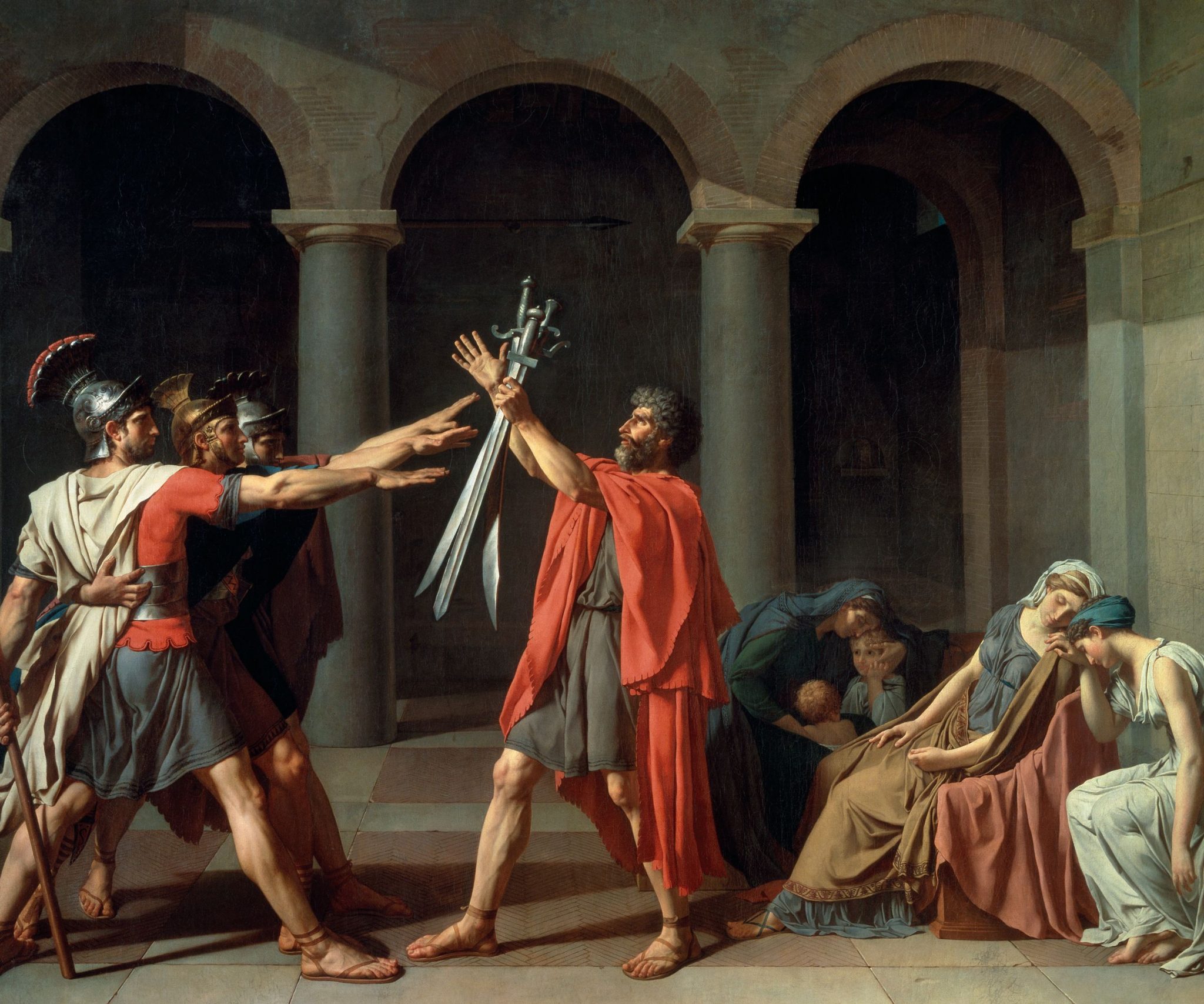 The Oath of the Horatii, Jacques-Louis David (1784), and Hermes Fastening His Sandal(c. 100)
Between lavish shots of the Louvre and our starring couple, the "APESHIT" video cuts to scenes of young Black men gathered together — arms outstretched in unity in one shot, their gaze resolute as they kneel together in another (a clear and obvious allusion to the NFL's ban of kneeling during the National Anthem).
David's Oath of the Horatii and the Ancient Roman statue Hermes Fastening His Sandal neatly and almost literally reflect both images. Horatii is a well-known neoclassical depiction of brotherhood rooted in Roman legend, where three young men pledge themselves to fight and risk their lives for the good of their nation. Hermes is a bit more playful, as the statue catches the god as he slips on his sneakers — a very human thing to do, in a moment of vulnerability — and his pose strongly resembles Colin Kaepernick's one-kneed kneel.
Photo: PHAS/UIG via Getty Images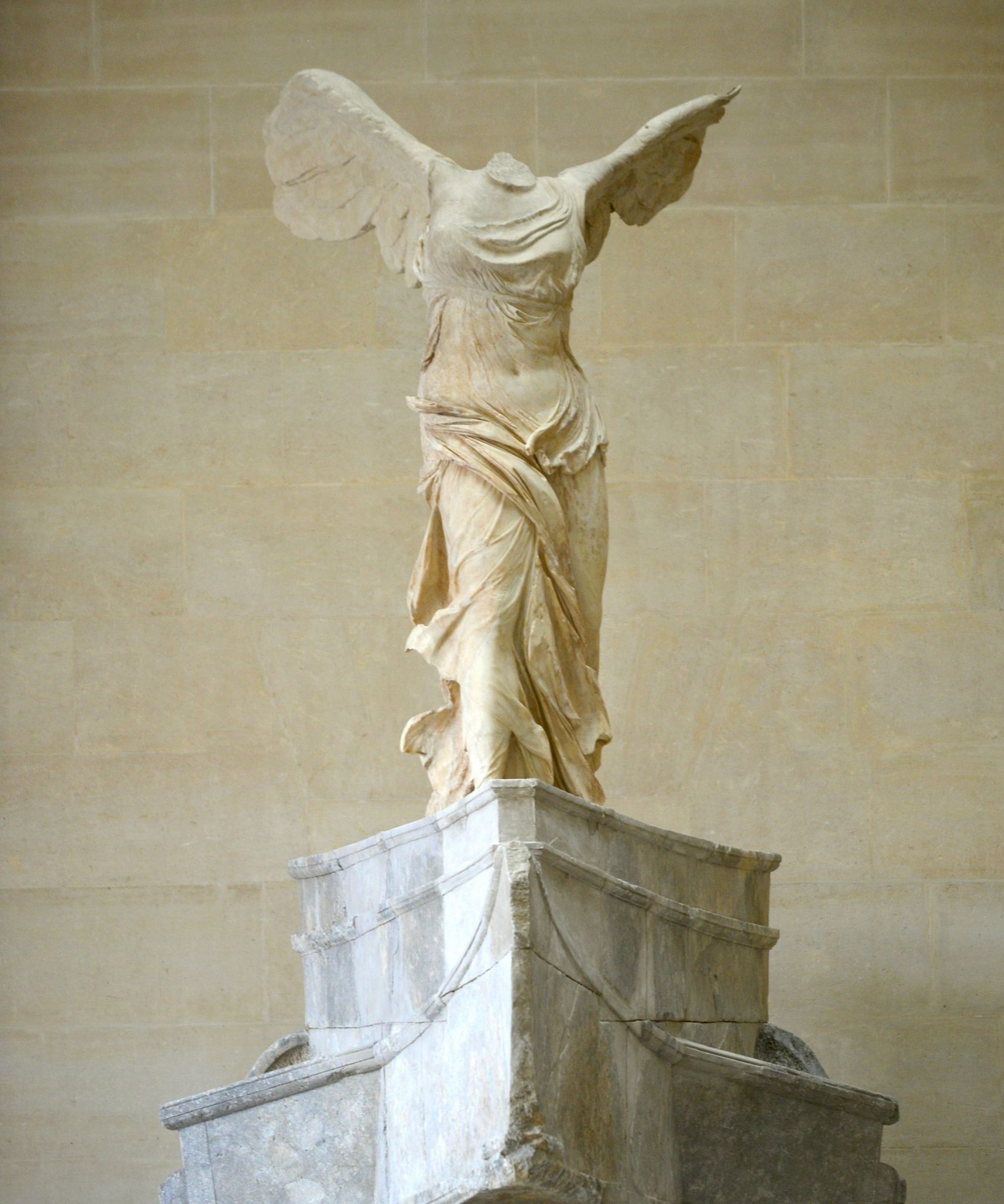 The Winged Victory of Samothrace(c. 190 B.C.)
This Hellenistic statue of Nike captures the winged goddess of Victory midstep, wings outstretched as she triumphantly watches over a vast staircase in the Louvre.
Winged Victory
originally oversaw the Sanctuary of the Great Gods on the island of Samothrace, and the statue was built to make Nike appear as if she stood on the prow of a ship, addressing her people — not unlike
Bey and Jay doing their thing onstage
before countless adoring fans as they continue their
On The Run II tour
.
Only the most iconic of icons, like Audrey Hepburn and now Queen Bey, have truly embodied Winged Victory 's confidence and grace. Decked out in layers of white, her hair loose, Bey grabs her skirts and motions to flap her wings before the statue. She stands at this moment as Nike's equal, the living embodiment of her song's hook: "I can't believe we made it — have you ever seen the crowd goin' apeshit?"
Photo: Xavier TESTELIN/Gamma-Rapho via Getty Images
Click HERE to read more from Refinery29


Loading ...