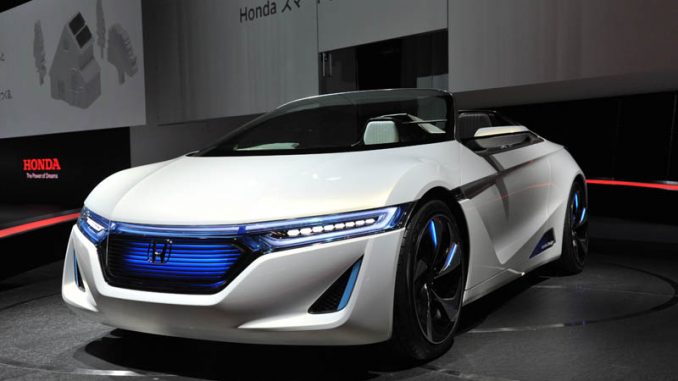 Industry professionals and automotive enthusiasts alike look to the Tokyo Motor Show for new and exciting innovations in future transportation. Many models showcased at the show are concepts, and most are precursors to what the world can expect in mobility technology in the years to come.
This year's show was no exception. With a total of 53 world premiers, there were passenger cars, commercial vehicles, motorcycles and carrozzerias here that were unveiled to the public for the first time and some are quite exciting.
Keeping with this year's Tokyo Motor Show theme of "Mobility can change the world", here's a quick look at a few interesting world premiers.
Passenger Vehicles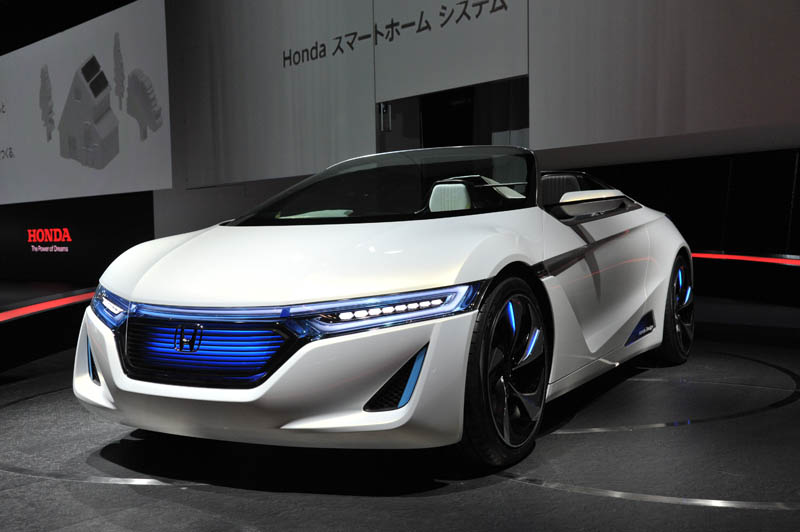 Honda EV-STER – Concept
Designed from the ground up as an electric car, this new electric roadster looks fast even standing still. It is a shame though that the EV-STER is slightly under powered. Despite the low power rating, this two seater open roof car is a beautiful evolution of the design trend that started with the FCX Clarity and CR-Z Hybrid. This is concept car though; let's wait for a production ready model to really dig in to.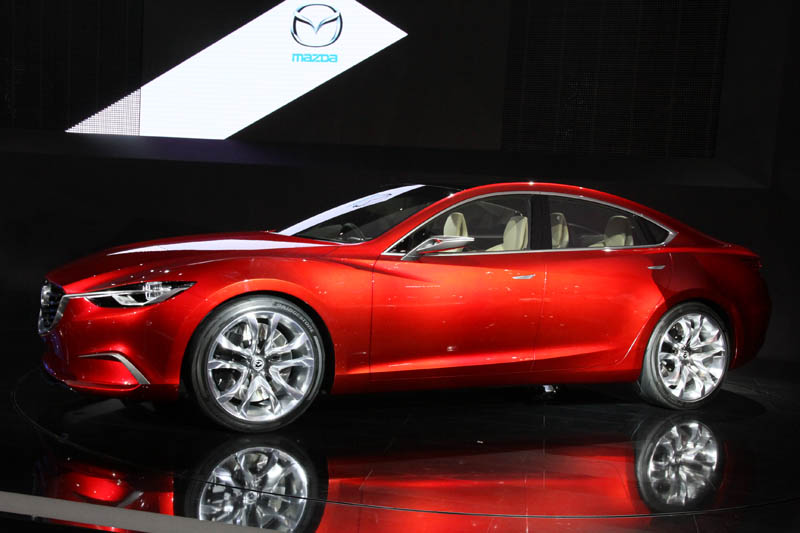 Mazda Takeri – Concept
Mazda's newest iteration of their new KODO "Soul of Motion" design theme the Takeri is also a platform for their SKYACTIV technologies. The Takeri is said to be the replacement for the current Mazda 6. It may be a year or more away from reaching North American shores, but Japan will soon see a production ready version of the Takeri equipped with Mazda's new SKYACTIV diesel powertrain and 6-speed automatic transmission. The Mazda 6 may have been sinking in to the shadows recently in the highly stylized mid-size sedan category, but the Takeri concept shows signs that Mazda will not go quietly.

Mitsubishi PX-MiEV II – Concept
Not willing to let their North American EV efforts be summed up by the un-American like iMiev Mitsubishi is now showing off what is essentially the future of the Outlander. This extended range SUV is made possible with iMiev EV components mated to a 2.0L four banger. The company promises a production ready model by mid 2012, with the Outlander hitting the market as a 2013 model shortly after.

Subaru Advanced Tourer – Concept
Subaru gives us a preview of what's to come from the four-wheeling Japanese wagon builder. This radically styled mid-size wagon combines utility, sporty driving, and eco friendliness. The last part means this is also a hybrid; not only has Subaru improved their long running 'boxer' engine with the likes of gasoline direct injection but this concept is mated to an all new built-in-house hybrid drivetrain.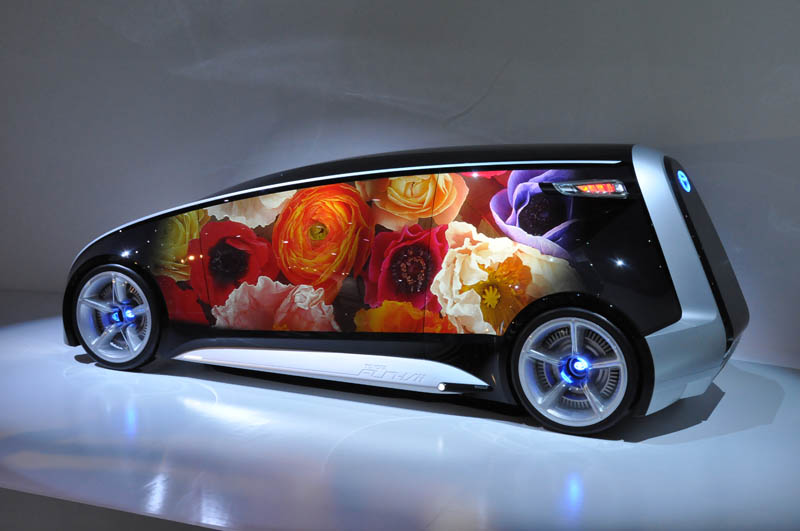 Toyota Fun Vii – Concept
Quite possibly one of the more memorable vehicles to come out at the Tokyo Motor Show this year, thisToyota's like none other. A user controllable visual interface covers two sides of the exterior of the car while the interior is made up entirely of an electronic visual interface. There are no windows or traditional driving controls. The Fun Vii concept is likely not going to be reality in itself, but is a showcase for what auto-manufacturers can accomplish with today's technology.
Commercial Vehicles
Whoever said anything about auto shows being limited to passenger cars? The Tokyo Motor Show plays host to the similar levels of technological innovation with its display of commercial transportation as it does with passenger options.

Mitsubishi Fuso Canter Eco Hybrid
Combining both an economical diesel powertrain and electric propulsion system (motor & battery) in parallel, the Canter Eco Hybrid promises both emissions reductions and superior fuel economy. Although unlikely to make their way to North America as-is, this technology will filter its way in to Freightliner and Western Star vehicles in the not too distant future.
Motorcycles
With a much larger percentage of Asian society embracing two wheels over four – unlike us four wheelers in North America- motorcycles are a big part of the Tokyo Motor Show.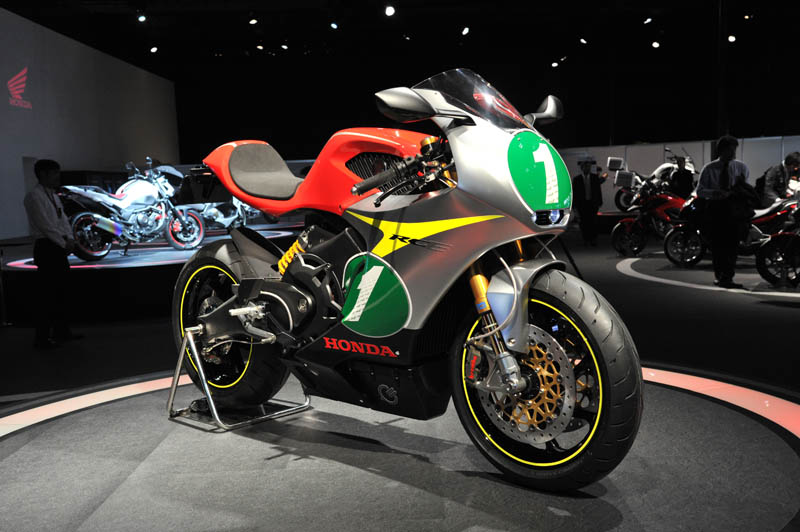 Honda RC-E
This race spec superbike is every inch a track machine. It is only upon close inspection that Honda's true focus emerges: this is an all-electric superbike. Small LEDs tucked in to the front and rear fairing hint at the possibility that this may become a road bike at some stage. Regardless of how it swings, we're very excited for this concept to become a reality.

Honda Motor Compo
Not to be confused with the previously announced Honda Motocompo, this machine is an electric scooter through and through. It is designed to be folded down to the size of a medium piece of luggage and stored in your car. The idea is urban users will drive their car to as close to their destination as possible, park, pull their Motor Compo out of the trunk and do the last bit on it. What a wonderful solution for those who dislike walking!

Yamaha EC-Miu
This electric bike may not be the first of its kind in the saturated e-bike market but is the first example of a machine that can be connected to smart grids, smartphones, home network systems, and transport sharing services. With ever increasing urban population density, this type of bike born of a Yamaha-Toyota partnership highlights possibilities for our future mobility.
Carrozzeria
What Carrozzeria exactly refers to is still a bit unclear to me, but let's call it the oddities of Japanese auto culture that doesn't quite translate for North Americans. These are somewhere between cars and bikes, but are examples of modes of transportation.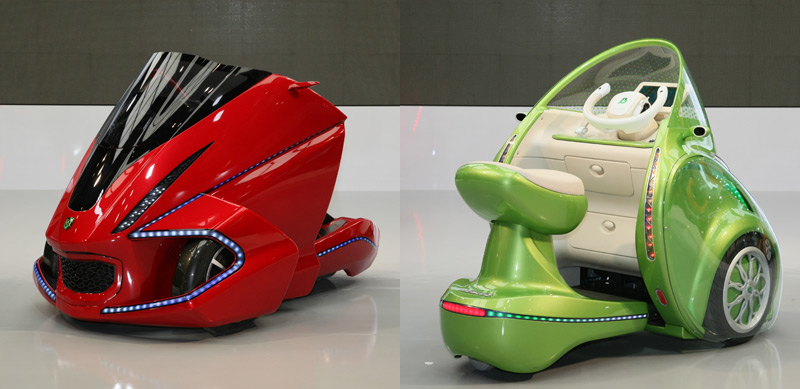 Kowa Tmsuk Kobot
This is a single seater vehicle that is powered by either a gasoline engine or electric motor. An intriguing piece of highly stylized urban commuting tech, and something we're not likely to see in North America any time soon!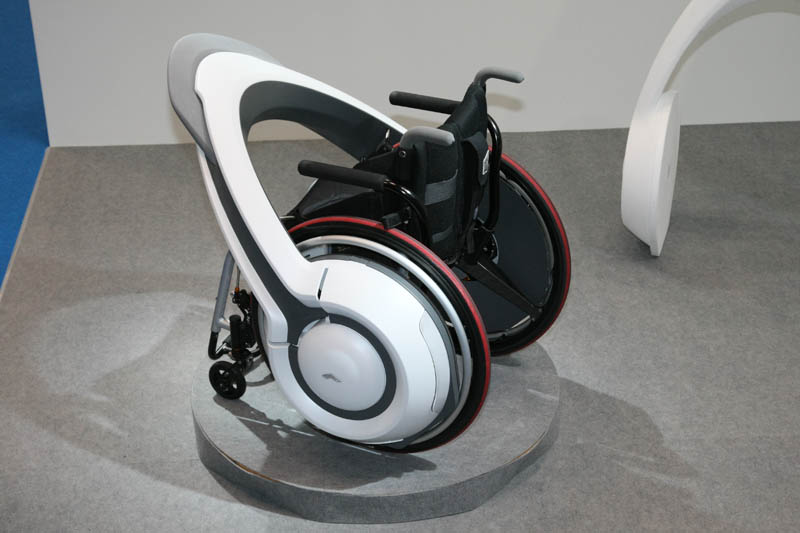 Smile Park WHILL
The idea here is to take any wheelchair and allow users to travel up to 20km/h in one. This device provides the power and steering controls for persons with mobility impairments to explore areas within the comfort of their own wheelchairs. A great piece of future mobility we'd love to see make its way to market.
Photographs courtesy of Japan Automobile Manufacturers Association.
Kanishka Sonnadara is a member of AUTOMOTIVE.alliedfusion.com and can be found on Twitter here.