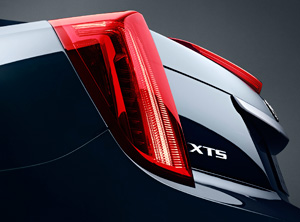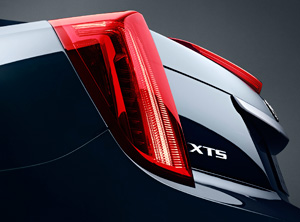 Cadillac has long been defined by long, large, chrome heavy, floating couches on wheels that we affectionately called the ultimate in American luxury cars. With German and Japanese automakers redefining the standards of luxury and buyers demanding more from their machines, the Cadillac of old it seems has become extinct. Where once sat Cadillac's flagship sedan the DTS, we now find the 21
st
century ready XTS.
The new sedan isn't exactly a small car, but consider that at its largest Cadillac flagships would stretch upwards of 5.7m and the 2.8m XTS almost seems pint sized. Although this is the largest Cadillac (Escalade not considered) at the moment, fans of big cars shouldn't have to wait too long for the next generation of big Caddy's; GM's already working on the next generation of big.
Size wise, the XTS features more interior passenger and trunk space than the CTS. And unlike the outgoing DTS, the new XTS maintains close family resemblances to the CTS and SRX crossover. The greatest accomplishments of the XTS however, aren't immediately visible to the casual observer.
Equipped with a Magnetic Ride Control system – what Cadillac calls the world's fastest reacting suspension – and an advanced all-wheel-drive system, the new XTS promises exceptional on-road manners.

To make sure drivers keep safe while on the road the XTS also offers up a wide range of safety minded tech features including Lane Departure Warnings, Forward Collision Alerts, Side Blind Zone Alerts, Rear Cross Traffic Alerts, and a Safety Alert Seat. The latter of those features is the most interesting, with the Safety Alert Seat system vibrating various areas of the driver's seat to indicate direction and intensity of the warning.
Continuing on this theme of high tech gadgetry is the XTS's CUE (Cadillac User Experience) system. Designed to be the control centre for all the in car systems, CUE goes further than the standard infotainment system by tying all systems together and simplifying its operation.
"CUE will transform personal transportation by simply and efficiently integrating luxury design and instinctive technology with unparalleled levels of customized in-vehicle connectivity" says Don Butler, Vice President, Cadillac Marketing. "For the tech-savvy, it's everything you want it to be – a full suite of infotainment, navigation and communication tools that keeps you fully connected. For the tech-averse, its power is remarkably simple, intuitive and accessible."

Canadian prices for the 2013 XTS range from $48,995 for the FWD base model to $64,975 for the AWD Platinum Collection model. Built right here in Oshawa, Ontario, the XTS is the first Cadillac to be built in Canada in over 75 years. Considering that the new car is touted as the most technologically advanced Cadillac ever manufactured, it's nice to be able to say the best of American luxury is born right here in Canada.
Kanishka Sonnadara can be found on Twitter @autoKsS
Photographs courtesy of General Motors