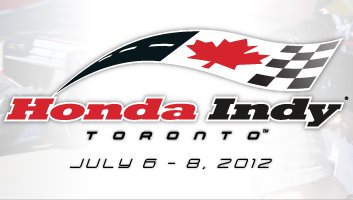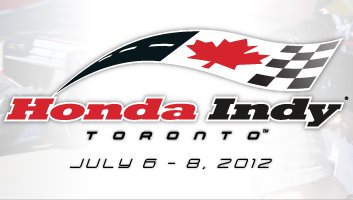 The Honda Indy Toronto is back in town this weekend for the fourth year and it looks like it will be a hot weekend, on and off the track. Toronto has played host to open wheel racing under different series every year since 1986 except 2008 after which the series changed from CART to IndyCar. I had the opportunity this year to take part in a new Honda program called the Media Backstage Pass; which allowed me to have a behind-the-scenes look at the track, drivers and teams taking part in this year's Toronto Honda Indy weekend.
Getting started
As I drove up to Exhibition Place I really didn't know what to expect. I saw the familiar sights of the barriers around the Princes' Gate but the track seemed fairly quiet and once I made my way in to the Direct Energy Centre building all was calm. As I walked around looking to sign in at the media room, I accidently poked my head into a conference room and to my surprise there was Rubens Barrichello doing a press conference.

Formula 1 to IndyCar
Anyone familiar with Formula One knows "Rubinho" as he was a staple for the last 19 seasons resulting in the longest career amongst F1 drivers past and present. Having said that he is also ironically a Rookie in the IndyCar series and as such has to learn how to drive what is a very different car from what Formula 1 uses. His best result this year is seventh place but obviously he is looking to do much better. It is also his first time driving the Toronto track, which he was a spectator at last year so that always adds a little to the nerves.
After a short break a few more drivers were brought to the room to give their insights and answer a few questions. This included another ex-F1 driver in Takuma Sato, ex-Dancing with the Stars winner Helio Castroneves and 2010 Indy 500 Rookie of the Year Simona De Silvestro. All of the drivers commented on the challenges they face with the Toronto track particularly in regards to the bumpiness of the temporary road circuit. The familiar high speed Lakeshore run has been repaved and the hope is that the surface is smoother than before. Their first view of the new surface will actually be at the track walk where they literally walk the track with their race engineers to get a feel for it. However they won't really know if it is better than last year until they hit the track at speed during their opening practice session on Friday. Race officials also added that turns 7, 8 and 9 have been resurfaced with the hope of making them a little more predictable for the drivers but again they won't know it until they first feel it. Another aspect that all the drivers agreed on and that is somewhat unique to the Toronto is the mix use of asphalt and concrete on the road surface. Asphalt provides a great deal more grip than concrete, which tends to make the car oversteer or understeer through corners. This sure does make for a more entertaining spectator experience, but it's not necessarily the quickest way around the track.

After the driver's press conference it was time to make our way down to the track to see the action for ourselves. Since no on track events occur on Thursday most of the action was teams setting up their trailers and getting everything in order, the quiet before the storm.

Our first stop was at Schmidt Hamilton Motorsports where we heard from General Manager Rob Edwards and their sole driver Simon Pagenaud. Rob explained how the operations work for race weekend.


How it Works
They have 18 team members, which include five race engineers and the whole team has been together for three years. The entire race operations including the cars, all parts and pit wall equipment fit in one specially designed 53 foot transport truck. Rob also spoke about their two stop race strategy but still wouldn't know for sure if that is the final plan until they are out on the track. He also mentioned that the Push to Pass feature will be re-introduced for the Toronto race for the first time in the 2012 season. The feature allows the driver, at their discretion to add turbocharger boost and additional RPMs with the press of the button on the steering wheel. The additional boost is limited to a preset amount of time that is prescribed by IndyCar and it is up to the driver and the team to manage its usage throughout the race.

Rob was then joined by driver Simon who continued to discuss the strategy behind Push to Pass. He mentioned how it can be used at restarts and to pass but it is always prudent to keep a reserve for the end of the race just in case you need to fend off a rival or pass for position. Simon who hails from France described how he has strived to work his way up to the IndyCar series and feels confident that he and the team can fight for championship results. He detailed the physical pressure and strains the drivers feel and his workout routine to maintain his top physical shape.
Shifting Can Lead to Injury
What was interesting was that he said that he suffered a little after each race from what I would describe as a repetitive stress injury resulting from the paddle shifting. I knew that it is physically demanding to control a race car and that there are massive G forces constantly working against the driver but I never realized just how demanding it is throughout the driver's entire body.
They also discussed tire usage and strategy for the race. Tires are supplied by Firestone and there are eight sets of primary and alternate tires for each team. In addition, sets of rain tires are also supplied to each team and with the weather forecast for qualifying predicting the chance of rain they just may be used. Rob commented that Simon, having raced inEuropeis accustomed to racing in the rain and he actually looks forward to a spot of rain as he thinks they will perform better than most. Rob said that they have used the same type of tires at other street circuits this year so they hope what they have learned from those races will be applicable here in Toronto. This type of learning helps with race set up because practice sessions are only an hour and while that may sound like a lot of time it only allows the team to make four or five changes to the car to see what works best.

Honda Likes to Race
We then went over to the Honda tent to speak with Marc Sours, General Manager/Chief Engineer Honda Performance Development. He spoke to the history of Honda's involvement in racing dating back to 1964 when they entered Formula One and have had great success over the years. They were also involved in CART and most recently in IndyCar starting in 2003. In 2004 Honda claimed their first Indy 500 victory and another in 2005. From 2006 to 2011 Honda was the sole engine supplier to IndyCar but this year they are joined by Chevy and Lotus. This year they have won 3 out of 9 races and hope to make Toronto the fourth victory. Honda, like most other manufacturers, use their investment in racing as a development and proving ground for technologies that they will make available in future road cars.
Racecar to Supercar
One of these future cars is the Acura NSX, which was on display in the Honda tent. It is expected to be produced sometime after 2015 and you can be assured it will incorporate some of Honda's racing technologies of today.

Go to the Races for Free and Help Raise Some Money
We also met with Jennifer Ritter CEO of Make-A-Wish foundation who have partnered with the Honda Indy Toronto for the last two years. Honda Canada and the Ontario Honda Dealers Association (OHDA) have raised more than $200,000 in the past two years for Make-A-Wish and hope to raise more funds this year. The Friday session at the track is called Free Friday and the OHDA will pay the cost of admission for fans. In lieu of the admission price to enter fans are encouraged to make a donation to Make-A-Wish, which Honda Canada will match dollar for dollar. It is a great event as there is no reserve seating so fans can choose to sit in whatever grandstand they want to on a first come first serve basis. Furthermore fans can also make their way through the Paddock where cars will be on display. For any race fan this is clearly a must, free open access to the race and more importantly helping a great cause.

The weather this weekend is looking a bit unpredictable and while that will stress race engineers and drivers it should make for some great racing. The resurfacing of parts of the track, multiple engine manufacturers and the Push to Pass will all make this year's Honda Indy Toronto different from all other races this season and a true treat for fans to watch.
Photographs by Nigel Lall and Kanishka Sonnadara
Kanishka Sonnadara can be found on Twitter @autoKsS