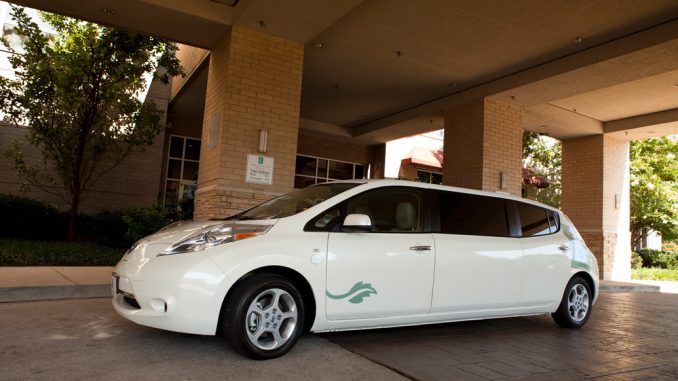 It was perhaps inevitable, with all the attention electric vehicles generate, that someone somewhere would take one and make it a limousine. That someone was Embassy Suites Nashville South and this Nissan LEAF stretch limo now calls Tennessee home.
Built by Imperial Coachbuilders of Springfield, Missouri, the conversion of a stock Nissan LEAF to LEAF limousine took seven weeks. The whole process may have been more complicated than saying they cut it in half and added over four feet of car to the centre, but the end result is a perfectly viable limousine with serious green credentials — for a limousine that is.
The LEAF stretch limousine can seat eight people including the driver. Despite its additional size and subsequent weight, the car still retains its original lithium battery pack. Although this reduces overall driving range, Embassy Suites says their typical guest shuttle service is less than 8km, which means they've got plenty of range to spare for multiple trips.
It's likely no coincidence that this particular Embassy Suites location decided to add a Nissan LEAF stretch limo to their fleet. For those who don't know it, Nissan North America has their head offices in Tennessee, and is actually located less than five minutes from the hotel. "We have a lot of Nissan people that stay here, so this will be a great way to shuttle them around," Oscar Floyd, valet manager for the hotel, said.
Imperial Coachbuilders now offers the LEAF stretch limo as a regular part of their conversions alongside Hummers, Escalades, and Navigators. For buyers who want better EV driving range from their new, heavier, stretched LEAF, the company says they can offer a second battery pack sourced from a UK based EV conversion firm.
We expect it won't be long before businesses all over North America will be opting for stretched EVs over traditional behemoths. Don't expect the old models to disappear, but there surely is a new cool kid on the block.
Check out the video below for a closer look at the Nissan LEAF stretch limo:
http://www.youtube.com/watch?v=pW-_Wy4KWog
Kanishka Sonnadara can be found on twitter @autoKsS