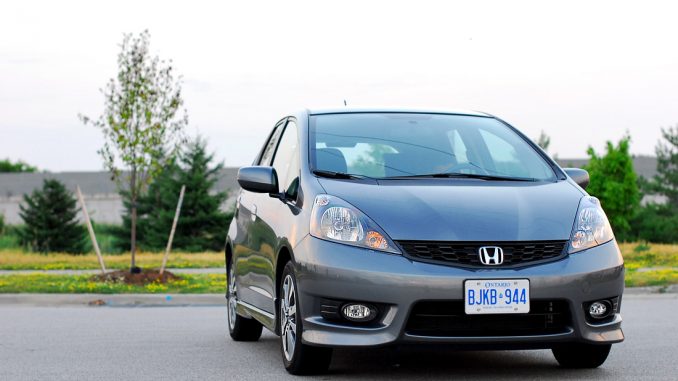 You can publish this article on your website as long as you provide a link back to this page.
This article was last updated on April 16, 2022

Being the smallest car in the Honda lineup doesn't mean the Fit is any less impressive than its renowned Honda counterparts. The 2012 Fit is in many ways as cool as the Civic of the past: small, capable, and fun to drive.
Currently in its 2nd generation, the look of the Fit has been praised since its North American launch in 2009. In the past year, a number of other manufacturers have significantly updated the designs of their sub-compacts, and even against such vibrant competition the Fit has managed to keep itself from looking dated.
If you've only seen the Fit from the outside, you'd be forgiven for thinking that it was a small car. The Fit's cavernous interior is only really appreciated from the inside. The cabin is more than capable of seating five in comfort with plenty of room in the hatch for luggage.


Not quite the segment leader in interior space, the Fit still manages to be plenty comfortable for those of us who are 6-foot plus. Even in the backseat, I was able to sit in dignity while giving my knees plenty of breathing space.
Smart use of space also means that not only are the Fit's rear seats able to fold flat, but are also capable of flipping up. Flip the rear seats up, and you've got over 4-feet of floor to ceiling space for really tall items. Or if you're like me, have a dog, and don't want hair on your seats, then the rear flip up seats make way for terrific doggie transport for when the hatch is already full.
Buyers cross shopping small cars should also take note of the sheer amount of interior storage space available in the 2012 Fit. We love the upper and lower glove boxes, a staggering 10 beverage holders, and the plethora of smart storage options smartly positioned throughout the cabin and hatch. After spending time in the Fit, we started likening its smart storage to that from the best of minivans; this little car is definitely not so little in its capabilities.
Speaking of mini-vans, the 2012 Fit does look somewhat mini-van-ish in its overall exterior appearance; its side profile silhouette resembling mini-vans from the mid 90's. Not such a bad thing really considering how this design allows for maximum interior space and great outward visibility.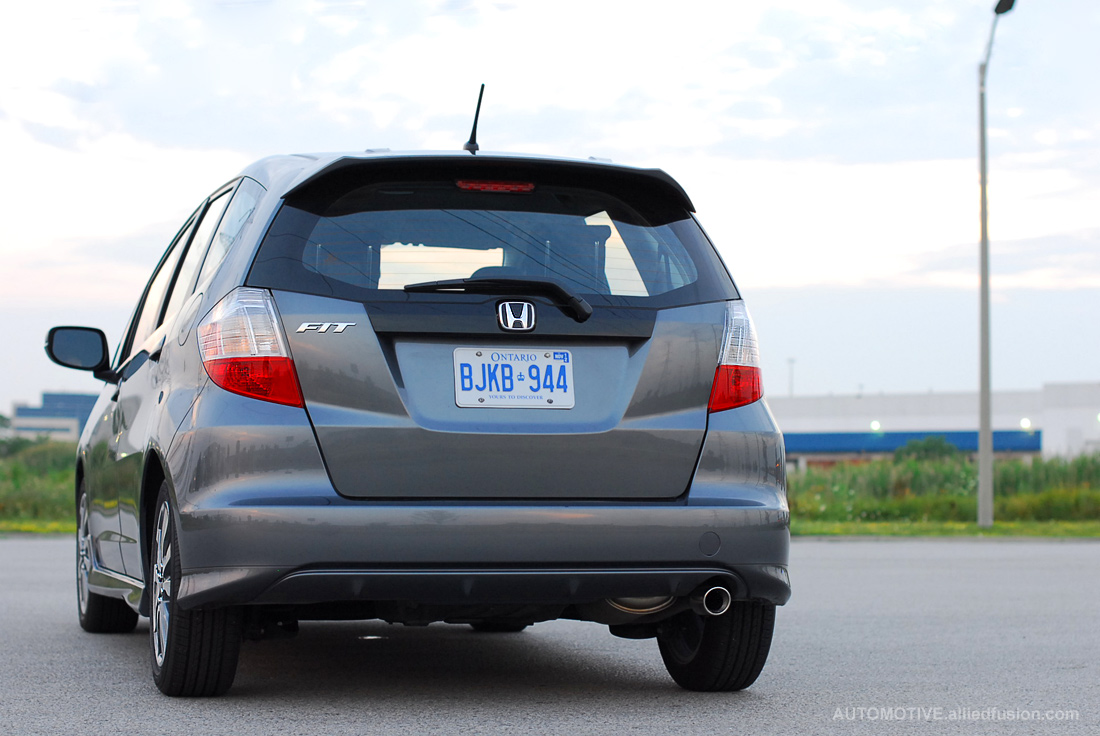 Despite current trends for vehicles to have exceedingly high window lines and massive A-pillars, the 2012 Honda Fit manages to keep from falling in to that popular limited-visibility trap of most new cars. Unique front quarter windows, smartly positioned pillars, and rear quarter windows mean that drivers have great visibility all round; in the driver's seat, we found visibility as good as that from any car in any other class.
Visibility is great, but what happens when the unavoidable happens? Can the Fit take care of its occupants? Six standard airbags, traction and stability control, four wheel ABS, and a Top Safety Pick from the Insurance Institute for Highway Safety; then factor in Honda's track record for building cars that always put safety first, and we have no reason to doubt that the Fit is about as safe as you can be with cars in this class.
Making a car fun to drive isn't always about having a lot of horsepower. Sure, the 2012 Honda Fit could use a few extra ponies, but we found its 1.5L 4-cylinder powerplant more than capable in most driving situations. Producing 117hp @ 6,600rpm and 106 lb-ft of torque @ 4,800rpm it's clear that this small engine isn't tuned for maximum power. To make the most of the available power however, ditch the 5-speed automatic transmission in favour of the 5-speed manual (which is a marvel that deserves a review all its own) and Fit owners will really enjoy the drivability of this small car.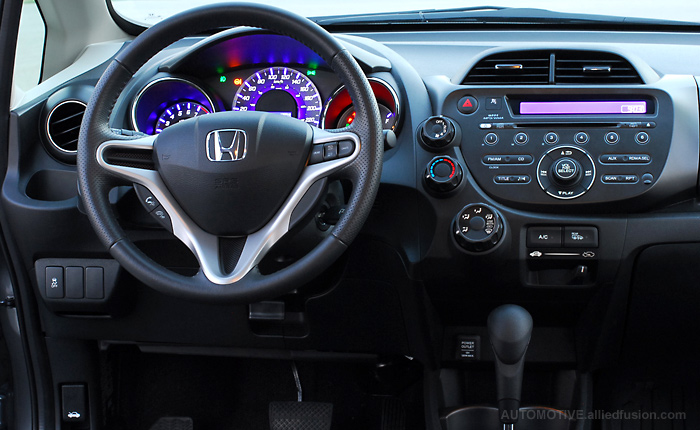 Steering inputs are clean, with a wheel that's well weighted while allowing enough road feedback to make its way to the driver for an engaging driving experience. The Fit in Sport trim also receives a rear stabilizer bar which enhances the car's ability to corner with more confidence. Sport trim also means standard 16-inch wheels mated to wider, lower profile tires which help further the confident driving stance of the car.
With a base trim Fit DX pricing in at $14,580 before taxes and fees and the top of the line Sport trim ringing in at $18,880 (add $1,200 for automatic transmission), this isn't really an expensive car. Far from being equipped to the teeth like some of Honda's competition, the Fit offers up a well thought out, properly kitted, sub-compact car for those who appreciate long term value.
The Honda Fit was recognized as the best retained/resale value sub-compact for 2012 by Canadian Black Book and Kelly Blue Book (USA). Backed by what is commonly regarded as Honda's legendary commitment to build quality, we are not surprised.
Regardless of the class of vehicle you're looking for, if your criteria includes a spacious cabin, smart storage, and an engaging driving experience then the 2012 Fit checks all your boxes. Throw in good fuel economy, a competitive price, and terrific build quality and Honda's got a real winner with the Fit.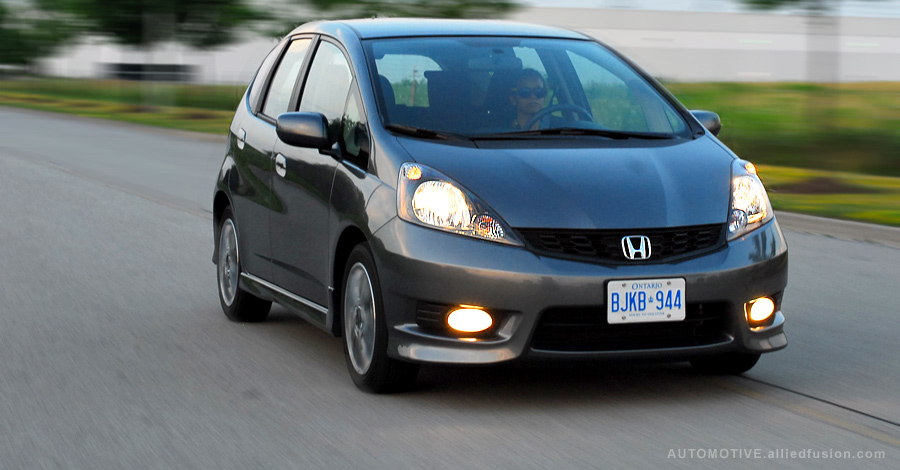 Photographs by Kanishka Sonnadara.
Kanishka Sonnadara is a member of AUTOMOTIVE.alliedfusion.com and can be found on Twitter @autoKsS