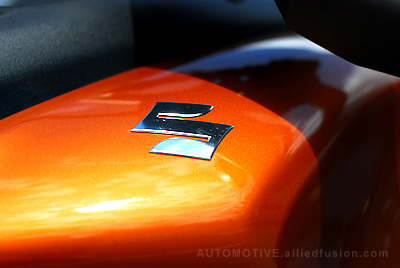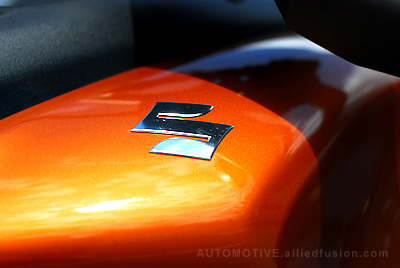 It's not often I get to ride a motorcycle that inspires me to dream of awe inspiring road trips that span thousands of kilometres, but for the week I had the V-Strom 650 Expedition ABS from Suzuki, I could think of nothing else.
As the name of the bike suggests, this 645cc machine comes equipped with ABS and a number of factory installed accessories that make it suitable for adventure touring. These add-ons include hard aluminum luggage cases, an accessory engine crash bar, hand guards, engine cowl and an adjustable windscreen.
When I first laid eyes on the bike, I was intrigued with the lockable, removable, and rugged safari-ready looking side cases. Each of the three cases is a different size, with the largest being able to fit a full-face helmet in it. Even the smallest case has more than enough space to swallow up a standard briefcase, and have room to spare. Locking, unlocking, and removing of all three cases is managed by a small unique key. I found the locking mechanisms a touch flimsy for my liking, and would've preferred something that matched the tough-as-nails image the hard cases projected. Removing a case off the Expedition edition V-Strom is as simple as unlocking the case's primary clasp and sliding it off the bolt on accessory mounting bracket.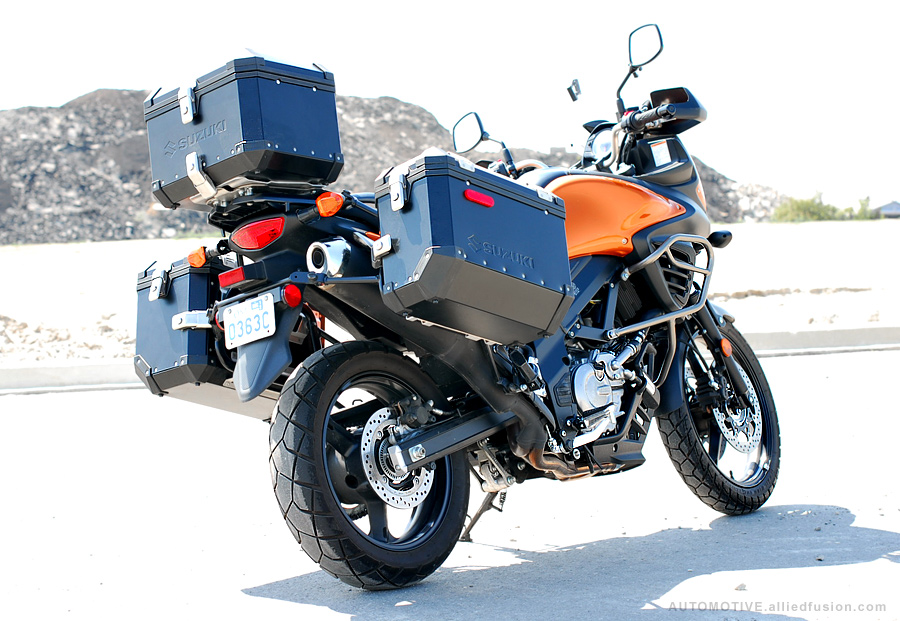 With all three cases off, the bike resembles a regular sport tourer and is perfect for commuting around town. I only rode it without the cases for a couple of days as I quickly missed the utility and convenience of having all that extra storage space. Knowing that I could not only keep my helmet safe from weather when parked, but also carry an extra sweater, a couple bottles of water, my passenger riding gear, and anything else I felt like hauling around was a real bonus — it reminded me of how a lot of us carry a bit of everything in the trunks of our cars.
Being completely straight edged, un-aerodynamic boxes I wondered how these cases would affect the V-Strom 650's fuel economy. After measuring similar rides with and without cases using the bike's onboard fuel economy gauge, my far from scientific result was that the difference is negligible.
Fuel economy is a highlight with the V-Strom 650. The powerplant in this middleweight bike represents some serious engineering prowess on the part of Suzuki. I averaged a spectacular 4.4L/100km over 650km of 60/40 (highway/city) mixed riding while often being liberal with the throttle.
Fuel economy however, isn't the best thing about this V-Twin engine, power and smooth delivery is; being able to do it even while using regular gasoline is a bonus.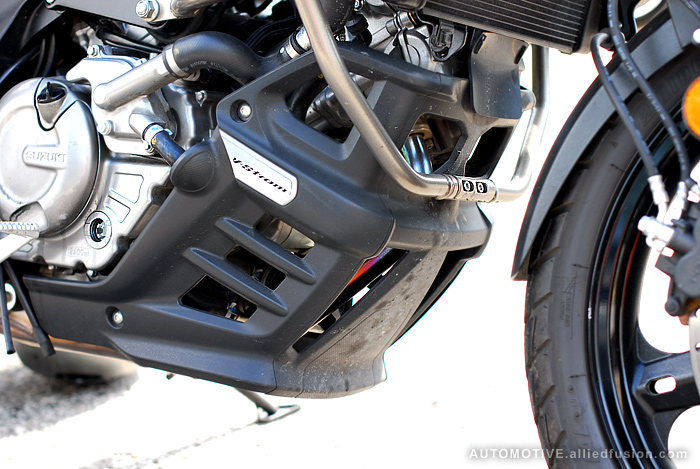 No one really expects a middleweight adventure tourer to be called powerful, but that's exactly what the V-Strom 650 is. Forget about the almost 200hp Hayabusa for a moment, or even the insanely quick GSX-R 750, these are all machines that never get to reach their potential on public roads. The 645cc displacement on this V-Strom allows this machine to be plenty fast off the line, while managing highway passing manoeuvres with ease.
The sweet spot on the 2012 V-Strom 650's power band lies between 4,000 and 6,000rpm. As the engine rpm's climb there's some vibration that gets transferred through to the handle bars, but it all smoothes out though once a cruising speed is reached and the bike gets geared up in to its long 6th gear. Wind the V-Strom up in 4th or 5th gears though and riders will very quickly find themselves far exceeding any posted speed limit…
Note that those luggage cases I like so much on the Expedition edition comes with a warning to not exceed 130km/h. If you're riding anywhere in North America that's probably good advice regardless of whether or not you've got luggage cases on your bike.
Helping riders keep track of their speed is a digital speedometer coupled with an analogue tachometer. The 2012 V-Strom 650 also gives riders digital readouts of their gear position (great feature for those of us who don't always count shifts or sometimes forget), engine temperature, fuel gauge, dual trip/economy meters, time, and ambient air temperature. The latter I found mighty useful when about to set out riding late at night when temperatures had changed as much as 10-15 Celsius from earlier in the day; having the readout meant I got the necessary gear on before I started riding, negating the need for that unplanned for stop a few minutes after the ride begins. The afore mentioned dual trip meters and accompanying average fuel economy screens can all be accessed from a single button on the left hand grip; far from being cluttered this single button means simplified control of the entire system.
Riding the V-Strom 650 is a breeze. Whether you're a novice or intermediate rider, it takes mere seconds to get accustomed to the bike's comfortable riding position and ergonomic controls. I did find the clutch take-up to be a bit heavy when stuck in traffic to keep feathering. But once the bike gets moving, shifts happen quickly and riders will find being smooth comes easily. Suzuki has engineered the throttle on the V-Strom to be quite forgiving, allowing for even the poorly regulated riders to keep acceleration a silken affair.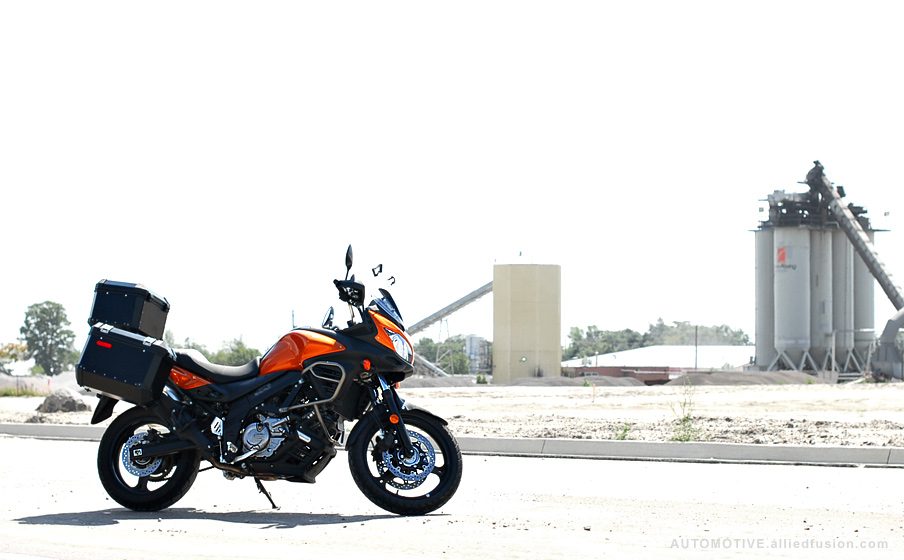 The new V-Strom 650 ABS represents a redesigned and properly tweaked middleweight adventure tourer for Suzuki in 2012 while the Expedition edition I rode is meant to mark the V-Strom series' 10th anniversary. Complete with very agreeable styling that's even got long time V-Strom fans cheering and a riding experience that can only fetch praise; the 2012 V-Strom 650 ABS Expedition is a real charm that's got me seriously considering my own version of the second leg of Long Way Round.
Photography by Kanishka Sonnadara.
Kanishka Sonnadara is a member of AUTOMOTIVE.alliedfusion.com and can be found on Twitter @autoKsS