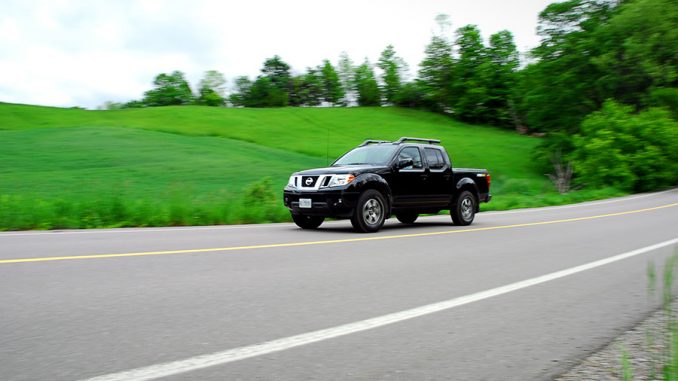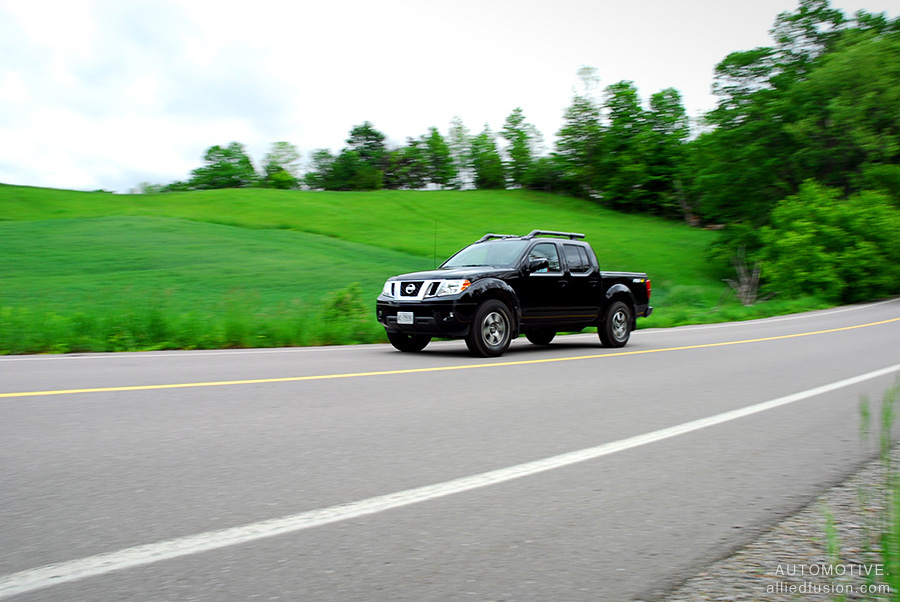 Small trucks are often overlooked for their beefier mid-size brethren; and although Nissan isn't the go to name in the pickup truck scene, the Frontier is undoubtedly one of the sweetest compact trucks on the market today.
What it is
It's worth noting here that trim is everything, the 2013 Nissan Frontier I tested was a Crew Cab PRO-4X with the optional Leather Package. That means a dual-overhead cam 4.0L V6 mated to a 5-speed automatic transmission, a 2-speed transfer case, a Dana 44 rear axle, a locking rear differential, and off-road rated performance Bilstein shocks. That's just the mechanical bit of it, this bad boy compact truck trim also includes skid plates, fog lights, a roof rack with crossbars, and 265/75 BF-Goodrich Rugged Trail tires mounted on 16-inch machine finished alloy wheels.
Making the outdoor lifestyle brought on by the purchase of a 2013 Frontier PRO-4X more civilized are the interior accoutrements available on this truck. Take the 5.8-inch touch screen navigation system for example, or the hands-free text messaging assistant, or the dual-zone climate control system, or the power 8-way seat with adjustable lumbar support, or the rear flip-up seats with under seat storage (available in all crew cab models)… this isn't just a truck for exploring the great outdoors, but one that can manage the daily commute and evening grocery trips with ease.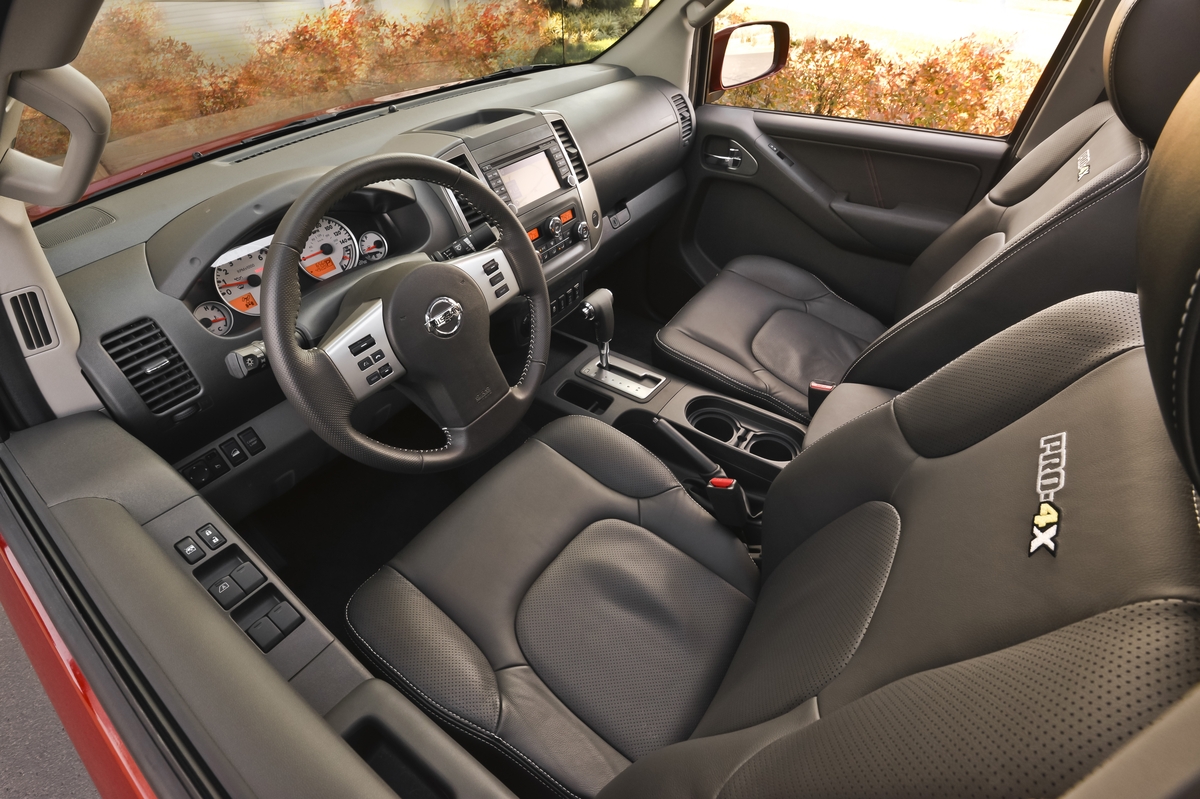 What it can do
If you're like me, and think that every pickup truck that sits in a suburban driveway only being driven to Ikea and the kids' soccer games is wasting its life away, then you'll appreciate why I had to take the brief opportunity I had in order to get this Frontier out in the tall grasses.
Going up and down small hills, over a few dead branches, and some spirited bouts of acceleration on loose gravel definitely doesn't count as off-road testing, but I found doing it in the Frontier not only confidence inspiring, but strangely exciting for a truck that could fit in my building's underground garage at the end of the day.
The PRO-4X trim Frontier is only available with a standard box which is 5-ft in length, plenty of space for a couple of sofa chairs and some flat pack furniture from that blue and yellow store mentioned earlier –yes, I did just that. The four adjustable tie-down cleats in the bed made carrying large items even at highway speeds a worry-free affair. For those who want a little more rear cargo space, the Frontier can be had with a 6'1" long bed; standard on all Crew Cabs except for the PRO-4X model.
There was a time when Nissan would have us believe that a 170 hp supercharged V6 was the way to go with top trim Frontier models. We're glad they changed their minds and went with the tried and true 4.0L V6 that used to power the Pathfinder and now sits in engines bays across the Nissan truck/van lineup –the VQ40DE motor is currently shared with the Xterra and NV series commercial and passenger vans.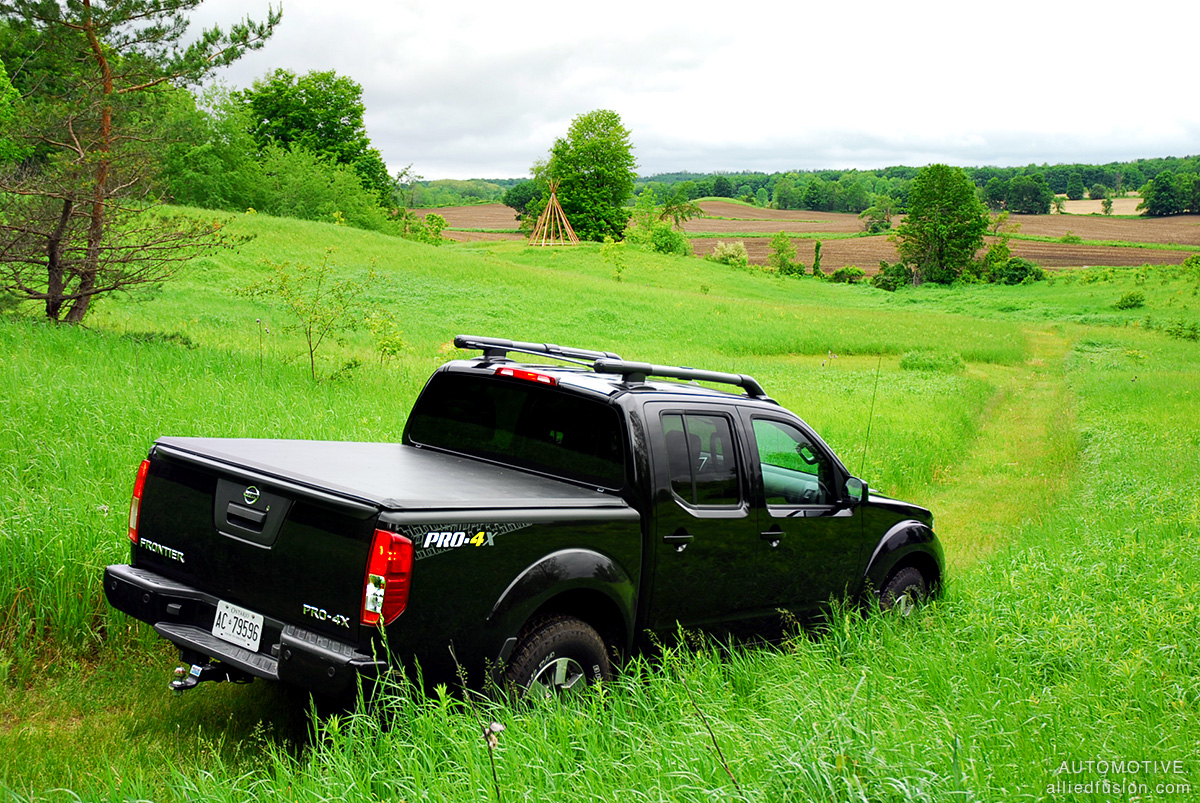 The 261 hp motor manages a heady 281 lb-ft of torque and feels plenty capable of rear wheel drifting in dirt (and I'd imagine snow) for when you switch over to 2WD mode and decide to have a go at the throttle liberally. It's worth noting that the Frontier offers up the most power in the small truck segment for 2013.
The name of the game with small trucks is versatility, and for those of us who need to drive to work on weekdays while still being able to generate smiles on the weekends, the 2013 Nissan Frontier proves a very capable vehicle.
What it costs and how the numbers compare
A base trim 4×2 2013 Frontier can be had for a little under $21k. Opt for the Crew Cab PRO-4X with Leather Package like my test vehicle and be prepared for a sticker price of $36k+ before delivery, taxes, and fees. There's also the top trim Frontier, the Crew Cab SL, which although isn't off-road ready, comes with a few more luxury touches –cue chrome and big wheels– for $37,398.
There isn't a lot in the way of choice when it comes to the small truck segment in 2013; North American buyers are now left with the Nissan Frontier or Toyota Tacoma after the departure of the GM twins in 2012 and the quiet disappearance of Suzuki and their barely selling Equator (which was built on a Frontier platform.) The Tacoma rings in at a higher base MSRP but at higher trim levels is sometimes comparable or lower in price.
It's in the fuel economy department that the Frontier takes a back seat to the more frugal Tacoma. Where the 4WD, V6 equipped Nissan claims 14.8L/100km city and 10.4L/100km hwy, the Toyota truck manages 12.9L/100km city and 9.6L/100km hwy.
So although you're likely to pay about the same for both trucks at the dealership, the Frontier could cost a little more with each fuel stop.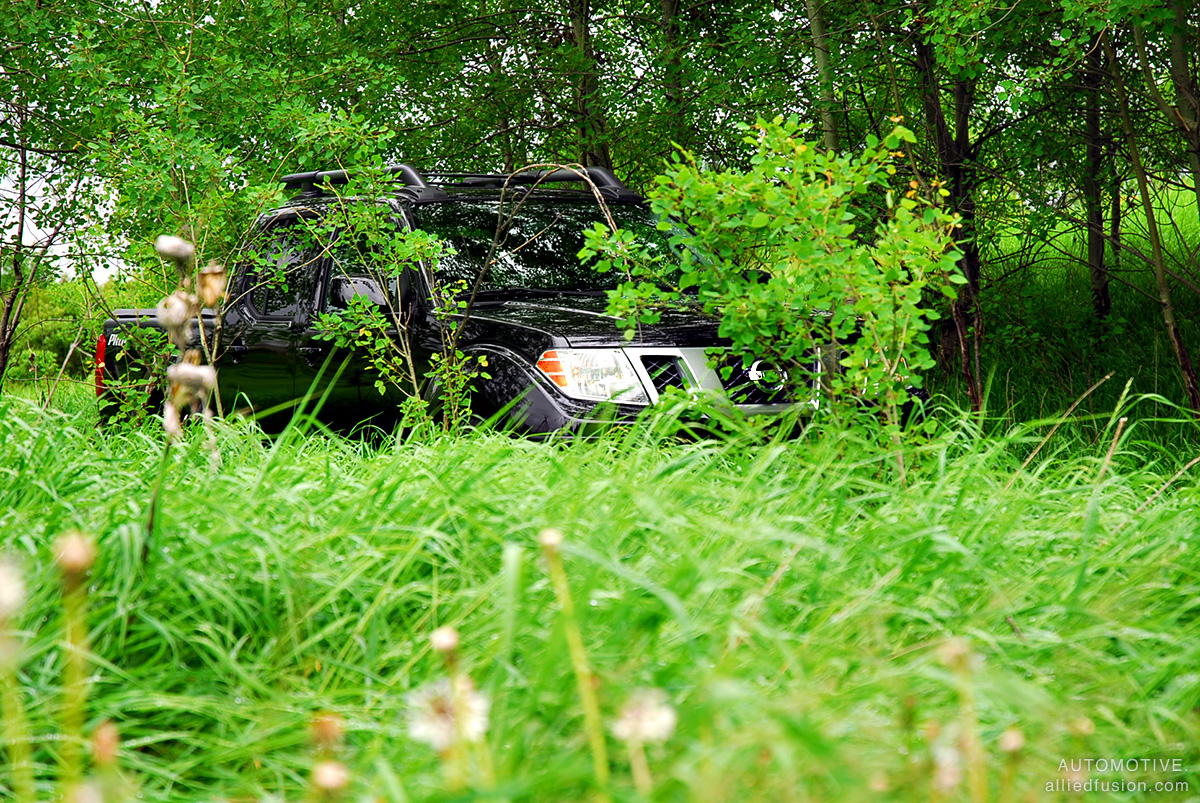 Why you want one
Actually, for about the price of a loaded 2013 Nissan Frontier you could get a mid-size truck from one of the American trio that is reasonably well kitted. But then why would you want to, when every other suburban driveway already has one, and chances are you'll be the poor neighbour with the sub-$30k truck when theirs' costs about $60k.
Break the trend entirely, buy a small truck, have it well equipped, take it places the other trucks can't –underground parking garages, parallel parking downtown, your own garage– while still going everywhere a truck should be able to go and doing nearly everything a truck should be able to do. This is why you want a small truck; this is why I adore small trucks. I can be rugged and adventurous on the weekends, but still comfortably make meetings at hip downtown cafes that serve organic free-trade coffee.
Ultimately I want a small truck because I don't need to carry tools or tow trailers, and I'm at peace with the idea that that's the true purpose of the larger trucks. I don't want a SUV, a CUV, or any other utility vehicle because there's just too many of them on the road already, plus nearly the entire utility vehicle segment is not all that utility oriented anyway. Small trucks fit my idea of living an outdoor lifestyle without giving up on my idea of driving to downtown hot spots with friends. You may not need a Frontier, but with thoughts of exploration in your daily commuter vehicle filling your mind, how can you not want one?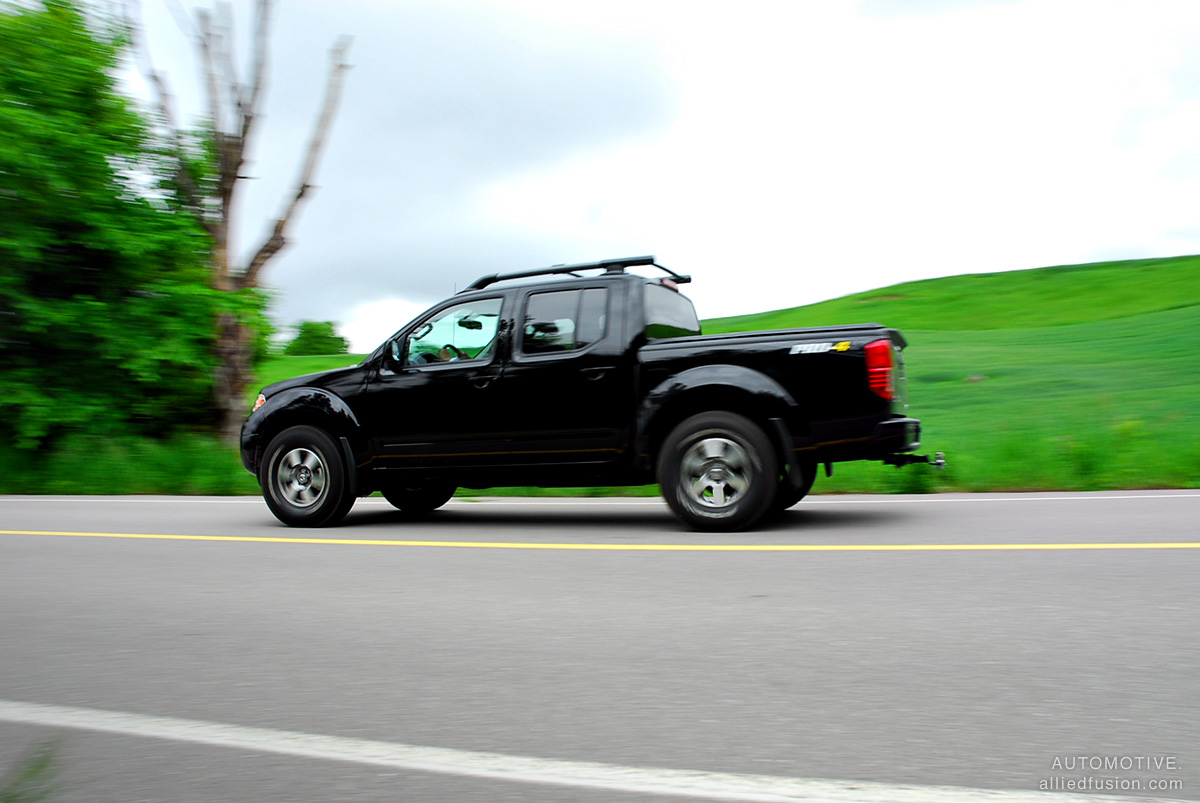 Photographs by Nissan North America and Kanishka Sonnadara.
Kanishka Sonnadara can be reached by email: kanishka[at]oyetimes.com or on Twitter @autoKsS