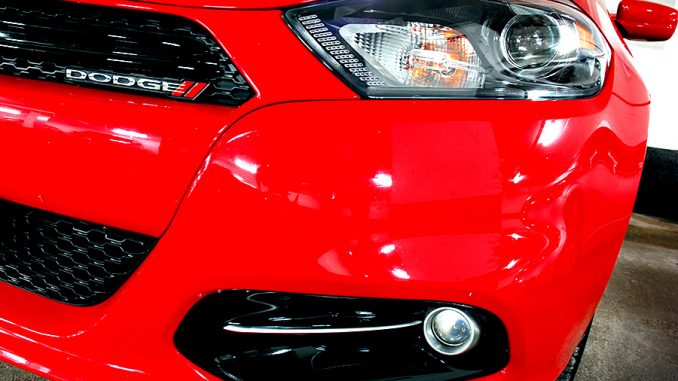 The compact vehicle segment is a competitive one. There are a myriad of entrants and nearly every one of them is constantly tweaking and changing their cars from year to year in order to maintain an edge in what is the largest selling vehicle segment in the automotive industry. For 2013 Dodge introduces an all new entry in to the compact segment in the form of the Dart.
Some of you may recall that the Dart was a Dodge creation that ruled the streets as a full-size, then a mid-size, then a compact car through the 60s and in to the mid-70s. Some of those early machines live on today as classic hot rods, muscle cars and even dragsters. The current use of the Dart name however is not a rebirth of the classic, the 2013 Dodge Dart shares only a name with its predecessor and that may not be such a bad thing.
Built on shared architecture with Alfa Romeo –now the parent company of Chrysler and by extension Dodge– the Dart has quite a bit more to it than meets the eye.

Based on the much lauded Alfa Romeo Giulietta which launched a little over two years ago in Europe, the new Dodge Dart brings with it the underpinnings of a winning compact car. Look at it, spend some time in it, and take it for a drive. You'll undoubtedly agree that Chrysler has left its dark compact car past behind –cue the Neon and perhaps Caliber– and released a shark in to waters infested with mackerel.
This is after all the car which is powered by two of three engines named Tigershark. If you asked a 12 year old me to name a cool sounding animal, Tigershark would've been it. Kudos to Dodge to appealing to the inner child.
It's not all rosy for the Dart engine options however; the base option, a 2.0L I4 producing 160 hp, 148 lb-ft is far from cool despite being called a Tigershark. It's not quite powerful enough to get this big car up to highway speed in a hurry without dropping a gear, preferably two.

For fuel efficiency and strong get-up-and-go off the line, the engine option to choose is the 1.4L turbocharged I4 which still produces 160 hp but ups torque to a grin inducing 184 lb-ft. There's also a 2.4L I4 (also called the Tigershark) which ups the horsepower count to 184 and manages 174 lb-ft of torque. On paper the 1.4L motor is the most fuel efficient, and with the largest torque figure would be my motor of choice. Without having tested either of the two latter engine options, I've reserved my comments to the numbers observed on paper.
Calling the 2013 Dart a big car should be the headline and summary for this vehicle. With overall dimensions that ebb on midsize car territory, the Dart affords significantly more cabin and trunk space than any other car in the compact segment. Although the dimension gain suggests a heavier vehicle, the Dart is actually lighter than some of its competitors that are smaller in size.
I loaded up my Dart SXT tester with four adults and discovered that even the 6'2" buddy in the back didn't complain about leg space with both front seats pushed right back. Rear seating is best suited for two adults or three children as the centre seat is too small and too firm for regular use by an adult. The Dart cabin also boasts class leading hip and shoulder room, sure to be a crowd pleaser for those demanding more space from a small car.

Once inside the Dart it's hard not to notice the many design touches that make this car an appealing choice for the Gen Y demographic Dodge is going after. The black and red colour scheme in my test vehicle, coupled with accent lighting around the cabin make the interior akin to something from a sci-fi flick rather than a compact vehicle with a sub-$20k base price.
An available 8.4-inch touch screen system coupled with USB and SD card inputs allow for tech connectivity that any young buyer could be happy with. There's also a class exclusive 7-inch display nestled in the instrument cluster that can be customized by the driver which helps further the Dart's tech cred.
No youth focused car would be complete without mention of the audio system. Although present, and able to deliver clear sound, I found the Dart's audio system lacking in sheer volume and bass thump –a prerequisite for many a young car buyer. It is worth noting however that even at maximum volume with the greatest possible amount of bass, there isn't a single note of rattle or shake from the vehicle's many interior and exterior components. If you work for Chrysler/Dodge and are reading this, then first, pat on back for good sound deadening and choice of reading material; second, get to work on a bigger stereo for this car.
Also available on the 2013 Dart is a blind spot monitoring system which alerts drivers of vehicles in their blind spot through a light mounted in the rear-view side mirrors. There's also an available rear cross traffic alert system, which uses radar sensors to find and audibly notify drivers of approaching vehicles/people from either side; ideal for safely backing out of parking spots. The Rear Cross Path Detection system as Dodge calls it, is a first for the compact segment making the 2013 Dart the only vehicle to have it as an available option.

Many of today's cars have similar safety features which rarely deserve mention as they all meet or exceed stringent federal safety standards. The 2013 Dodge Dart does however warrant praise as it is one of two vehicles in the segment featuring 10 cabin airbags –the Chevrolet Cruze is the other– plus a slew of other active and passive safety systems. With top five-star ratings overall from the U.S. federal government and Top Safety Pick status from the Insurance Institute for Highway Safety (IIHS) the 2013 Dart is one of the highest rated cars for safety in this class.
Choice. One word that can describe the many variations of the 2013 Dart. According to Dodge, there are over 100,000 variations the new Dart can be had in. With 3 engines, 3 transmission options, 14 interior colour and trim combinations, 12 possible exterior colours, and 150+ Mopar packages catered specifically to the Dart, a buyer's choices on how they want to personalize the Dart can be near endless.
There's even a never-before seen option for buying a Dodge Dart; albeit it's only available for American consumers. Known as the 'Dodge Dart Registry' the online platform allows consumers to configure and customize a Dodge Dart, and set a goal for the amount of money they want to raise to fund it. It then itemizes components of the car –like a steering wheel, shifter, seat or engine– allowing friends, family or anyone to sponsor specific parts.
Canadian starting price for the 2013 Dodge Dart rings in at $15,995 and can be optioned up in excess of $28,000. My Dart SXT tester equipped with the base 2.0L motor, a 6-speed automatic transmission (a $1,300 option), and a premium audio and special edition group package rang in at $23,310 (includes a $1,595 destination charge and $100 federal A/C tax.) Dodge dealers estimate that the best selling trim level in Canada will be the SXT with a starting price of $18,595.
Overall the Dart comes across as a sure footed sibling to the very cool midsized Charger. Since cool alone won't sell well, Dodge saw to it that this compact car leads the class in a number of elements including tech and safety. With promises of a SRT Dart in the near future, this new entry in the crowded compact segment may just be the most exciting. Exciting doesn't always become a best seller, but it sure will be loved and coveted.
Photographs by Kanishka Sonnadara and Chrysler Group LLC
Kanishka Sonnadara can be reached by email: kanishka[at]oyetimes.com or on Twitter @autoKsS