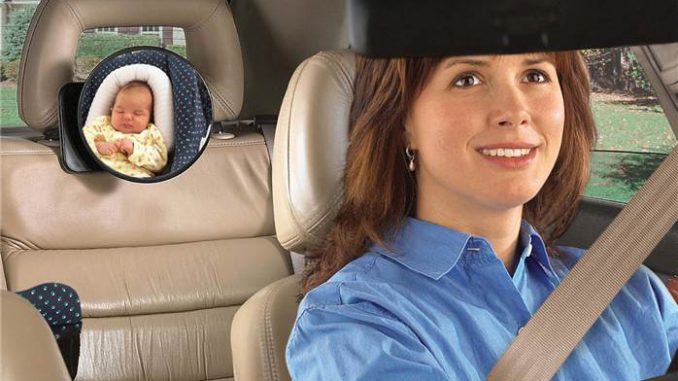 One thing that every parent, caregiver and even child can agree on is that nowadays there is definitely no shortage of baby accessories. I know that many of us have too much already but why not add a few more things to our plethora of goodies for use in the car too. For those of us who simply need or want to have it all here are my top five.

Backseat mirror
This accessory is great to help keep an eye on a rear facing baby. Having it will help put your mind at ease because you can take a quick peek at their face to see if they are happy, sleeping or if you need to pull over.
Your child can also see their own reflection in the mirror which helps entertain them and when you're not driving you can use it to put makeup on –I've done this more times than I'll admit to.

Car seat tray
When I saw this I just had to get it. Strapping it around a forward facing car seat gives kids a surface to draw on, play games or just bang their fists on.
The tray can also strap around a stroller when not in use in the car.

Backseat organizer
Once kids are inhabiting a car it always seems to turn into a disaster area. Putting one or two of these on the back of the front seats will help keep everything you need in its place and handily organized.
The seat organizer can hang anywhere really and even be used for non-child items.

Window sunshade
These are great to block our kiddos from harmful UV rays and shield their eyes from that annoying glare. You can get them for the side windows and also for the rear windshield if your babies are still rear-facing.
In-car sunshades will help keep the car a bit cooler in the summer for any of your passengers, regardless of age.

Baby on board sign
We see these all the time and the idea is simple: by appealing to the caring nature of other drivers you hope that they are a little more cautious and courteous on the road around you.
For us proud parents, the 'baby on board' sign also makes for a badge of honour.
The best thing about these baby accessories is that they all have multiple uses which makes the investment even more worthwhile.
Check your local baby stores or online to find these items, you, your child and your car will be glad you did.