199 lb-ft of torque, 198 HP, strong acceleration, a sporty drive and…oh, it's a hybrid too.
As auto manufacturers work ever more diligently toward making hybrid's more appealing to drive and own, the above statement is the reaction they are looking for when their cars hit the market – a driver's machine first and the environmental and fuel efficient hybrid aspect second.

Looks and Styling
The Altima is a classically good looking car that maintains the same design theme that was adopted a few years ago for this model. Each year has seen minor visual tweaks, with the major addition this year being the noticeably sculpted hood.
The hybrid model receives 16-inch alloy wheels which sit under flared wheel arches, creating a look of conservative sportiness. There are dual rear exhaust pipes, chrome tipped of course, which add to the sporty appeal of the car.
Other notable features include side view mirrors with integrated turn signals, an absence of key holes on the doors, and the subtle chrome trim details that are tastefully incorporated into the car's overall look.
Get inside the Altima, however, and suddenly conservative styling takes a turn for the worse. A lot of the bits and pieces here look dated – a mishmash of items from Nissan's models over the years. There appears to be a lack of a unified design theme here, as it seems that function was the objective, while form was all but ignored. At this price point, in this segment, there are some really well thought out, beautiful interiors. It seems Nissan decided to stay out of it and stick with the old.
Now, that doesn't mean buyers will dislike this. There are a lot of conservative car buyers who want what is familiar and appreciate the look of an interior similar to their own car. Perhaps this was Nissan's goal, to focus on what worked, and to play it safe. This was Toyota's approach for many years (and in many ways, still is), and it works quite well for them.
Overall, the Altima looks great, as it always has. The conservative design theme will appeal to many, and will certainly not offend any. All of this makes the Altima a widely accepted vehicle, which may not become stuff of posters, but one that sits on many driveways.

Driving Dynamics
A conservative, mid-size, hybrid sedan will always have a tough time carving corners like a Lotus, but that's not what this car is built for.
It is soft over bumps and stable on highway on-ramps, it gets you from home to work and back again with little to no drama, and makes you feel safe during harsh weather conditions. A mid-size sedan can aspire to be sporty, but what it already needs to be is safe, and predictable; and that's exactly what the Altima delivers.
Now step on the accelerator pedal, and suddenly you come to realize the possibilities a hybrid drive-train opens up for you. 199 lb-ft of torque shows up for work from 0-1500rpm, that's unlike any combustion engine on the market today. You will suddenly find yourself singing praises to hybrids, and laughing at any gear heads opting for internal combustion-only vehicles. You'll love the everyday fuel economy, with the option to feel sporty when your right foot gets heavy.
The hybrid drive-train with regenerative breaking is a combination that will take getting used to. The quiet hum of just the electric motors moving the car along at low speeds is an awesome experience. Having the engine only turn on when accelerating at higher speeds, or when the batteries need some charging is a great feeling for your wallet. Listening to your regenerative breaking system work, where the electric motors use the force applied to slow the car down to reverse the flow of energy and charge the batteries, is just flat out cool.
The combination of power, confidence inspiring handling and fuel economy in the Altima Hybrid makes owning a mid-size sedan a little more fun, talk-worthy, and economical.

Quality, Comfort, and Features
When it comes to quality, there aren't any obvious nits to pick with the Altima Hybrid. Everything feels well made, well engineered, and of sound quality. We didn't find any rattles or shakes, nor did anything seem to be fitted crudely or roughly.
The soft touch materials used throughout the cabin were a welcome touch of refinement, although sitting in contrast to it were clunky buttons and knobs which felt out of place for a car in 2010.
Leather seating, with power driver seat is a much needed touch of luxury included with the 'Leather Tech Package'.
Highlighting this car are the many technology toys found on the Altima Hybrid with the aforementioned tech package.
Let's start with a key that never has to leave your pocket/purse; buttons on the outside of the driver and front passenger doors allow you to unlock and lock the car by just having the key on you. Ignition is the same, with push button start/stop. You'll also love the windows that can be controlled remotely, and the one touch open tilt/sliding sunroof.
The 4.3-inch touch screen navigation system is the control hub for a Bose audio system featuring 9.3GB of internal storage, and DVD playback. The rear-view camera is also connected to this large screen, and includes markings to aid with reverse parking. Bluetooth, iPod compatible USB, auxiliary audio and video connectivity are all included, and make for one very entertainment friendly car.

Competition
The mid-size sedan segment under $40k is rich with choices. However, when it comes to hybrids, your choices become a bit slimmer. Ford brings forward the well designed, well equipped Fusion Hybrid. There's the mid-size hybrid that started it all, the Toyota Camry. Lexus's HS 250h, will push you over $40k with just the optional carpets, but still starts at $39,900. And Hyundai has announced a technically superior Sonata Hybrid in the near future.
The Camry Hybrid has the lowest starting price at $31,310, but expect Hyundai to stir things up when they release the Sonata Hybrid.
When it comes to raw power, the Altima Hybrid takes the crown by a long shot with very respectable horsepower and torque numbers.

Verdict
The Nissan Altima Hybrid redefines the norms for what a hybrid vehicle can do by maintaining focus on performance as only Nissan does.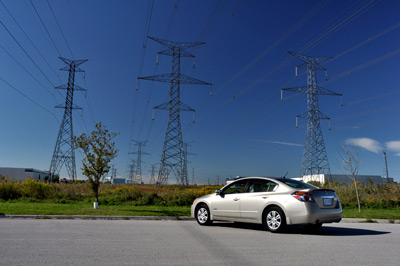 A conservative design theme dictates this car's presence, and ensures you will feel right at home behind the wheel. The combination of fuel economy and power make this car a top choice for enthusiastic drivers, while a slew of electronics make this car a joy for tech enthusiasts.
There are better equipped, better priced, and more fuel efficient cars on the market today, but none will deliver the unique combination of power, value, and economy that a Nissan Altima Hybrid will.
Click HERE to view more pictures of Nissan Altima Hybrid
Contact Kanishka Sonnadara at kanishka@oyetimes.com