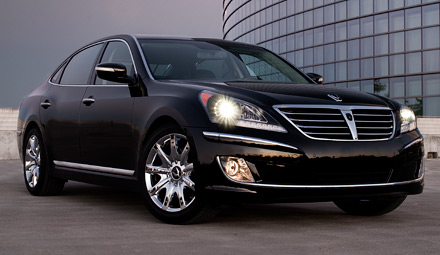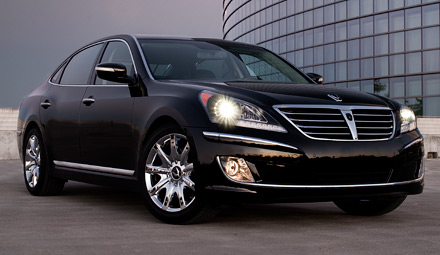 Hyundai is out to prove itself as more than just a budget brand, and with one good car after another; they really are pushing the envelope on what it means to be a value brand.
First came the Genesis sedan. It broke all the rules, and gave consumers a car with luxury features and specifications that rivalled the likes of Mercedes' E Class and BMW's 5 series with a starting price under $40k.
Then came the Genesis Coupe – one of the sportiest rear wheel drive coupes you could buy for under $24k.
There's now another announcement from the Korean automaker: a new ultra luxury sedan called the Equus.
Let's take a look at what Hyundai's got planned for us with this new flagship car.

Features and Specifications
Equus offers a long list of features and amenities as standard kit. The vehicle is propelled by Hyundai's award-winning 4.6-litre V8, known as the 'Tau', developing 385 horsepower and 333 lb.-ft. of torque. Coupled to a ZF 6-speed automatic transmission, the Tau is said to deliver effortless power throughout the rev range. In fact, Equus develops more power than the current Lexus LS 460, Mercedes-Benz S 550, and Audi A8; undoubtedly a carefully planned goal for this car.
Riding on electronically-controlled air suspension and built on Hyundai's rear-wheel-drive architecture, the driving dynamics and ride quality of the Equus shows promise. The air suspension can be adjusted with the push of a button, allowing the ride to be tailored to suit the occasion. A Continuous Damping Control (CDC) system constantly monitors road conditions to maintain an ideal ride-and-handling balance.
Equus is available in both 5-passenger (Signature) and 4-passanger (Ultimate) configurations. Equipped with a Lexicon audio system, the Equus is capable of 7.1 discrete surround sound through 17 speakers. Both models feature adaptive cruise control, premium leather seating, natural wood trim, an Alcantara suede headliner, 19" chrome alloy wheels, and navigation system with rear-view camera.
Occupants are protected by an array of safety systems including nine airbags, Electronic Stability Control (ESC), Vehicle Stability Management (VSM), electronic active head restraints, and a lane-departure warning system. Large disc brakes featuring ABS and Electronic Brakeforce distribution (EBD) round out the Equus' safety devices.
Equus in the Ultimate configuration offers a luxury experience that warrants a double take. For a true first-class experience, the VIP seat on the passenger side features a shiatsu massage function and an extending leg rest. Passengers in the reclining, ventilated rear seats can enjoy a drink from the cooled storage box and a movie on the 8-inch display. A front, wide-angle camera provides a 180-degree view immediately in front of the vehicle to aid in navigating tight corners. Rounding out the top-level trim is a power-operated trunk lid and rear vanity mirrors.
The Ownership Experience
All Equus customers will be able to take advantage of a full concierge service within a pre-defined area both during and after sale.
Interested new consumers can have an Equus driven to their home or place of work by a specially-trained salesperson for a test drive.
When the vehicle requires service, the local Hyundai dealership will pick it up and leave a Genesis or other Equus in its place; and return with your Equus when it's primed and ready.
This is the kind of pampering luxury car buyers are given, so the big question here is what price tag will Hyundai hang on the Equus to justify all these features and amenities?
Price and Competition
Well to put it mildly, the Equus won't come cheap, but the word cheap is all relative. Hyundai has once again built a feature laden car but will sell it for far less than similar cars offered by their competitors – this time in they have succeeded in the premium luxury car class. The Equus Signature will start at $62,999 while the Equus Ultimate will sell for $69,999.
In comparison the Mercedes Benz S class, Lexus LS, and Audi A8 all push the $100,000 mark. So does that mean you are paying a premium for brand? Undoubtedly you are with the established marques, because they've done just that: established themselves as leaders in the field of luxury automobiles.
It will take time for Hyundai to match that same level of confidence, reputation, and more importantly, history. But for now, it seems the Equus will be a great new addition to the Hyundai line-up. Although Hyundai may not sell a lot of Equus models initially, they will undoubtedly see a growing interest in their vehicles as consumers begin to identify Hyundai with more upmarket brands, and less of a budget one.
If you happen to be in the market for a luxury sedan and find paying close to $100k a little hard to swallow, perhaps the Equus is the car for you.
Looking Forward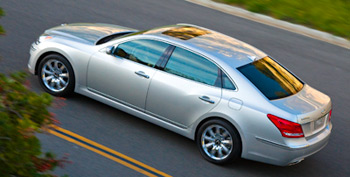 The Equus is great car on paper and on screen. At first look it appears that Hyundai has indeed been successful in creating the halo car that will further elevate the company away from its former budget car moniker.
Hyundai is launching the Equus as a 2011 model, and although it is not in dealerships yet, it won't be long until they are seen driving on the streets in a city near you.
Contact Kanishka Sonnadara at kanishka@oyetimes.com