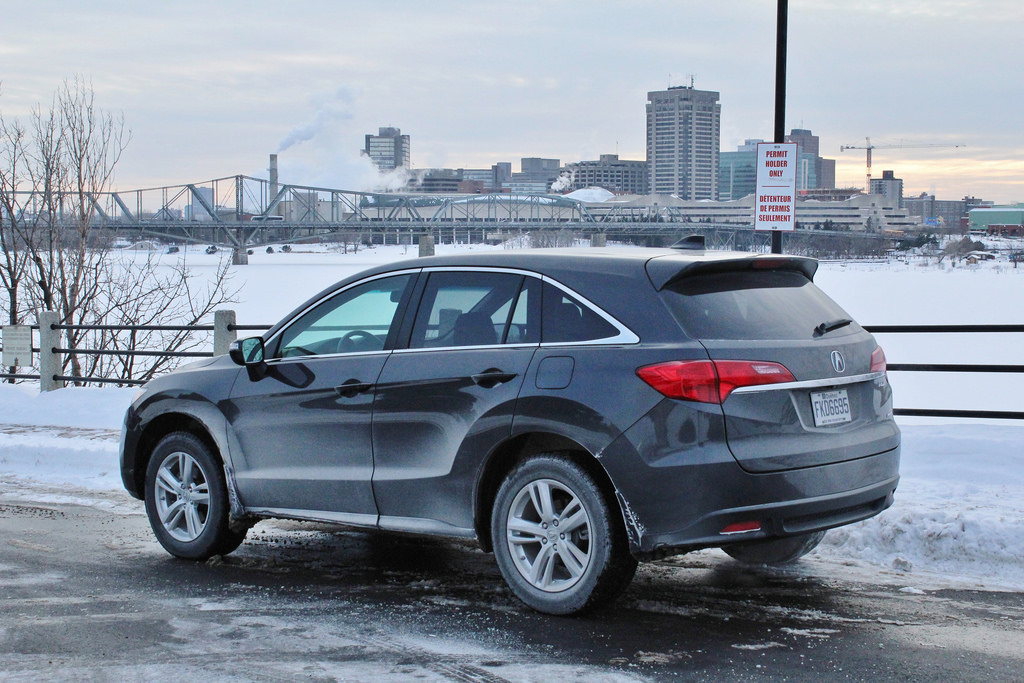 This article was last updated on April 16, 2022
Canada:

Oye! Times readers Get FREE $30 to spend on Amazon, Walmart…
USA:

Oye! Times readers Get FREE $30 to spend on Amazon, Walmart…
Compact luxury crossover comes packed with standard equipment, but starting to show its age.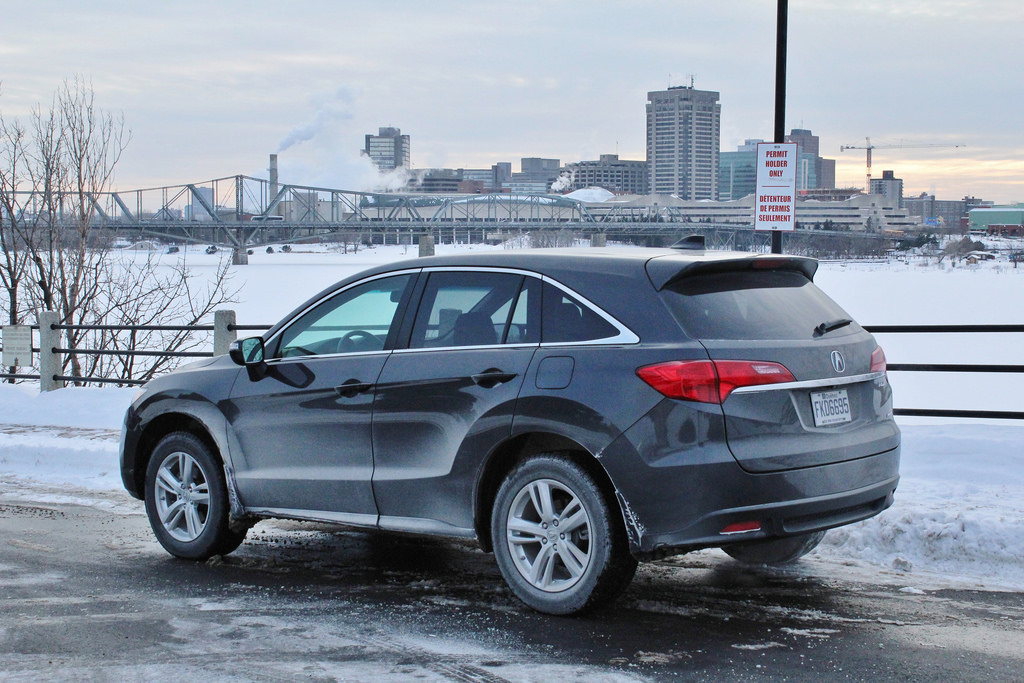 Acura must have figured luxury crossover buyers didn't like weighing equipment options, so it made everything standard on its smallest utility vehicle.
Well, almost everything.
The Acura RDX comes in one trim level, with one available drivetrain and just a single available upgrade–a technology package that our tester came with. Competing in a crowded market, the folks at Acura must have felt it was better to put everything in one basket to sweeten the package.
First introduced for the 2007 model year, the current, and second generation Acura RDX appeared in 2013 with a new look and a simplified drivetrain.
A strong, Honda-sourced 3.5-litre V6 replaced the high-tech turbo four-cylinder motor of the previous generation, while a simpler AWD system replaced Acura's previous SH-AWD system. This change reduced the vehicle's weight by about 130 lbs (59 kg), while boosting fuel economy considerably. The previous 5-speed automatic transmission gained an extra gear, which can take credit for the large bump in highway mileage.
The RDX's styling can best be described as 'safe', with the marque's corporate 'shield' grille offering brightwork up front and an angular body behind it.
With a somewhat wedge-shaped nose and angular body panels, its profile is similar to that of its larger stablemate, the MDX. Both chose to forgo the coupe-like rooflines that are making inroads into the utility market.
While it doesn't swivel heads like the edgier crossovers on the market, the design does enhance interior volume and helps cater to those not looking to make an overt design statement. After all, the RDX is a luxury vehicle first and foremost–it's reserved on the outside, but will coddle you on the inside.
And coddle, it does.

Equipment
The RDX is something of a hot rod amongst its peers, coming equipped solely with a 3.5-litre i-VTEC V6 making 273 hp and 251 lb-ft of torque. Many compact crossover SUVs these days come with standard four-cylinder engines, and an increasing number are doing away with a six-cylinder option altogether.
The steering wheel mounted paddle shifters for the 6-speed automatic aren't likely to see much use in regular driving–the shifts are so delayed as to make the feature almost pointless–though they would assist in holding gears while climbing a steep grade.
Up front, there's ample legroom, a cavernous console with numerous plug-in points, and standard Bluetooth hands-free calling. Our tester's optional technology package added Acura's navigation system (with voice recognition and 8-inch display screen), as well as a 10-speaker, 410-watt premium audio system.
A dual-zone climate control system and power tailgate were also included in the package.
Leather comes standard in the RDX, and the 8-way power driver's seat features adjustable lumbar support. Both front seats are heated, which is a welcome necessity during a winter as cold as this one.
A leather-wrapped steering wheel and shift knob are par for the course, and look nice, but the dated-looking dash could use a lot of work. The centre stack–a mass of hard black plastic–is button-heavy and confusing, with climate control, clock, and stereo information crowded into an inch-high display strip.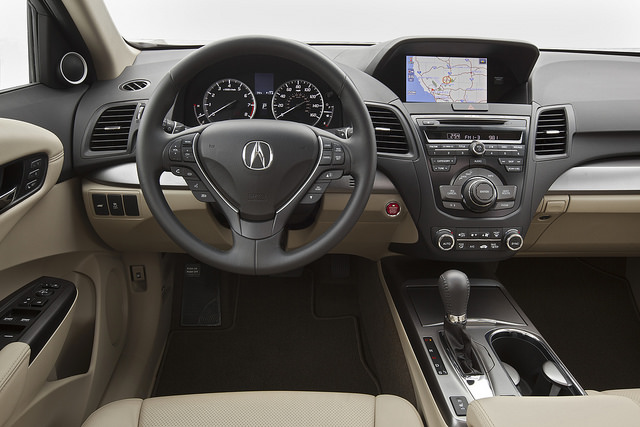 The contrast between the dashboard's hard and soft plastics isn't appealing to the eye, and the quality of both materials don't seem worthy of this class of vehicle. Acura would be wise to adopt the modern, less cluttered dash layout of the larger MDX for use in the RDX.
A saving grace for the dash situation is the locating of stereo, Bluetooth and other controls on the steering wheel.
In the rear, a healthy 26.1 cubic feet (739 L) of cargo volume is available behind the second row seats, which can fold flat and feature a 60/40 folding seatback. Rear legroom is generous at 973 mm.
Driving impressions
The RDX isn't particularly heavy for a crossover, at just over 3,800 lbs (1,725 kg), which makes for effortless acceleration and passing. The V-6 emits a throaty growl under heavy throttle, which is pleasing for the horsepower enthusiast, yet seems almost at odds with the vehicle's conservative image.
The steering isn't heavy in the RDX (that wouldn't be fitting for a luxury vehicle, after all) but it is precise, making the RDX feel nimble and balanced, despite having a suspension geared towards a softer ride.
With cracks, potholes and frost heaves littering the roads during this colder than average winter, a softer suspension, coupled with meaty P235/60 R18 tires, helped soak up the minor road imperfections and offset the worst ones.
At highway speeds, some road and wind noise intruded into the cabin, but not excessively. Despite the poor road conditions and frigid temperatures encountered during the test period, the RDX's body and fittings exhibited no squeaks or rattles, which helped reinforce the vehicle's sense of quality.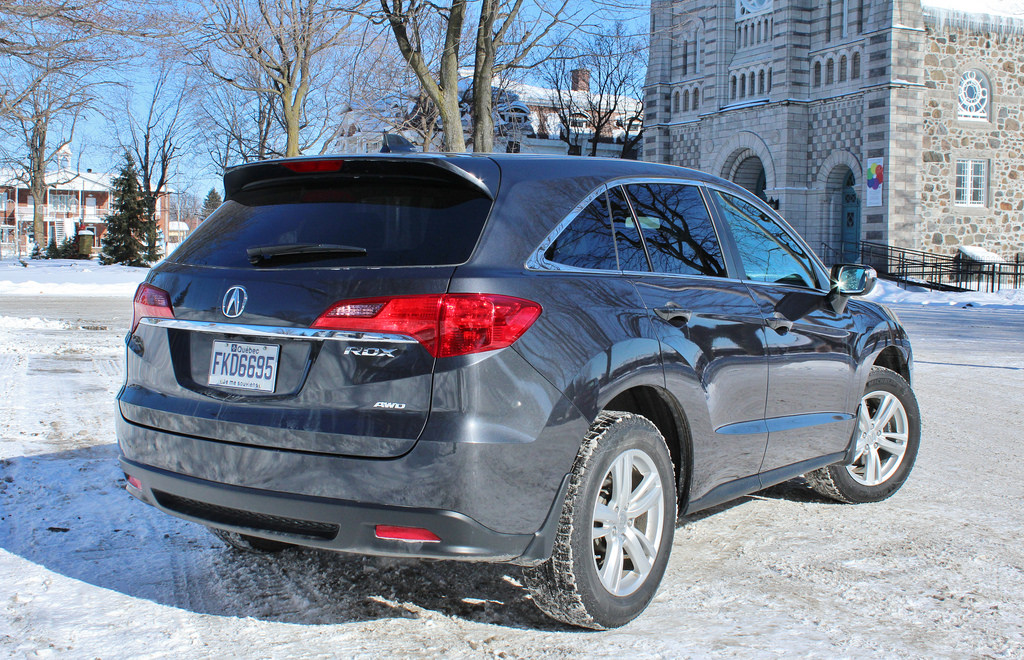 In heavy snow, and on partially covered highways, the RDX's all-wheel-drive system helped maintain the vehicle's composure, with the rear axle kicking in as needed. For the most past, the system stays in the background, waiting to ride to the rescue of wheel slip.
To counter momentum, four-wheel disc brakes (ventilated on the front) did a good job of stopping the RDX quickly, and the pedal had a consistently heavy feel. Some vehicles have brakes that are mushy in the upper level of travel then come on too strong, causing the diver to reflexively back off. There was none of that with the RDX.
With a big V6 under the hood, the RDX's doesn't set records for being frugal on gas. Acura lists the RDX's city fuel consumption at 12.1 L/100 km, while highway driving nets 8.7 L/100 km.
A jaunt of about 120 km on rural two and four-lane roadways returned 9.0 L/100 km while outfitted with snow tires. City mileage averaged factory estimates.
Retailing at $41,690, the Acura RDX sees competition from the likes of the Lexus NX, which features edgier styling and retails for almost the same price, but doesn't offer a V6 engine. The Lincoln MKC, another turbo four-only model, undercuts the price by a couple of grand.
Despite the new competition, annual sales of the second generation RDX far exceed those of the first generation, showing that Acura's strategy for the model is clearly paying off.
With this second generation RDX now its third year on the market, and with some styling elements starting to show their age, Acura decided to freshen up the model for the 2016 model year.
A new one for 2016
A facelifted RDX was recently unveiled at the Canadian International Auto Show in Toronto sporting an updated look and minor equipment tweeks. A more chiseled front end, restyled headlights and taillights, and a simplified dash layout are among the most notable changes.
The 2016 Acura RDX is expected to go on sale in the spring of this year.
Photogrpahs by Steph Willems and Honda Canada.
You can publish this article on your website as long as you provide a link back to this page.