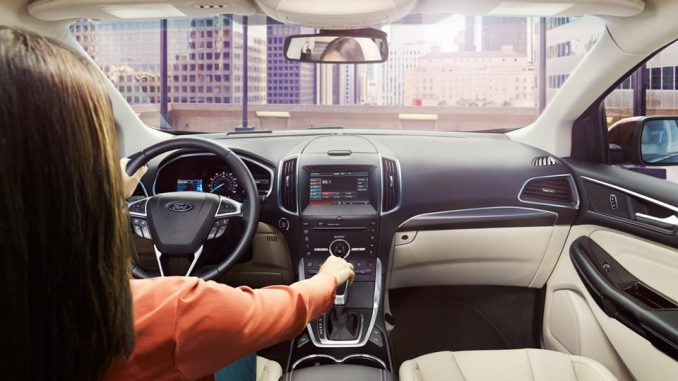 Be it a lengthy commute to work, a trip to the grocery store or a drive to the cottage, driving can be an unneeded stress for a lot of people. Being mindful while driving is one good way to combat these stresses. As we spend more and more time behind the wheel of our vehicles, automakers like Ford are looking carefully at how a vehicle's interior features and advanced driver assist technologies can help put our minds and bodies at ease when we are behind the wheel.
I spent an afternoon learning and practicing ways to be mindful and stay relaxed while behind the wheel of a 2016 Ford Edge.
Here's the takeaway:
Take time to stretch
Stretching before getting into the car can help increase blood flow and make you more comfortable before getting seated. Make sure to stretch your arms, legs, neck and back as those are the most used body parts when driving.
Sit properly
Proper seat adjustment is key to being comfortable while driving. The 2016 Ford Edge has 10-way power adjustable driver and passenger seats so that you can find the perfect seating position. Make sure to sit as far back in the seat as possible, having your head, ribs and pelvis in line helps keep your back happy during long trips.
Set your shoulders
Some of us have the inclination to slouch forward while driving, this puts unnecessary strain on our necks, upper back and shoulders. In order to fix this make sure to check your posture before driving. Make sure to sit tall and roll your shoulders back and send your shoulder blades down as if you are putting them in your back pocket.
Get a grip
Don't hold onto the steering wheel too tightly, if you realize you are, take a moment at a stop light to rotate and stretch your wrists. The repetitive actions of driving can cause carpal tunnel in some cases, just be mindful to give your hands a loose shake to break the repetitiveness. The 2016 Edge comes equipped with adaptive steering. This system manipulates the steering ratio constantly to provide smooth steering at any speed.
Slow breath in, deep breath out
When we are stressed we tend to breathe fast and shallow, or hold our breath completely. If you become conscious of your breathing you can energize your body and lower your stress. Try 5-10 cycles of mindful breathing: inhale through the nose for a count of 6 and exhale for a count of 8.
Stretch some more
Moving your body around when the vehicle is safely stopped is a great habit to start. Rotate your head slowly to stretch your neck out, make sure to pause when any tension is felt.
Light yoga upon arrival
Once you have arrived at your destination and have turned the vehicle off stretch out your back with some spinal twists. Sit up straight and move forward a few centimetres. Reach across to the passenger seat with your left hand and pull yourself in a gentle twist. Hold for 5 breaths before switching sides.
Image courtesy of Ford Motors