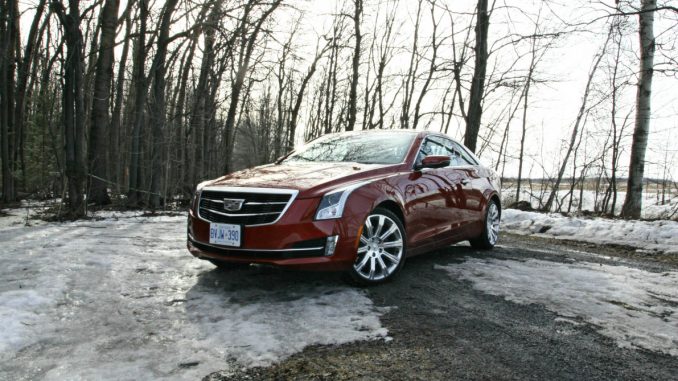 The 2016 Cadillac ATS is quite the looker. The new design direction GM has adopted for their luxury line up is working out well, stepping up the refinement with a touch of modernity that is quite welcome for a brand that's long been associated with an older audience. Sharing the same platform as the Camaro, you would expect the ATS to let some personality shine through as the entry-level sport luxury option of the family. I got up close and personal with the ATS on a 1,000 kilometre journey to and from Montreal. Despite its ambitions, it doesn't quite hit the mark. Here's how it all breaks down:
– The two-door variant was introduced in 2015 as a spin off of the new model, born in 2012. The newcomer also introduced a new design benchmark for the brand. The mission of the new ATS is to offer a lower priced entry point to the Cadillac universe and in that regard, it does the family proud.
– If the exterior of the car is a head turner, the interior is a bit of a let down. The hard and shiny piano black plastic galore reminds you of the compromise you are making. The touch-sensitive controls can be frustrating to use. Sometimes you have to tap, sometimes you have to swipe; which does what is yours to discover.
– The ATS is one of the only few models currently on the market to offer wireless charging, a convenient feature once you find out where the pad is located. Hint: it's under the control panel and opens up with the brush of a finger. Let's also appreciate the 4G LTE network with wifi capability that is quite the fun feature to enjoy on long road trips.
– The 2.0L 4-cylinder turbo engine rated at 272 hp and 295 lb-ft of torque is quite good, despite not sounding very serious. A little like a castrato at the opera; the voice doesn't match the owner. The new 8-speed automatic transmission traded from the initial 6-speed is frustrating at best, feeling lazy and jerky at lower rpms; quite noticeable in city driving. You not only hear the gear shifts, you feel them. It's as if the car begs to be driven hard as it will only really start becoming more responsive once you rev up the engine and push it harder. The handling however is precise and spotless, with just enough weight and feedback in the steering wheel to make you feel involved and in control.
The 2016 Cadillac ATS isn't bad all-around. It does certain things really well and needs some practice on others. There are compromises to be made with the purchase of this small(er) Caddy and it all comes down to what your expectations are.

Pros
– Good and efficient engine
– Steering on point
– Packed with entertainment and safety technologies
Cons
– The automatic transmission is a lull
– The interior feels cheap
– Not very responsive at lower speeds/rpms

Specifications
Model: 2016 Cadillac ATS Coupe Performance Collection AWD
Engine: Turbocharged 2.0L 4-cylinder
Transmission: 8-speed automatic transmission
Layout: All-wheel drive
Wheels: 18-inch alloys
Tires: P225/40R18 front and P255/35R18 rear, all-season, run-flat
Brakes: 14.6-inch rotors with Brembo calipers front, 13.3-inch rotors back
Seats: 2 + 2, front bucket
Trunk space: 294 L
Power: 272 hp, 295 lb-ft of torque
Fuel economy (L/100 km): 10.5 city, 7.6 hwy, 9.2 combined
Base price: $41,590
Price as tested: $60,675

Photography by Sabrina Giacomini and General Motors