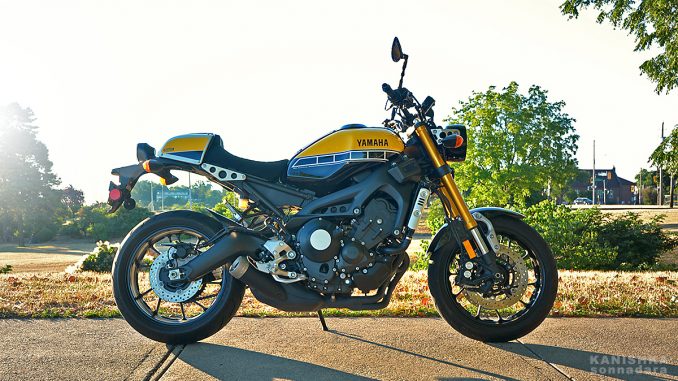 I hop on Yamaha's latest retro themed sport bike and go for long ride. But it doesn't take long before I find love.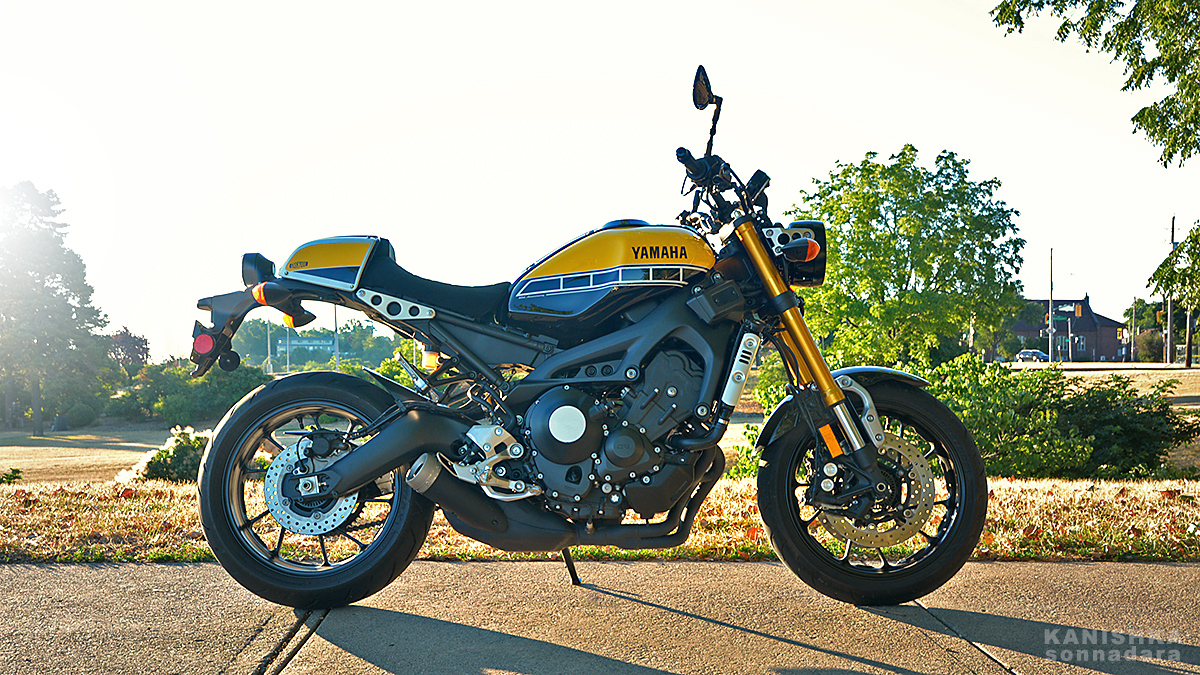 It didn't take swinging a leg over the 2016 Yamaha XSR900 for me to fall for it. No, it began so much earlier, when I was across the parking lot and first laid eyes on it. The exposed powerplant, the matte finish paint work on the frame and exhaust piping, the three drilled circle motif pattern on front and back supporting brackets, the round exposed LED taillight, the passenger seat cowl (an optional extra) with its fittingly retro lettering… I could go on, but suffice to say Yamaha absolutely knocks it out of the park on design with the new XSR.
Once you've gotten past the so many detail bits that'll keep you occupied for ages, you turn the XSR900 on. For me it was a little bit of disappointment at first, that sexy matte black exhaust could make a sexier noise, but OEM stock exhausts rarely do. Twist the throttle though, and you better pray that this ain't your first bike.
Yamaha's 847 cc inline triple is tuned for what is basically a table flat torque curve from 2,500 rpm all the way on up to about 10,500 rpm (the motor redlines at a touch past 11,000). What this means is, no matter which gear you're in, chances are you're in the meat of the torque and the XSR will take off, with or without you. A bike for beginners this is not.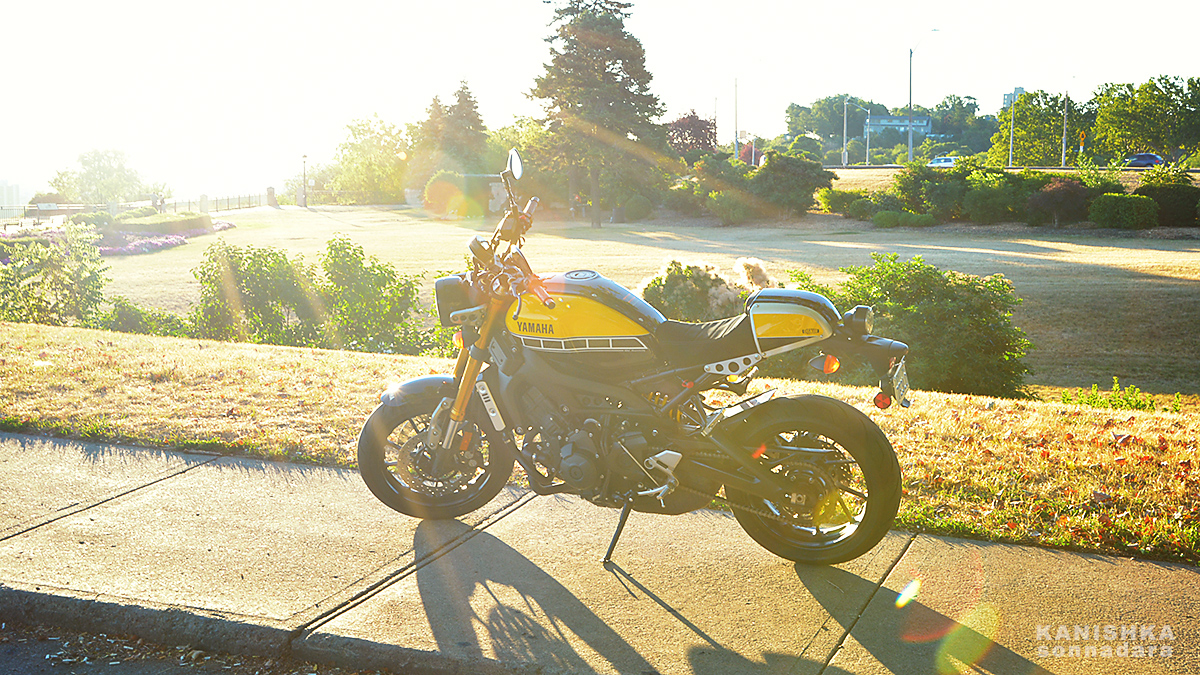 Not for you
Let's start with that, who the Yamaha XSR900 is not for.
If you're new to riding, this is not the bike for you. New riders, please stop looking at bikes with this much displacement; I've been there too, I get it, but get some solid experience under your belt before you look at anything over 500 cc and an aggressive throttle. If you're looking to adventure tour, or even just take on long road trips, the XSR's rather small seat and lack of storage options makes it an ill fit for you. If you're looking to get in some track days or like to play in the dirt, this is also not the bike for you.
Where the XSR shines is on the street. You can pound through the gears easily, while generous servings of power will roll you along effortlessly. Adjustable front and rear shocks makes quick work of most road imperfections and I even found myself admiring how predictable it all was when I wanted to be spirited around corners. Yamaha's choice of sticky Bridgestone Battlax S20 rubber front and back are perfect for the bike that can deliver on sportiness despite its heft and appearance. Great tire choice here is complimented by strong brakes. Although I did find the front brakes can be a touch mushy under heavy braking, it doesn't appear to affect braking performance all too significantly.
For when you do jam on the brakes, Yamaha's ABS system is not the smoothest experience. It can easily be gotten used to, and I'd recommend anyone picking up a XSR900 get their first taste of ABS in a controlled environment before that unexpected moment on the street catches you by surprise.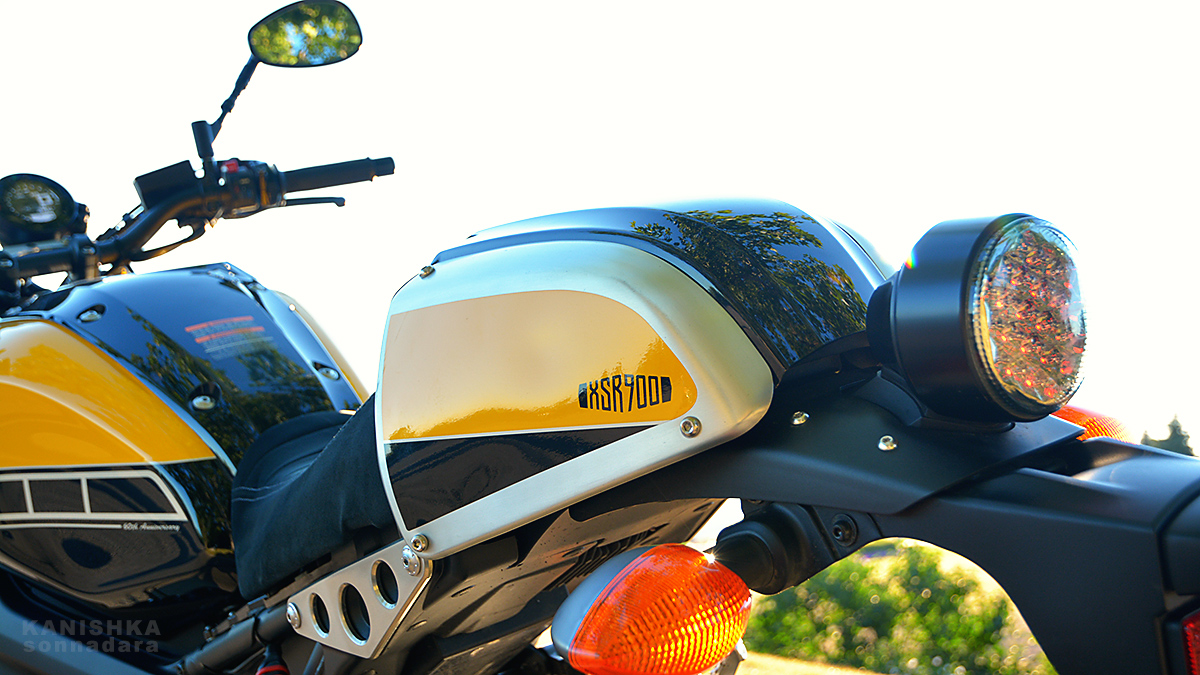 Hard riding
On a day-long jaunt with a couple friends through southwestern Ontario, I found myself pushing the XSR900 harder and harder as the day went by. And while the power keeps coming, and the tires don't quit, I found myself needing to stop for fuel a surprising number of times. Yes, pushing a nearly litre motor will drink up the go juice quickly, but I later realized it was actually the rather small-ish 14 litre tank that was letting me down.
About an hour into our ride that began pre-sunrise, it dawned on me that this wasn't a very comfortable seat. It would take another hour before it became uncomfortable and about eight hours later I had gone from discomfort, to pain, to depression, to acceptance. I settled on a logic of: you can't look this good and be comfortable.
The 2016 XSR900 has three traction control settings. Well, Yamaha says, three, but it's actually two, because I refuse to count 'off' as a setting. There's Mode 1 that lets you get some wheel spin in, but definitely won't allow for burnouts and the like. And there's Mode 2 which won't allow for any wheel spin at all; great if even the idea of wheel spin scares you.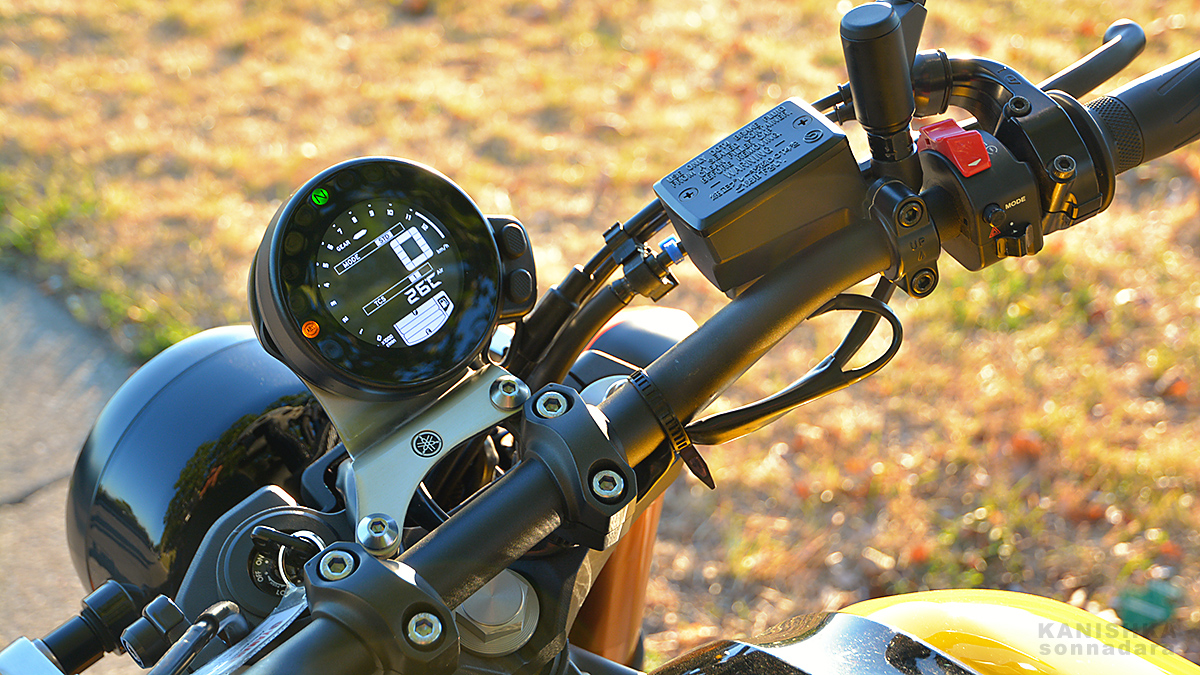 The sexy tech
There's also a drive mode selector on the XSR, or as Yamaha calls it, D-Mode. That name doesn't sit right with me. In the 'Standard' setting everything's very linear and predictable. Setting 'A' sharpens throttle response and amps up torque delivery while setting 'B' does pretty much the opposite. Combined with the traction control settings, and always-on ABS, the XSR packs quite a bit of riding tech into a package that's priced incredibly well.
Yamaha uses a single circular digital dial surrounded by various indicators for all of the XSR's display needs. The illuminated info on a black background looks great and smartly laying out everything on one compact display is very slick.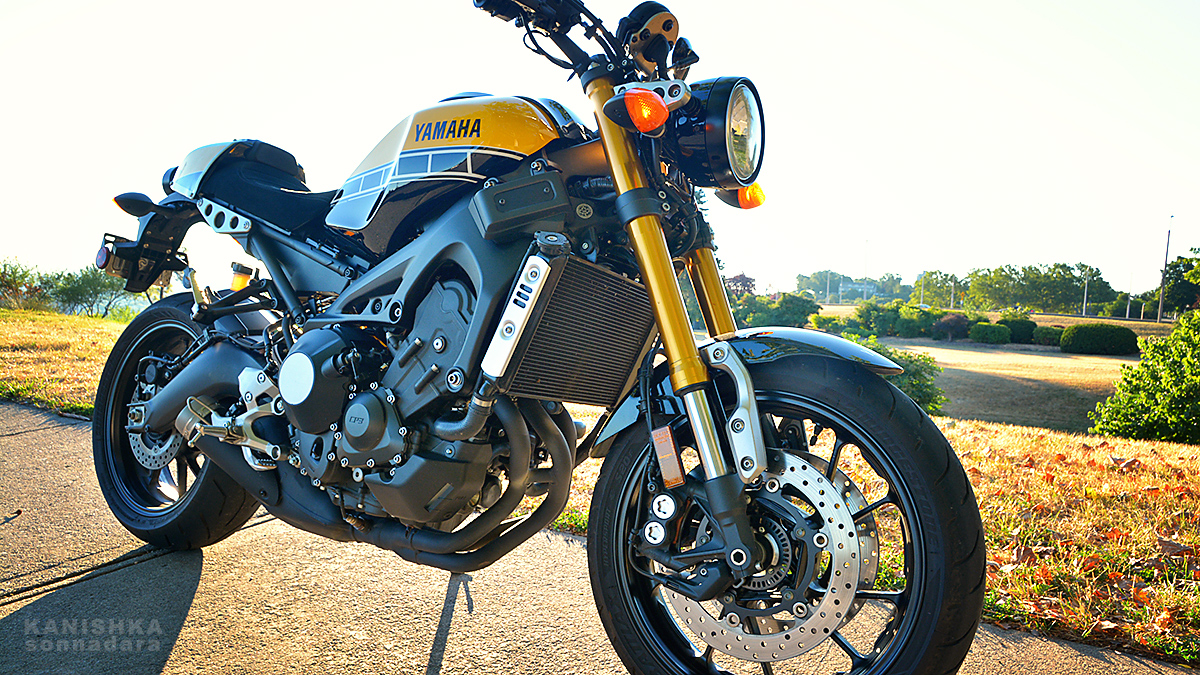 The send off
I could tell you that the cable ties could be neater, or that the mirror shape is rather uninspired, or that I don't like plastic bits masquerading as metal, but the truth is for a bike priced at $10,699, the 2016 Yamaha XSR900 is a stellar ride. Anything but praise for its stellar three-cylinder motor, the perfect riding position, and spot-on looks would be a disservice to a great bike.
The bike I'm riding for this review features a 60th anniversary special edition yellow and black paint job, a $300 premium over the matte grey model, and a $540 matching rear-seat cowl.
Riding home at the end of my rather long ride day, I was convinced, if I was a multiple motorcycle kind of guy, the XSR900 would be the one I'd buy for looking good and hooning. Because there's nothing better than a tech filled sportbike that looks like a muscled up vintage cafe racer.
Photographs by Kanishka Sonnadara.