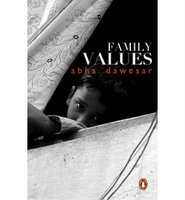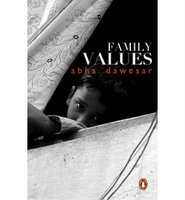 I have had an opportunity to read two books from this author. 'Babyji' was based on a lesbian relationship of a teenaged girl & 'The Three of Us' is based on the life of a man who was having an affair with his boss & his wife at the same time (You can click on the book name to read my reviews on same).
Author: Abha Dawesar
Priced at: Rs. 325
Publisher: Penguin Books India
ISBN: 9780143065951
Needless to say both the books had managed to appall & shock me to a major extent and thus when I saw this new book I had a good laugh, a good laugh because of the Title of the book.
For somebody who has managed to write only on tabooed & controversial topics this title was far too conventional. Thus against all the alarm bells ringing in my head, I picked the book.
It is the story of a colorful Delhi family as seen by the youngest grandson of the family.
The small boy lives with his doctor parents in a cramped home cum clinic. From his eyes we see a mean & partial grandfather, a mad but respectable uncle, a greedy-mean uncle & aunt who are all the while plotting against the grand father, a prosperous but helpless uncle & a battered aunt. For so called company he even has wayward & drug addict cousins. The book is a mish mash of the struggles of this family. There are major in-fights but they stand together if the need arises. The kids days are spent in adjusting in a cramped home, spending days without parents, seeing things which a normal kid shouldn't.
Within the story there are quite a many issues woven in.
– Corrupt police & politicians through the eyes of struggling parents,
– Child Sexual Abuse
– Youth going the wrong way
– Nithari case
– Arms deal also gets a mention in here
– Kidney racket
– And things don't end there; it has even Jessica Lall murder case in it.
The only thing that is missing here is the "Aarushi Murder case." The idea of mixing in so many things is quite innovative I would say (you can surely read the sarcasm here). But yes it was different to see these incidents from the eyes of a kiddo and their impact his psyche.
I would love to add here that I am bored of books which conveniently use such issues and center the book on it. However I have to say that "The Lost Flamingoes of Bombay" is an exception in this case. Though the book has "The Jessica Lal" kind of murder case at it's center but the book has much more substance in it.
Another major problem with the book is the way it depicts Delhi. Unfortunately most of the books based in & around Delhi end up showing only the murky side of the city.
There are books based on Mumbai and through most of those books I learn something more than underworld, local trains or terrorists. But the books based on Delhi, make the city a character, a character with all the grey shades. I wonder why any book doesn't talk about the beauty of the city and why don't they let Delhi be just a background.
Strangely none of the characters in the book have a name all are addressed by their nicknames. There is a 'six finger', 'Mrs. Cowdung', 'Sugar Mills' etc. When I was reading Abha's interviews post the release of the book, I found that she has been stressing this fact a lot.
Hmmmm…I have read quite a many books where the characters don't have names & the lack of it keeps naggine me.
BTW The author has a strange fascination with sh!t. There are repeated references of how does the family sh!t, what is its color or consistency or how small the washroom was etc. May be she was trying to stress upon the fact that many Indians do not have an access to decent basic facilities but then that's my interpretation. May be she was being her usual shocking self.
Overall I would rate the book just about an average read.
It has it's moments but largely it drags. What she tells about a disjointed joint family is nothing new and neither is her treatment. I would rather re-read Manju Kapur's "Home" to get a feel of middle class Delhites.
Click HERE to read more book reviews