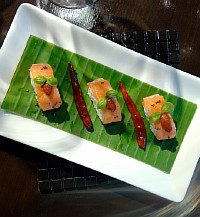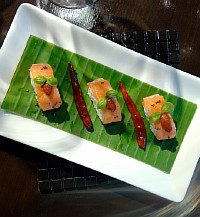 Smoked Salmon Thayar Satham with chettinad tomato tukku
Ingredients:
Smoked Salmon Slices – 100 Gms
Cooked Short Grain Rice – 90 Gms
Thick Hung Yoghurt – 70 Gms
Chopped Onion – 15 Gms
Chopped Cucumber – 20 Gms
Chopped Ginger – 5 Gms
Chopped Raw Mango – 10 Gms
Chopped Coriander – 10 Gms
Chopped Red Chilli – 2 Gms
Urad Dall – 3 Gms
Black Mustard Seeds – 2 Gms
Curry Leaves – Few Leaves
Salt – To Taste
Sugar – Pinch (If Curd Is Sour)
Veg Oil – 15 Ml
Tomato Chilli Pickle – 5 Gms
Dry Red Chilli – For Garnish
Method:
1. In a bowl, mix rice curd and all chopped vegetables along with salt and sugar (if required)
2. Heat oil in a pan. When very hot add urad dal, mustard seeds and allow it to crackle. Add curry leaves, cook for 5 seconds. Keep aside.
3. Add half the curry leaf and mustard tempering to the rice mixture.
4. Keep the mixture refrigerated for 1 hour.
5. Place shushi mat (makisu) in front of you. Place salmon slices on it.
6. With wet hands, form a cylindrical mixture of rice.
7. Spread it on the salmon slice leave the border at the top and bottom.
8. Lift the edge of the mat and roll the filling.
9. Roll completely and press gently.
10. Unroll the mat. Place the roll on a chopping board. Wet sharp knife and cut the roll.
11. Serve cold with tomato pickle. Garnish with fried dry red chilly.