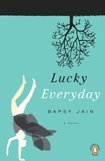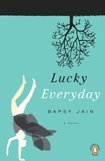 A new and exciting novel from a rising star in India read the subject line of the mail by a lady called Carli Rasch. I opened it with no expectations whatsoever but it turned out to be a pleasant surprise.
Carli turned out to be a member of Penguin Viking Publication New York's, publicity team. The mail was an attempt to introduce me to a new book by an Indian Author and ended with the note, "be in Touch if you would like a copy for a review". Needless to say I was on cloud nine and got in touch with them for a copy. Here is my take on the book.
When a lady commented to Lucky Boyce, "You are lucky today, you escaped miraculously." Lucky simply said "I am Lucky Everyday".
Can a name make you luckier than others??
What we get to see of Lucky's life can never be called a lucky existence. As an outcome of her bitter divorce she was forced to flee from Mumbai to New York leaving behind a trail of bitter memories & a business which she had nurtured with her sweat & blood. She tries to start afresh in New York and starts teaching Yoga to prison inmates but the lure & passion for high adrenaline life pulls her back into a business with some old associate.
It is then that her life takes a u- turn. Life which was turning look up starts throwing unpleasant surprises on her. From getting mugged, to getting into an affair with a much married man, to being falsely implicated for a crime; she sees it all. All the while her lone strength is the learning's from her friend Shanti. Besides the friendship of some prison inmates it is the art of seeing things in perspective and of letting go which keeps Lucky afloat.
But how long can she survive?
How will she fight her enemies when she doesn't even know that her enemies exist?
The book moves from Calcutta to New York to Bombay and back to New York. It begins on a note of déjà vu. Falling in love, resistance at home, a workaholic couple, cheating husband, deceit & divorce but in the later part of the book the author springs a surprise on us. It isn't a simple book of fighting for your dreams but it is a little bit more than that.
If we talk about negatives of the book there were places where I was bored especially at places where there was spiritual talk. Though the principal characters though are well etched but there are small characters which are mere caricatures & their actions unexplained. Even the ending leaves a lot for your imagination but I guess the author is looking out for a sequel.
However as a whole the writing is taut and by the time the book ends you will feel so much is encompassed in so less pages. Slowly the book catches upon you and the twist n turns make the book unputdownable. Your heart goes out for Lucky who has been anything but lucky in her life and she still shows a strength which only a woman is capable of.
As is written somewhere in the book
"One does not choose this kind of life. This kind of life chooses you."
So true na?? We are mere puppets in the hand of God & destiny.
To sum it up I will consider it to be an above average book and a nice read for Time pass.
3/5 stars from me.
Author: Bapsy Jain
Publication: Penguin
Price: $14.00
Click HERE to read more book reviews.