You can publish this article on your website as long as you provide a link back to this page.
This article was last updated on April 16, 2022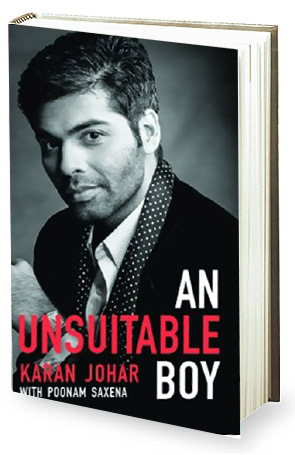 Now this is a biography I was really waiting for a long time. In Bollywood parlance, this was 'delayed' for a while. Announced way back in January last year, the book was originally slated for release around the time when Ae Dil Hai Mushkil was set to arrive. Pre-booking for the book had begun months in advance (in fact I booked it in July 2016) but then the release was shifted from Diwali to January this year. No wonder, the book scores a record to have the longest pre-booking time period (a good six months) before eventually hitting the stands.
Well, as I found out after going through the 215 odd page book, the wait was indeed worth it since there were at least a couple of major events that took place during these six months that would have prompted Karan Johar to sit with co-author Poonam Saxena and add a couple of chapters in this biography.
As is expected from Karan Johar, even his book is commercial, entertaining, engaging and spicy with a lot of fun. The fun anecdotes are told with a lot of wit, with dramatic encounters you can pretty much imagine a background score in the air, the romantic moments make you read his words carefully while the pathos unfolding on the pages too keep you engrossed instead of depressing you. In short, the book pretty much unfolds like a true entertainer that has everything you would have expected Karan Johar to answer, had you been in an uninhibited tête-à-tête with him.
That said, when it comes to the honesty factor, something that you expect from any biography, it always has to be taken with a pinch of salt. A book can be as honest as the subject in question and it always boils down to what and how much does he/she wishes to unravel. Of course there are episodes been narrated where Karan Johar goes to the extent that makes it all sound totally honest. However, one can never be sure of the episodes that could perhaps been left untouched entirely, hence not even giving a reader space enough to judge on the right or wrong of it.
Still, Karan Johar is pretty much out there in this book and willing to be judged. After spending years on social media, he is pretty much aware of the fact that a million voices out there would have countless opinions around anything and everything that he does as a celebrity. Hence, there are chapters that he dedicates around 'topics' that he knows would definitely be on the top of the list when it comes to set expectations from his readers.
So a major question that he answers is – 'Is he a gay?' Well, he answers that loud and clear without any ambiguity whatsoever. Pretty much allowing his reader a mental orgasmic pleasure of sorts right at the onset, he moves on to many other facets around his personal and professional escapades which actually turn out to be a lot engaging as well. How did he grow up as a child? How was his relationship with his parents [Yash and Hiroo Johar]? How he grew up on Bollywood and had many filmy friends but was never really into films? How he fared in studies with mathematics turning out to be his most dreaded subject? How was his love life over the years?
There is a lot of this and more which is explored in the book that makes sure that you keep turning around the pages in fervour. As a matter of fact one of the most interesting stories that he tells about his childhood is overcoming his shyness and turning out to be a champion when it came to debates and extempore right from the days of school. It is truly inspiring as this was truly a turning point in the manner his personality saw a sea change in years to follow.
What amazes though is that unlike many a star kids who have Bollywood in their dreams right from the childhood, Karan Johar gives a detailed account of how he was cut off from this right till his early 20s and actually wanted to work with his father in their other business of export. The book explores a lot on this aspect and how Aditya Chopra was responsible for making him realize his potential as a filmmaker. This, followed by an encounter with Shah Rukh Khan during the making of Dilwale Dulhania Le Jayenge resulted in Karan Johar becoming the celebrity that he is, something that is told in great details.
As for some of his recent rendezvous with controversies during the promotion of Ae Dil Hai Mushkil, Karan gives a good account of how badly he was hurt due to Kajol's one word tweet (Shocked!), something that brought to an end a friendship that had lasted more than a couple of decades. He even talks about some coldness that had come between him and Shah Rukh Khan a few years back and how even with Aditya Chopra the friendly relationship is currently there though not the kind which was prevalent during their earlier days together.
In fact at many places he calls a spade a spade, which is a good thing as he doesn't hold back despite the fact that there are many in the fraternity that he is still working with and has at least a couple of decades more to go before he even thinks of hanging up his boots. He talks about his tryst with anxiety as well and how he is not shying away from taking medical help for that. As for the situation in Bollywood today, he does mention about the changing trends that he is seeing amongst the current generation when it comes to handling producers and how that could well be contained in a much more professional manner.
While the book is indeed a breeze to read, for those who have followed his interviews closely for last two decades, you would find some stuff in there which has been read before either as just a headline or in complete detail. Since I personally fall in that category of those who have practically read everything about (and from) him online, I could well have done with a little more from him. However, for those who haven't followed it all as closely, the book turns out to be a very good reading material that could almost give many a voyeuristic pleasure.
Go, pick this one, and be entertained!
Price: Rs. 699/=
Rating: ****
Click HERE to read the original article.
You can publish this article on your website as long as you provide a link back to this page.