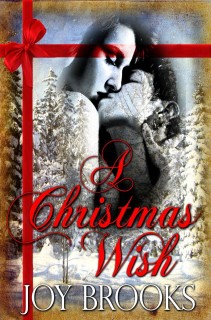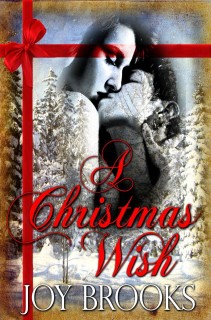 Paul Collins: I did not read this book myself, but Joy was kind enough to agree to do an interview about her book to any readers who might be interested in the subject. Joy, how would you describe your novel to your prospective readers? In broad terms, what is your novel about?
[Joy Brooks]: My novella, Christmas Wish, is a contemporary romance set in my home town of Milledgeville, GA. The story is about a kindergarten teacher who was raised in foster homes. She wants, more than anything, a family of her own. One of her students is a five-year old boy who wants his widowed father to be happy again. They work together to show Ian Stokely he
can live life to the fullest.
I feel very fortunate that our major TV station, 13 WMAZ, which covers all of middle GA, asked me to appear on their Weekend Morning Show on Christmas Eve. I talked about Christmas Wish, and my background setting of Milledgeville. Here is the link to my TV Interview,
http://youtu.be/dUhJGB5-ItY
. It is such a wonderful quaint little town. We have a lot of history, and I mentioned a bit of it in my novella.
Paul Collins: What themes does your novel explore and what do you hope the reader will take away from the experience? Is there a particular feeling or experience that you hope to evoke in the reader? Essentially, do you hope your novel will mean to a reader?
[Joy] My theme is Christmas, the wonderful, happy promise of the Christmas season. What better time of year to find what you have always wanted, love and a family. I hope the reader comes away with a feeling they can get their own Christmas Wishes fulfilled. Christmas is a time of hope, and I "Wish" everyone who reads Christmas Wish, comes away feeling the spirit of the season.
Paul Collins: What prompted you to write this novel and did you have a specific inspiration in mind? Were you influenced by a certain author or work that inspired you to add your voice to this genre? What motivated you to write this book?
[Joy]: Well, boatloads of money and rockstar fame would be incredible, but it is not my motives for writing. I love to write, and more than anything, I want people to read what I write and like it.
This is not my usual genre. My publisher asked if I would write a novella for a Christmas Anthology. I was delighted to take on the project. It gave me a chance to stretch myself as a writer. I thought on this for several days before I finally decided on how to proceed. I wanted something to touch the heart of my readers. I enjoyed the experience so much; I am going to write a full-length romance novel.
Paul Collins: If you could compare your novel to any other existing works, which ones would it be and why? If the one thing you could say to a prospective reader was, "If you like X, you'll love my book!", which work would be invoked so that a reader could judge whether or not your novel is their cup of tea?

[Joy]: I compare my book to a Harlequin Romance. If you read Harlequins, you will love Christmas Wish. In addition, if you like to read about the beautiful Christmas season, you will also love Christmas Wish. My book is about the wonders of Christmas and the hope and peace the season can give you. This is a feel good book with a happy ending.
Paul Collins: Is this your first or only published work, or have you published other novels? If you have published other novels, how do they compare to this one? Do you have any more novels planned, either as a follow-up to this one, or as a completely different novel or genre?
[Joy]: I do have several other novels and another novella. The novella is a Historical Romance called Coming Home. It is set in the Regency period. I wrote it for a Spring Anthology. However, I usually write about the 16, 17, and 18th century with an element of fantasy. I love the age of chivalry and fantasy, so I decided to put them together. I have two novels, Fourth Son and Sword of Virtue set in this era. You can find Fourth Son and Sword of Virtue at eTreasures publishing. Fourth Son is also on sale at Amazon.com.
I don't have a follow up to Christmas Wish because it has a fairy tale happy ending, but I am considering writing a sequel to Fourth Son and Sword of Virtue. All my books have a definitive ending, but yet, I left them so I could continue the story. The characters could have other adventures. I am currently writing another novel set in the 17th century with a very intriguing fantasy aspect.
Paul Collins: Where can readers obtain a copy of your novel for them to enjoy? How can they contact you with any thoughts or questions? And do you have a means by which they can "sign up" to be notified when your next novel comes available?
[Joy]: Readers can find Christmas Wish, as well as my other books, at eTreasurespublishing.com. eBooks are great. You can pick up a copy of my novellas for under $2. My novels are $5. Please check out my web site at joybrooksauthor.com. It has a length to my blog. I can also be found on Facebook. I would love for you to join me on my blog and Facebook. I will post on these sites any information on new releases. Readers, please feel free to email me at joybroooks@windstream.net. I will be glad to answer any questions you have.
Paul Collins: Thank you, Joy. I understand you have the first chapter of your novel available as an excerpt for interested readers? And is there anything else you wish to add for our readers?
[Joy]: A huge Thank You goes out to you, Paul, for allowing me to do this interview, and to all my readers. Readers, please keep in touch because I plan to bring you more to read over the coming years.
Please read the first chapter of Christmas Wish below. I hope you enjoy it.
Joy Brooks – Christmas Wish
Chapter 1
Katie looked up at the clock and frowned. Mr. Ian Stokely was late again. Her glance drifted to the five-year-old boy sitting at his desk, clutching his book bag, staring out the window. Her heart went out to him. Kyle Stokely twisted around when the sounds of foot treads sounded down the hall. He jumped up as the door swung open and his father stepped into the classroom. His father knelt and held out his arms. Kyle barreled into him and held his dad tight.
"I'm sorry I'm late, son."
"Its okay, Daddy. I'm just awful glad you're here."
Ian Stokely stood, holding his son, and turned toward Katie. "I apologize to you as well, Ms. Holston."
"I'm sure you have a good reason for being late. I must tell you, your son was getting quite anxious." Katie added the last with a small smile to take some of the bite out of her words.
Ian dropped his gaze. "I'm sure he was." He held his son close and peered him down at him. "It's Christmas break now. I plan to spend more time with him."
Kyle lifted his head from his father's shoulder. "Do you mean that?"
"Yes, I mean that."
A wide smile crossed Kyle's face. "I'm hungry. Do you think Ms. Holston could go with us to get something to eat? She's been real nice staying with me. She didn't leave me alone."
Ian's light blue gaze slid back to her. She could see the hesitation in his eyes. Kyle and she often talked when waiting for Ian to pick his son up from school. He spoke with the candidness of a child. His mother died in a car crash two years ago. Kyle didn't speak of him missing his mother, but of how much his father missed her. After all, he said, he was only three at the time. He had confided his biggest wish for Christmas. He wanted his father to be happy again.

Katie dropped her head to hide the tears glistening in her eyes. How could such a request not touch someone's heart?
"Ms. Holston, we would be delighted if you would join us."
Katie stood. Her gaze roamed over him quickly, and her heart fluttered. He had to be the most alluring man she had ever met. He had to be at least six two. There wasn't an ounce of fat on his lean muscled frame. His dark hair, cut in a stylish design, curled at his collar. His day growth of beard and his full masculine lips drew her attention. She forced her gaze away from him.
She brushed a strand of her long dark hair behind her ear and turned her green eyes toward him. "Thank you, Mr. Stokely, but I don't wish to delay you. I'm sure you have better things to do than take your son's teacher to an early dinner."
"Kyle would like you to come." Ian shrugged. "So would I. It's a small way of saying how much I appreciate you not leaving Kyle alone."
Katie couldn't help but grin. He knew she wouldn't have left him. She couldn't very well walk out and leave Kyle sitting alone in an empty schoolhouse.
"How could I refuse then?"
Secretly, going out with Ian Stokely thrilled her. Since the first time she saw him drop Kyle off at school at the beginning of the year, he fascinated her. Of course, at the time, she hadn't known he was a widower, so she had stilled her wanton daydreams. Now, she had no reason to, except she was setting herself up for a broken heart. Ian Stokely wouldn't normally look at someone like her. After all, he was the CEO of a multi-billion dollar construction company. She had to admit, had she not known who he was, it wouldn't have been apparent. His easy manner and friendliness at each of their parent teacher meetings didn't fit her idea of a corporate image.
Katie picked up her purse, and Ian set Kyle down. She led them out of the small classroom. After locking the door, she walked beside them down the quiet hallway, her heals clicking on the tile floor. She was five nine, and her two-inch heels gave her enough height that she could look comfortably in his eyes. Once she did it, though, she looked quickly away. She didn't want him to see the interest in her eyes. Why? She didn't know.

At twenty-seven, she'd only had a couple of serious relationships. She sighed inwardly. Whom was she kidding? They weren't serious. It was too easy to walk away from them. They arrived at a four-door, black pick-up. Ian opened the door and removed Kyle's child seat. As she settled herself in, Ian strapped Kyle in the back seat.
"Where to pal?"
"Can we go to Barnie's? I like their chicken strips."
"Barnie's it is."
Katie smiled. Barnie's was a favorite of the locals. Katie watched the scenery as they headed to downtown Milledgeville. Christmas lights wrapped around street lamps and stretched across store windows already blinked in rhythm. Santas stood by kettles, shaking their bells. Nutcrackers stood at attention on each street corner. There was nothing as beautiful as historic downtown Milledgeville, Georgia, decorated with the town's Christmas finery. Katie let out a laugh as a young man dashed down the sidewalk dressed as a reindeer.

"Did you see that, Kyle?"
"Yes, he looked funny." Kyle leaned forward and pointed an arm between them. "Look, Daddy, there's a Santa by Barnie's. Can I put some money in his kettle?"
"Do you have any money to put in the kettle?"
"Ah, Daddy, you know I don't. You can lend me some, can't ya?"
"No, I won't lend you some, but I will give you a few dollars to put in the kettle."
Ian found a parking spot right in front of the Santa. Kyle impatiently jumped in his child's seat as his father released his straps. When he slid to the ground, he held his hand out.
"I need some money."
Ian reached in his jeans pocket and pulled out a five. "Here."
Kyle snatched the money and headed for the kettle. Katie stared at Ian as he watched his son in obvious pleasure. His smile lit his eyes. She couldn't help but wonder what it would feel like to have that smiled aimed at her.
Ian glanced at Katie standing beside him. What had possessed him to ask her to join them? He could have easily told her and Kyle that he had things to do and it would be better if she joined them another time. She had been standing there, looking so adorable, he didn't think before he spoke. She looked as good now. Her dark hair glowed in the afternoon sun, her green eyes sparkled as she peered around at all the Christmas decorations. He remembered her laugh in the truck. She had a beautiful tinkling laugh.
He thought back to the first day of school when he dropped Kyle off. He had glanced up to see those arresting green eyes staring at him. She had immediately smiled and turned away. It happily surprised him to find out that afternoon she was Kyle's teacher.
Why he cared was a mystery to him. He had looked to see if she had a wedding band, and was delighted to see she didn't.
That had been months ago. He found her attractive, so why hadn't he acted on it? If he asked her out, the worst he would get was a no. A picture of his dead wife's face popped in his mind. That was why. He couldn't let his beautiful wife go. Two lonely years had passed. There had been meaningless one-night stands during the last two years, but he wanted more. He wanted what he'd lost.

Kyle bounded toward them after placing the money in the kettle. "Let's go eat." He grabbed his father's hand and led him to the restaurant.
A Christmas tree stood in a corner of the room, decorated with tied ribbons and red, white, and blue balls. Empty packages sat wrapped under the tree.
College kids practically filled the place. There were only two booths left empty. Kyle sprawled on one side, so Ian had to nudge him to sit up and move over. Katie took the seat opposite. A waiter appeared and took their drink order.
Kyle tucked a napkin in his shirt collar. "Can I have some pizza too?"
"Eat your chicken fingers first. If you're still hungry, I'll get you some pizza."
"Daddy, what do you think are in those boxes? Who are the presents for?"
Ian chucked. "They aren't for anyone. There're empty. Businesses do that sometimes to make their tree look better."
"Oh." Kyle sounded a bit disappointed. It didn't last. "When is the real Santa coming to the mall?"
Katie answered when she saw the confused look on Ian's face. "Next Saturday, Kyle."
"I want to see him to tell him what I want most for Christmas. Will you take me, Daddy?"
"Sure."
The waiter appeared with their iced teas, and they placed their orders. Katie leaned toward Ian. "Would you mind if I asked you a question? It's a bit personal, so if you prefer not to answer, I'll understand."
Ian's eyebrows rose in surprise. "What's the question?"
"The Stokely name is well known in the south. I was just wondering why you moved your headquarters from Atlanta to Milledgeville. I would think Atlanta would be better suited for such a huge corporation."
Ian shook his head. "Atlanta didn't suit me. My wife died there. Shortly after her accident, my father died and left the company to me. I decided I wanted a quieter place to work. Besides, I was born here. After my father's passing, my mother wanted to move back." Ian took a sip of his tea and turned his light blue eyes on her. "How did you end up in Milledgeville?"

"I needed a job. The school where I worked closed. Savannah is a great town with a lot of history, but there weren't any jobs available as a teacher. I didn't want to waste my degree. I saw an advertisement for a kindergarten teacher and applied." She smiled. "I've learned to love this town as much as I ever did Savannah. I love the history here as well. I took a trolley tour of the town's old mansions and it was amazing."

Ian sat back. "Yeah, it's a great place for a child to grow up."
The waiter arrived with their dinner. The talk fell to the history of the city. Kyle ate his chicken fingers, then leaned against Ian, yawning. Ian smiled at Katie. "I guess we better get going.
Kyle needs a nap."
The drive back to the school was relatively quiet. The only sounds came from Kyle, who had fallen asleep. Katie told Ian where she parked, and he pulled up into a parking space by her car.
Katie turned to him. "Thank you for dinner." She gripped the door handle and turned back when she felt his hand on her arm.
"Look, ah, I know this is very short notice, but I was wondering if you're doing anything tomorrow night. There is a Children's Christmas Benefit Dinner at the Water Edge Lodge. I'm a big supporter, so I usually go. I'd appreciate some company."
Katie tried not to gape at him. Never in her wildest dreams had she seriously ever thought Ian Stokely would ask her out. She stared at him for a moment. He could have any woman he wanted. Why ask her?
"I would love to go."
Ian smiled. "Great. I need your address."
Katie caught her breath at that smile. She hurriedly opened her purse, looking for a pen and some paper. Her hand trembled as she wrote down her address and phone number.
Ian slowly took the paper from her hand. His eyes glued to hers as he slid his fingers across her palm.
"I'll pick you up at seven."
"I look forward to it."
It took momentous effort to turn to her car.
Paul Collins, author of Mack Dunstan's Inferno / Mystery of Everyman's Way