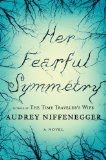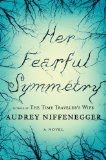 This the author's 2nd book after the much acclaimed "
The Time Traveler's wife
" released in early September and when I first laid my hands on it I knew I wanted it but the price shocked me. The book store manager told me that the paperback would come out soon and I decided to wait. However during every visit I would pick this book & pick it back and that's when I decided to read 30 pages daily during my lunch hour. It took me 15 days to finish the book and was it worth the time?
Her Fearful Symmetry is the story of 2 set of twins. Elspeth Noblin leaves her London apartment (borders Highgate Cemetery) to her twin nieces Julia and Valentina. There is a condition attached to the will, the twins would have to stay in the apartment for a year before they could sell it.
The girls move in & to their utter disbelief they realise that Elspeth still exists albeit as a ghost but that's not the only thing they have to tackle. They still don't know that what had gone wrong in the past that Eddie, their mother had chosen not to talk about her twin sister Elspeth. Then there was Robert, the grieving husband of Elspeth & Martin who was had not gone out of his home for years & is suffering from obsessive-compulsive disorder.
The story unravels at its own sweet pace but makes the reader turn to the next page because you know there is a dark secret lurking somewhere and when it hits you it leaves you stumped. Like 'TTW' this book too has so many things that are totally unbelievable but the narration of the book is such that you would just want to read on. It is when the book ends that you realise that you have been told a story which is never possible but what remains with you is the story was told well.
There are many things which I would love to disclose here but then that would take away the magic of discovering it the way I did. So go read on this book, it has mystery, it has sisterly bonding, jealousy, possessiveness & it is a story well told.
My rating 3.5/5
Click HERE to read more book reviews.