Dell is giving away Windows 8 book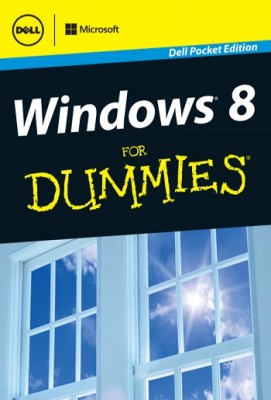 For a limited time, Dell has teamed up with Wiley to offer a free download of the new "Windows 8 for Dummies," pocket edition.
The 147-page book is a quick primer on how to navigate in Windows 8, what's new and how to use Windows 8 features and Apps.
For most people, the book will be all you need to get started and running Windows 8.
Dell are providing a free download at a site humorously named New doesn't have to be scary.
Windows 8 for Dummies is a pdf eBook that works nicely in the Windows 8 Reader or Adobe Acrobat Reader.
If you are using Windows 8 already, type "Windows 8 for Dummies" and cursor down to files. The book will appear on the left upper screen. Right click and select "Reader" to open the eBook.

Like all "Dummies" books, it's a quick read and easy to understand. The illustrations work well in detailing the concepts.
I read the book on-screen in a short time. Despite using Windows 8 for months, I learned a few things so it's reasonably comprehensive.
And it's free. The link to the $15 printed edition with DVD from Amazon.com is below.
The book covers:
Start screen
Login and passwords
Traditional desktop
Touching the screen and using a mouse / keyboard
Browsing the File Explorer – folders and libraries
CD's and DVDs
Flash drives and memory cards
SkyDrive
Apps – starting, adding and customizing
Social apps and integration, managing all those contacts
Mail, calendar and appointments
Music, videos and photographs
Things to like/hate about Windows 8
Print edition and DVD
The print edition is 432 pages long and has 4 hours of DVD material. It is a more comprehensive book than the pocket edition.
| Book | Kindle | Canada |
| --- | --- | --- |
| Book | Kindle | Canada |
| | | |