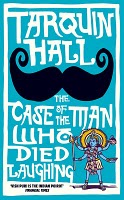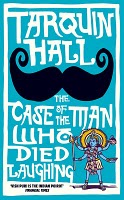 If you have been following my book reviews then you would remember a book review of mine "The Case of the Missing Servant". One of my favorite books of the last year, I was waiting for the next one in the series of Vish Puri, "Most Private Investigator". Surprisingly I wasn't aware of the release of this book and when I chanced upon it I grabbed it with both my hands! 😀
This time again the author doesn't disappoint us. This book is centered around the clash of so called Swami's/ self styled guru's of India and Dr. Jha who has challenged these guru's and their so called magical powers. It is with the murder of Dr. Jha in broad day light that Mr. Vish Puri enters the scene. The Dr. is supposedly murdered by goddess Kali who appears while Dr. Jha was busy attending a laughter club. The sudden appearance & disappearance of the Goddess leaves the country gasping.
Mr. Puri has to find the murderer and with all fingers pointing towards India's most celebrated guru, he has his job cut out for him. I wouldn't talk more about the plot because the magic of a suspense novel lies in its plot which should be read 🙂
All I can tell you is that this book too is full of laughter, twist n turns. Like his other book here also Mr. Puri's mother is feels that she has all that is needed to make a good detective and thus leave no stone unturned when there is a theft in the kitty party that she attending. What is hilarious is the way she ropes in the wife of Mr. Puri into her investigation.
The transformation of Mr. Puri the ever confident detective to Chubby a timid husband is hilarious and so very real. The way the author describes India or to be precise Delhi leaves you surprised, I still can not believe that the author isn't of Indian origin.
The book is full of lovely one liner and keeps you engaged the whole time. The characters of the previous book are still there and they make the book an immensely enjoyable read.
I will share with you few lines which made me chuckle
"As for husbands, my dog trainer, Arti, always says to reward your pooch when he does what you ask & give appropriate correction when he doesn't. Same has worked with Sanjeev my husband.
Or sample this conversation between the detective & his driver (they were following the vehicle of an NRI)
From the moment they'd started to tail the safari, the detective had watched wits slow progress with incredulity.
"Arrrrey!" Exclaimed Puri with frustration as the Safari gave way to a lowly auto rickshaw, "I'm all for sensible driving – speed thrills but kills, after all. But this man is some sort of Joker, no?"
Handbrake (the driver) was equally bewildered: "where did he learn to drive sir? "Ladies College?"
"No, United States,' the detective answered with a laugh.
Like I had said in for The Case of the Missing Servant, "A who-dun-it with Indian Tadka" this one just makes the essence & flavor of India stronger and more poignant. This book moves a step ahead of the last one by handling a very serious and relevant issue i.e. of the self styled guru's but in a light, entertaining manner.
Worth a read and more for it's Indian flavor & entertainment value.
4/5 from me 😀
Author: Tarquin Hall
Publisher: Random House
Price: 495/- INR (Trade Paperback)
Click HERE to read more book reviews.