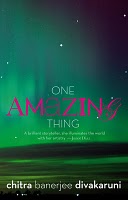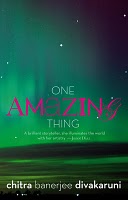 Chitra Banerjee Divakaruni, is one of my favorite author is a fact which I have never hidden and I closely follow her blog as well. In February I came to know about the release of this book and was itching to buy it. Sadly, it was yet to release in India and thus began my struggle. I went through her site to know about release in India and stumbled across few mail ID's i.e. of her agent/ publisher etc. I decided to try my luck and shamelessly sent a mail requesting for a review copy. I wasn't expecting any reply and thus was surprised to see one. The mail read as
"We do not hold the rights to distribute our edition in India, so it would be the UK publisher of the book who would distribute in India. I do not know who publishes the book in the UK, but you can find out from the author's agent…….Rather than mail you the book, I have attached the manuscript here."
I had to read the mail twice thrice to understand the meaning. I couldn't believe that the word file attached with the mail was the REAL BOOK. I felt there must be something amiss somewhere, how can it be so easy, but no I was wrong! I had the manuscript with me. It is an altogether different fact that I didn't read it because I wanted to read the real book and thus I waited with baited breath for the book to release here.
Was it worth the effort and wait? Yes, to some extent. One Amazing Thing is the story of a group of nine people who are trapped in Indian Consulate all thanks to an earthquake. Each of them carries a burden in their hearts. Waiting for their turn to get visa some with a gleam in their eyes, some with hope, some with a doubt & worry; they are thrown into a situation which they had never dreamt of.
All of them react differently to the crisis but panic is the dominant emotion. It is with the effort of an ex-army officer & Indian girl Uma that a semblance is brought and the group decides to narrate one amazing story out of their lives.
What follows next is a collection of some heart warming & touching stories. Ranging from a sweet but unrelinquished love story, to that of a frustrated Muslim youth, then there is the story of the struggle of a small town girl who aspires to do something different.
In a typical CDB style the stories are all well narrated and move back n forth in past & present keeping you hooked. Each story leaves you with something to ponder on and most importantly with a hope that there is always a scope for better future if only one tries for it.
But, there is something in the book which left me dissatisfied. It has an open ended climax which is something that I have always hated, I want a closing and this book doesn't give me that which is disappointing. Plus I somehow felt that CBD is not in her full elements in this or may be after Palace of Illusions I have started expecting more from her. Not on of her best efforts but for sure worth a read.
3.5 stars from me.
Author: Chitra Banerjee Divakaruni
Publisher: Penguin Books, India
Price: 450/- INR (Hard Bound)
Click HERE to read more book reviews.