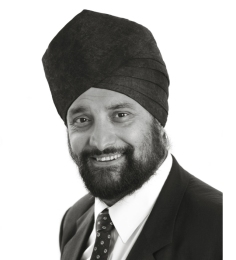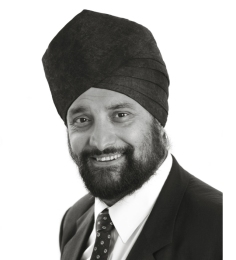 "Mera joota hai jaapani, sar pe laal topi roosi, phir bhi dil hai Hindustani (My shoes are from Japan, my hat is from Russia, but my heart remains Indian),"… these lyrics from a half-century-old Bollywood movie are what Professor Satvinder Juss sang when we questioned him about his Indian identity.
Evidently, Juss, law professor at King's College University in London is an Indian at heart. Born in Tanzania and educated in Britain, he is perhaps the first person of Indian origin to have become a professor of law in any British university.
Actively juggling his many roles as a professor, barrister, judge and human rights expert amongst others at the world-renowned King's College University, Juss visits India frequently.
He moved to Britain from Tanzania when he was 10 years old.
"I firmly believe that to be successful in life, one should remain connected to one's roots. You would be surprised to learn that even though I have never resided in India, I still consider myself to be an Indian," said Juss.
Not satisfied at just proudly proclaiming his Indian identity, Juss is making constant efforts to establish a connection with India.
"As a child, I never got the opportunity to visit or stay in India. But in the past five years, I have made frequent trips to India. In addition to learning Indian languages, I am also establishing relations with Indian educational institutions," he said.
Having honed his language skills by watching Hindi movies, Juss said, "No one should part with their roots because it is only our bond with our roots that help frame our personal identity as we progress in life."
For someone who teaches a subject as serious as law, Juss has a cherubic smile. In his multiple roles, which one does he cherish the most? "If each person concentrates on becoming a good human being, then that goodness will be evident in any task that one does. Thus, my effort is also to be a good human being, no matter what role I undertake."
In the 1960s, thousands of families like those of Juss migrated to Britain from Kenya, Tanzania and Uganda.
That their journey was not easy, said Juss. "My father was a British employee in Tanzania, but on coming to Britain, his education, merit and experience were ignored. He was asked work below his competency levels. My father became determined to study further; he attained his degrees alongside work and established a respectable position for himself in the society."
Recalling his childhood days when he saw his father battle for justice, he learnt his lessons in life — that the path to success can only be attained by working hard and remaining resolute. It was then that he decided to study law.
Juss acknowledged that he was able to establish a name for himself because of the excellent opportunities that he received in Britain. He said, "India will do well to adopt the fine practices in the British system which provides everyone equal opportunities to succeed."