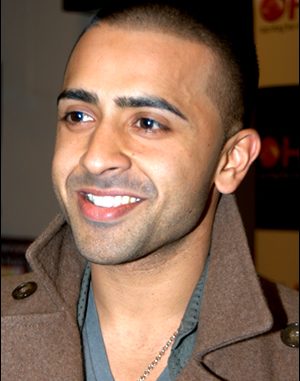 Jay Sean is certainly riding high at the moment. His first single "Down", off the new album
All or Nothing,
reached number one on the Billboard Hot 100 earlier this year. And his second single "Do You Remember" released on Nov. 3rd, looks poised to repeat that feat.
Jay Sean may look like a fresh face in the North American music scene, but he has already enjoyed success in the U.K. and Asia with his previous releases. All or Nothing is Sean's third album and will be released next week on Nov. 23.
Who is Jay Sean?
Jay Sean's real name is Kamaljit Singh Jhooti and was born in London, England to a family of Punjabi/Sikh descent. He was interested in music at an early age and began rapping at 12 when he and a cousin formed a hip hop duo "Compulsive Disorder". Sean credits rap with helping him structure, produce and write songs.
While studying medicine in London, Sean created a demo tape that caught the attention of British Asian music producer Rishi Rich. Rich was putting together a project fusing traditional Punjabi music and contemporary Pop/R&B. Sean and Rich collaborated with British bhangra singer Juggy D and released the single "Dance with You (Nachna Tere Naal)".
The song hit the UK charts and with the success Jay Sean decided drop out of med school to pursue a singing career. When it came to choosing a stage name, the artist went for something close to home.
"Well Jay is the initial of my last name Jhooti," says Sean. "Sean is a pet-name they called me at home, and that's how I put the two together."
In 2003, Jay Sean signed a major label contract with Virgin Records and he created his first full length album Me Against Myself. The album was released in 2004 and included two top ten singles in the U.K. Sean toured through Europe and South East Asia with a handful of dates in the US. His appearance in a Bollywood movie Kyaa Kool Hai Hum certainly created more exposure for Sean in India where the album sold more than 2 million copies.
After creative differences Jay Sean decided to leave Virgin Records and released his sophomore album on his own label Jayded Records. The follow-up, entitled My Own Way, debuted at number 6 on the U.K. albums chart and produced two top 20 hits.
In 2008, Jay Sean signed with US hip-hop record label Cash Money Records. Being signed to Cash Money has opened the door for Sean to collaborate with the A-list of hip hop. On the first single, "Down", Sean sings with label mate Lil Wayne and the new single "Do You Remember" features Sean Paul and Lil Jon.
Building on past success and experience, Jay Sean is ready to show his fans how far he has come and what he has to offer on his new album which will consist of ten brand new tracks along with three of Sean's favourite songs from his second album.
"For me the most important thing about this album is to let people have insight into who I am, as an artist, and the kinds of songs I like to write by putting emphasis on me as a singer-songwriter," says Sean.
"I'm very much into writing about what I feel are my true life experiences. I'm not afraid to tell a story which might be dear to my heart and close to me. It will give you an insight into who I am as a person too."
So what can we expect on the new album?
"This album I wanted to have diversity," says Sean. "I wanted to show my diversity as a songwriter and as a singer and I really concentrated on bringing that because I did not want to put out an album which either sounded completely the same or either too R'n'B or too pop."
"I wanted to take you on a journey – there's songs on there which is like like "Down" which is lot more on the pop side and then there's other more soulful ballads on there, there's mid-tempo, there's slow sexy songs, cheeky songs, songs about love, there's sad songs – it's a real diverse album."
The title of the album All or Nothing says a lot about Jay Sean's philosophy on life and his work ethic.
"It sums up my attitude towards life – as they say a job worth doing is a job worth doing properly. I don't bother going into anything half-heartedly and that kind of shows in my personality. When I fall in love I fall in love for real, 100% head over heels and I don't care if my heart gets smashed into bits because that's what you're meant to do – you don't borrow life, you live life. The same is true for my music and my songs and that's my attitude towards it."
Success in the US
For many artists around the world, true success is measured by whether they can sell records in America – with a number one being the Holy Grail. The importance of already achieving a number one record on the US charts is not lost on Jay Sean who has been humbled by the experience.
"So far this American journey has been wonderful for me," says Sean. "I think I will always be a little shocked, surprised by the success by having a number one in America, it's crazy."
"For me it was very important to go to America and try to make some sort of impact and I guess that's why the reason it has made that impact means the world to me. I actually still can't believe that I have been this fortunate to go around the world with my music. It's just incredible."
Desi Heritage
Jay Sean's success and ascent to stardom in the US and appearing on talk shows like Ellen has made South Asians around the globe take notice and at the same time take pride in that one of their own has finally made it.
"Well needless to say I'm aware that it's groundbreaking," says Sean. "I'm aware that my people, my Indian people and the South Asians looking at what I'm doing and feeling proud that one of their own people is up there doing something, which even I grew up never thought would happen or I would see in my lifetime, having someone, a person from my heritage on a huge mainstream show and that is watched by the entire American audience."
"And, honestly, I feel so privileged and honoured to be able to do that and to be the one to do that. And I just hope I've done a good job of representing my people and that hopefully America can see a little more about our culture and start to learn about our culture."
When asked whether any Indian influences or sounds would appear on the upcoming album, Jay Sean was quick to point out that was in the past and that he is headed in a different direction musically.
"I've left that desi influence behind me, that was then and that was a wonderful period of musical experimentation that I did when it was fresh and when it was new and not when it's been tried and done a million times. I do not want to go back on that vibe and try to do this fusion thing when it's not even my sound. I concentrated on just writing quality songs."
Hectic Schedule
Jay Sean is a very busy man these days and with daily press obligations as well as live performances in support of the upcoming album.
"No word of a lie, it has not been one day off since I got signed by Cash Money. I'm not complaining about that. It's insane, the schedule is insane. It's a lot of hard work; I didn't realize just how much hard work it really is."
With such a hectic schedule Sean has very little time for himself, but when he does he likes to keep it simple.
"When I have and when I have had moments where I can just chill, I like to do the most normal things on Earth," says Sean. "I love sleeping, I can sleep hours upon hours upon hours so I could sleep 16-20 hours if I really wanted to but normally I sleep 15 hours on a day off, really, really get it in."
"And spend time with my boys, my friends, my family call them around, have some jokes, have some good food, go out, maybe a restaurant, bar at night, or go to a club. You know normal things and vibe out with the people that are important to me."
What's Next?
With the album release there will be no shortage of work for Jay Sean who will have to contend with endless interviews and promotions. But he is excited at the possibility of not one but two tours next year. The first being a solo tour and then the second being a Cash Money tour. But for now the tour(s) is all speculation.
Jay Sean isn't quite sure what the future holds but he is certain of one thing:
"One thing I do know for a fact, hard work will always pay off, and I work damn hard. There's moments where other people might have just given up and say it's too difficult to do this and I never gave up and I never will. So I will continue to do what I gotta do."
Contact Aman Dhanoa at aman@oyetimes.com