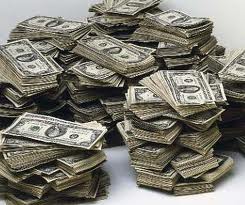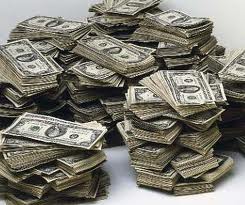 To those who are about to lose, we salute you!
Okay, that's my cornball paraphrase of what was supposedly said to the gladiators before they did battle in the forum in front of those blood-thirsty Romans who were looking for some real entertainment on a Saturday afternoon. Football? Hockey? Oh pshaw. We need blood, no?
But for those gladiators, it was "about to die" while here, I'm only "about to lose" five bucks for one Lotto Max ticket. That's my contribution to the greater cause of seeing some lucky schmo walk out of here a bit richer. Oh yeah, that's five bucks for Lotto Max and two bucks for the 6/49, so that's a grand total of seven dollars. Hmmm, couple that with the $2 I spent for Wednesday's 6/49 and I've blown a total of nine dollars this week on lottery tickets. Hmmm, is that too much? As my wife likes to remind me, she's won this week because she still has nine bucks in her pocket. [roll my eyes] Okay, okay, you win. I buy the tickets and you don't; I'm the one who's down nine bucks. [chuckles] Oh gawd, I so want to win, not so much for winning the money but so I can beat the odds and say to my wife, "Nah, nah, nah, nah, nah, nah!"
Did you know?
The Ontario Lottery and Gaming Corporation was first created in 1975. It employs over 8,000 people throughout Ontario. While the OLG operates in Ontario, its products like Lotto Max and 6/49 are operated across the country by the Interprovincial Lottery Corporation. OLG owns 10 casinos including Niagara and Rama. It has slot machines at 17 racetracks across Ontario. Since 2005, OLG's 9,000 lottery terminals have participated in the Amber Alert program, displaying messages about abducted children.
Giving Back
According to the OLG's web site, the corporation is giving back to we, the residents of Ontario. Based on a numbers from 2 years ago, OLG generates $3.8 billion in economic activity
provincial investment in:
Gaming proceeds distributed through the Ontario Trillium Foundation to local and provincial charities $110 million
Support for amateur athletes through the Quest for Gold program $10 million
Hospitals, health related programs and other provincial priorities $1.8 billion
corporate responsibility $53 million:
Partnering in the education, research, prevention and treatment of problem gambling $49 million
Sponsorship of community and local music events $1.4 million
Proceeds from Bingo to participating local charities $6.5 million
support for local economies $1.8 billion:
Goods and services purchased from local and area businesses to support OLG gaming facilities $136 million
Payroll for 7,700 employees at OLG Facilities $417 million
Payroll for 11,500 employees at OLG's Resort Casino Partners $524 million
Payments to municipalities that host OLG gaming facilities $119 million
Payments to Ontario's horse racing industry $340 million
In addition, OLG awarded over $1.6 billion in lottery prizes to our players.
Hmmm, is this a good thing or a bad thing? That's a lot of money flying around. On the other hand, I see that Ontario's GDP is $578 billion and the per capita income is almost $44,000. (Wikipedia) I offer no analysis of all this; I'm just throwing the numbers out there.
This weekend
Lotto Max is climbing up again. Last week's $32,202,514.70 (And seventy cents!?!) had no winner so that was rolled over into this week's bigger pot of forty-three million.
I also see that Wednesday's 6/49 with $2,899,709.20 had no winner so it too is rolled over for Saturday's biggie of six million.
Lotto Max: Fri Mar 25: $43 million
Friday, my day of hope.
6/49: Saturday, March 26, 2011: $6,000,000
Saturday, another day of hope for the weekend.
All the latest winning numbers
You can visit the Lotto web site and check out all the latest winning numbers including Poker, 49, Lottario, Keno, Pick 4, Pick 3 and Payday. Of course, all the Encore numbers can be found there as well.
Click HERE to read more from William Belle
Article viewed at: Oye! Times at www.oyetimes.com