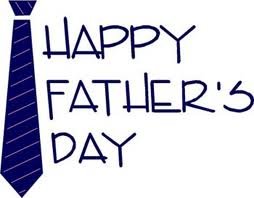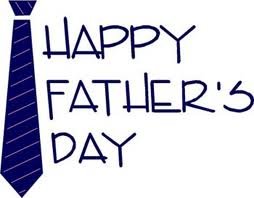 Okay, in case you're not in the know, today is Father's Day. How about a card? Or a telephone call? Maybe an "I love you" would be in order. Then again, your situation may not be pleasant. After all, isn't the divorce rate currently sitting around forty to fifty percent? The ugly reality of modern married life. (see
Father's Day: the rehabilitation of a fallen man
)
On a more pleasant note, the president of the United States had an uplifting message for fathers everywhere. See Greetings from President Obama on Father's Day. Despite all the controversary over his performance as the leader of the free world – Isn't anybody who's president the target of criticism? – I think he's a very nice man and his video greetings is a very good message. Personally, I feel much better about him being at the helm than the last president.
What else to do for the remainder of the weekend? Environment Canada is predicting a nice, sunny day; not too warm. If anything, maybe we should all consider getting outside; brunch on a nice terrace would be nice.
The Movies
The big hype for this weekend was the new movie Green Lantern and I am sorry to report that it is not good. After the studio supposedly spent $200 million which represents a lot of talent and a lot of special effects I am shocked that this is the best they could come up with. See my review. As I say, if you want some sci-fi action stuff, X-Men: First Class is the better film.
I note that there are lots of other films to see and will add some personal recommendations for those who can't make up their minds. Bridesmaids turned out to be a heck of a lot better than I was thinking; I was actually surprised and would now say if you're in the mood for a romantic comedy with some gross-out laughs, check this out. Super 8 was a well done action mystery centered on a bunch of kids in the tradition of Spielberg (who produced). Kung Fu Panda 2 is just quite simply some great family entertainment. Take your kids but enjoy it yourself. Midnight in Paris is a wonderful adult film with Paris as the backdrop and oh what a backdrop it is. I thoroughly enjoyed this Woody Allen film and you will too. X-Men: First Class is a good film and an excellent reboot of the series. It's a prequel with a whole new cast but well done with a good story.
Luminato
This is the closing day for Toronto's festival of arts and creativity. See the full listing of all the events of this festival and plan out your time.
For this closing weekend, try the 1,000 Tastes of Toronto. The city's finest chefs will be taking to the "street" at Queen's Park to create an outdoor selection of the best culinary delights Toronto has to offer. All items are priced at only $5. Can you go wrong?
For complete information, check out this previous article:
Luminato: June 10-19, 2011: Toronto, Canada – Oye! Times, Jun 9/2011
Check out the photo album by Kanchan Rakhra. There are some good photos of Luminato.
The weekend lotteries
The winning ticket for Friday's Lotto Max was sold in Markham, Ontario. Somewhere out there is, yes, a single ticket worth $22,646,018.70. Somebody is going to have their eyes bugging out of their head when they sli that baby into the ticket scanner.
Saturday's 6/49 didn't have a winner so the pot has been rolled over to this coming Wednesday.
Good luck to all of us. See you all around on the pages of Oye! Times.
6/49: Wed, Jun 22, 2011: $7,000,000
Lotto 6/49: One chance in 13,983,816
Lotto Max: Fri Jun 24: $10 million (No MaxMillions)
Lotto Max: One chance in 28,633,528
All the latest winning numbers
You can visit the Lotto web site and check out all the latest winning numbers including Poker, 49, Lottario, Keno, Pick 4, Pick 3 and Payday. Of course, all the Encore numbers can be found there as well.
Click HERE to read more from William Belle
Article viewed at: Oye! Times at www.oyetimes.com