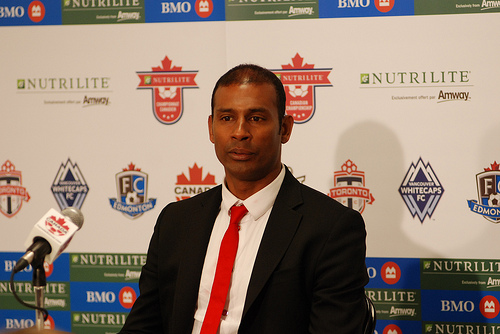 This article was last updated on April 16, 2022
Canada:

Oye! Times readers Get FREE $30 to spend on Amazon, Walmart…
USA:

Oye! Times readers Get FREE $30 to spend on Amazon, Walmart…

Aron Winter- Head Coach & Technical Director, Toronto FC
On if he thought his team deserved a better result:
Sometimes you have games like this, and it's hard that you lost because you deserve more than defeat.
On what happened leading up to Seattle's goal:
We were playing with one man more, and they were playing to keep the ball up front. At that moment it was not clever for us to give a foul in front of the box. I think that the wall was not good enough, or Stefan could have had the ball. They score from that and it was unnecessary.
On what positives, if any, he takes from the match:
A lot of things, because even when you have lost the game, you are watching to see if we are making improvements. Its also difficult when you have players injured and have to count on the younger ones. The young players did well today, though Oscar (Cordon) had some difficulties, but I saw a lot of good things.
On the play of Doniel Henry and Ty Harden in central defense:
It's a good couple, they look like they have played a long time with each other. Im satisfied with them.
On his thoughts at the midpoint of the year:
I'm still saying we are rebuilding, and it's clear that once the (transfer) window opens we will have to get some players because we need them. Right now we don't have enough quality, and we are missing a leader on the pitch. That's why it was a loss today that we could not play with Alan Gordon who was out with an injury, because he is one of the guys who is a leader on the pitch. I think we are much better when he is playing.
Stefan Frei- Goalkeeper, Toronto FC
Describing the goal:
Well the goal itself, all credit to Montero, it's a good free kick but I don't like the way we gave away the foul, I don't even know if it was a foul. It is the 90th minute and the guy goes down extremely soft. Obviously being down a man they are looking for that, and I think the referee falls for it. I let him know at the end of the game that games are getting decided too many times with stupid decisions.
On if there are positives to take from the game:
It's a tough result because I think we deserved the win, not just the tie but the win. We fought pretty deep and played pretty well. We've had a tough stretched but finally showed some consistency, so that a positive, but it will be tough to bounce back from this. I think today would have been a perfect opportunity for us to get something going offensively. It was a great day, great crowd, and we're facing a team that's down a man. It was an opportunity to get some goals scoring and get some confidence offensively, so it was a missed opportunity in that aspect.
On the team's thoughts on making playoffs:
You're in it as long as you're mathematically in it. The East especially is very tight, so a win here and there, a lucky bounce here and there like Seattle had today, with a good finish at the end of it. That can get you three points and get you right back into the race.
Richard Eckersley- Defender, Toronto FC
On moving forward from the loss:
We just have to come Monday back to training, get back to the basics and start again, and get ready for the game Saturday, a big game away. We need to start again and just rebuild.
Belief in the rest of the season:
Without a doubt. You've seen the way we can play, we are dominating teams, and its against the run of play really these goals that are coming. Once we stop that we can start winning games and go on a run, and who knows where it will take us.
On accounting for all the dropped points:
I don't think you can. It was a stupid free kick, and obviously he put it away well. But that's football and you just have to get on with it.
On positives from the game:
There is positives, we played good football at times, but it doesn't matter because we need to win games. That is the main thing and if we are not doing that, its no good really.
Sigi Schmid – Head Coach, Seattle Sounders FC
What's your overall assessment of the game?
I thought in the first half our play was spotty and we didn't play with a lot of energy, it looked like we were the team that had played 3 games and not them. So that was one of the things we spoke about for the second half was picking up the tempo and playing a lot better. Obviously a lot changes with Jhon getting his red card early in the second half and forced our hand a little to make changes. But I thought the team showed a lot of resiliency and battled. They had a good chance that came off the post, sometimes you have to be a little lucky also and was a
great effort from them. Plata was giving Riley some problems out there also on the flank, but we held firm and ended up getting a great goal from Montero at the end.
What does it say about your team as you were the team pressuring in those last 5 minutes with free kicks and corner kicks and not defending?
I thought that the guys that came in did a great job of holding the ball and keeping possession. There was a time in the game where we were concerned as they had the majority of the play and were attacking us and in the 75th minute it just changed a little bit. We were able to get some possession, hold on to the ball with some combinations getting players forward. I think they had too many players forward thinking they would control easily and we did a good job of letting their centre backs hold the ball and look for the turnovers.
Mauro Rosales- Midfielder, Seattle Sounders FC
How big was that being a man down and getting a win?
For us getting three points away is very important, we worked very hard because we lost a man in the second half. I think we deserved it because of how we worked in the last 45 minutes and in the last part of the game and we are very happy about that.
It has been a while since Freddy has got one, are you hoping he's one of these goal scorers who gets one, then gets several?
Yes, this is why everyone gives such congrats to him, he deserves it. He scores some goals and works very hard for the team. Sometimes he doesn't score but he is working very hard for us, he's the teams top scorer so he has to score otherwise nobody can notice. But now he's proved he's a very good player and he has to enjoy it and be comfortable for the next one.
Scoring:
SEA — Fredy Montero 3 (unassisted) 90
LINEUPS:
Seattle Sounders — Kasey Keller, James Riley, Jeff Parke, Jhon Kennedy Hurtado, Tyson Wahl, Brad Evans (Erik Friberg 71), Mauro Rosales, Osvaldo Alonso, Lamar Neagle (Zach Scott 52), Mike Fucito (Alvaro Fernandez 69), Fredy Montero.
Toronto FC — Stefan Frei, Richard Eckersley, Doneil Henry, Ty Harden, Danleigh Borman, Nathan Sturgis (Oscar Cordon 46), Alen Stevanovic (Javier Martina 71), Mikael Yourassowsky (Dan Gargan 89), Nick Soolsma, Maicon Santos, Joao Plata.
Misconduct:
TOR — Ty Harden (caution; Goalkeeper Interference) 18
TOR — Danleigh Borman (caution; Reckless Tackle) 26
SEA — Jhon Kennedy Hurtado (caution; Reckless Tackle) 34
SEA — Jhon Kennedy Hurtado (caution; Reckless Tackle) 49
SEA — Jhon Kennedy Hurtado (ejection; Second Caution) 49
TOR — Mikael Yourassowsky (caution; Reckless Foul) 65
TOR — Oscar Cordon (caution; Reckless Foul) 93+
Referee: Yader Reyes
Referee's Assistants: -Craig Lowry; Corey Rockwell
4th Official: Fotis Bazakos
Attendance: 21,839
Time of Game: 1:54
Weather: Sunny-and-75-degrees
You can publish this article on your website as long as you provide a link back to this page.