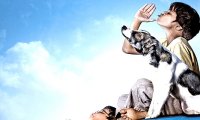 This article was last updated on April 16, 2022
Canada:

Oye! Times readers Get FREE $30 to spend on Amazon, Walmart…
USA:

Oye! Times readers Get FREE $30 to spend on Amazon, Walmart…

EXPECTATIONS There is set (low) expectation that one has from the music of kid films and that too for all the right reasons. After all one doesn't remember when was the last time a soundtrack for a kid flick actually went on to be popular. Ok, so the makers have roped in Ranbir Kapoor for a special song and dance number for the film. However with Chillar Party being less than three weeks away from it's theatrical release and the songs still trying to find it's way all over, there are doubts that creep in around the popularity of this album which has Amit Trivedi as the composer and Nitesh Tiwari as the lyricist.
MUSIC The beginning of 'Aa Rela Hai Apun' is such that it immediately reminds one of 'Dhinka Chika' from Ready. The beats are just the same and rhythm too is on the same lines for this 'desi' number that has a bunch of singers coming together. While Amit Trivedi leads from the front, he is joined by Armaan Malik, Tanmay Chaudhari, Amitabh Bhattacharya and Arvind Vishwakarma who get the right energy and pace for this fun number which is 'tapori' to the core. Rest assured, if the song was picturised on a Salman or a Govinda, it would have gone some distance. However one doubts its prospects in a film like Chillar Party. Surprisingly the song that follows, 'Tai Tai Phish', is in fact pretty similar to 'Aa Rela Hai Apun' with not just it's rhythm and pace but even lyrics being just the same. The only change is around the point when Amit Trivedi goes about singing 'Tai Tai Phish' which further reminds one of Akshay Kumar's 'Nana Chi Taang' [Khatta Meetha]. With Amit Trivedi joining Nitesh as the lyricist and Jaishri Trivedi giving him company behind the mike, 'Tai Tai Phish' turns out to be a fun outing which deserves good promotion.
Mohit Chauhan gets all sweet and saccharine for 'Chatte Batte' which is a playful number about all kids belonging to the same ilk despite their different names and appearances. A situational track which is easier on ears when compared to the first two songs, its interim portions remind one of Rahman style of composition. Armaan Malik, Gaurika Rai and Keshav Rai join Mohit for 'Chatte Batte' which also arrives in a 'sad version'. The song is decent though it doesn't have a shelf life beyond the film's narrative. Remember the thump of 'Hum To Hain Aandhi' that was heard in Bhootnath a few years back? The same sound is heard again in 'Ziddi Piddi' which is again all about kid-power. A kind of number that has a 'revolutionary' appeal to it and is clearly designed for the situation where all kids come together to take on their enemy, 'Ziddi Piddi' is sung by Amit Trivedi, Armaan Malik, Tanmay Chaudhari & Gaurika Rai and doesn't go past the ordinary mark. One associates a particular sound with music coming from Amit Trivedi. For the first time in the album this really happens with 'Ek School Banana Hai' which is written by Amitabh Bhattacharya and reminds one of Udaan. Yet again it's the bunch of kids who come together in an endeavour to teach a lesson or two to those who have forgotten their basics. Sung by Gaurika Rai, Kehsav Rai, Firoza and the students of Ajivasan School, 'Ek School Banana Hai' is a situational track that should elevate the proceedings in the film. Armaan Malik and Firoza come together for 'Behla Do' which belongs to the rock genre and is a track that has the potential to find good visibility for itself provided it is aided by a music video. The song is about kids ruing the fact that adults take them for a ride by cajoling them in moments of trouble with their sweet nothings.
Finally arrives 'Liar Liar' which is written by Vikas Bahl and has a good flow to it. Coming quite close to the kind of songs that one hears in Hollywood kid flicks, 'Liar Liar' is an out and out English number which is quite sweet sounding in the voice of Gaurika Rai and Keshav Rai.
OVERALL Chillar Party is a decent soundtrack though as mentioned at the beginning, it's prospects are hampered due to the fact that there is hardly any audience for music for kid flicks. Also, with numerous other biggie albums surrounding it from all ends, it would be quite a tough task ahead for the music of Chillar Party to make its presence felt.
OUR PICK(S) Tai Tai Phish, Liar Liar, Behla Do
You can publish this article on your website as long as you provide a link back to this page.