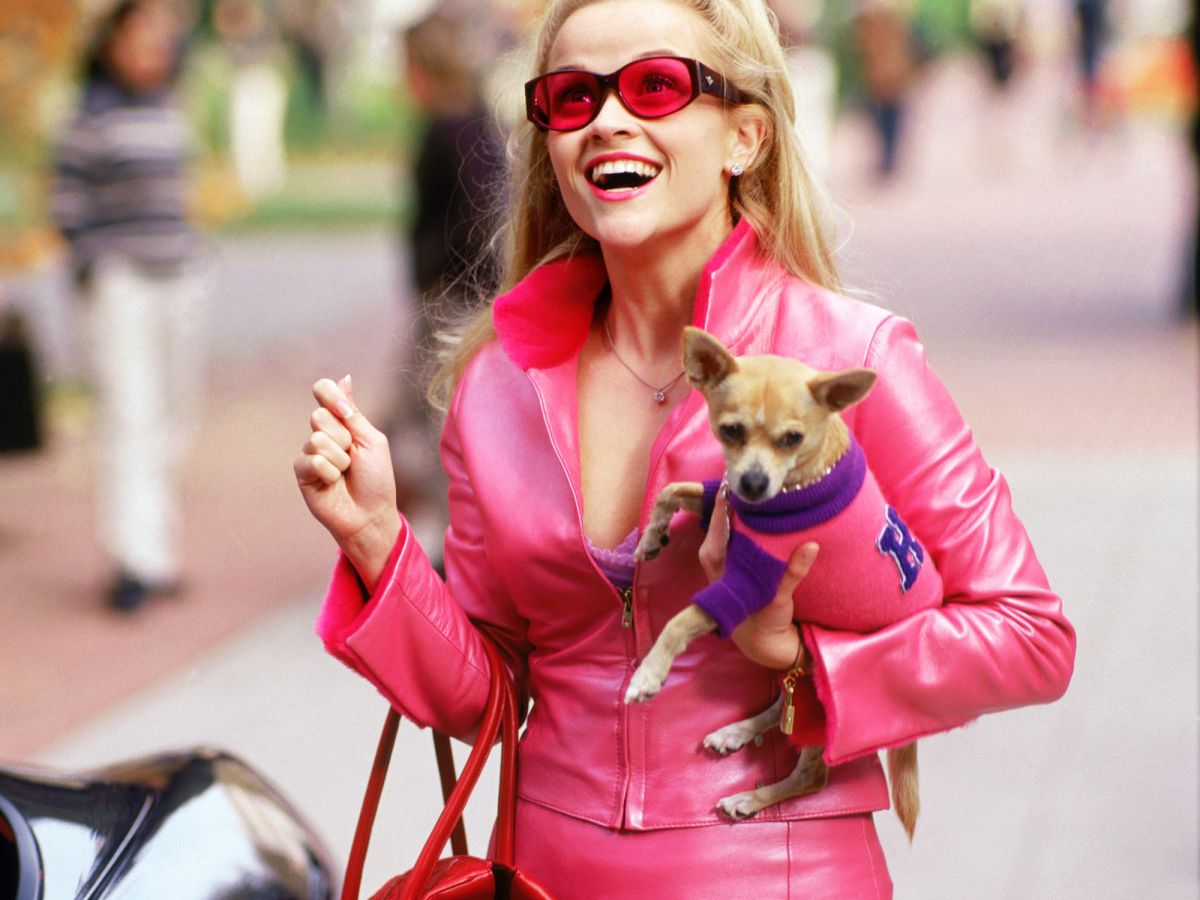 Photo: MGM/Courtesy Everett Collection.
The miracle and the curse of Netflix are one and the same: There is so much damn stuff to watch.
In fact, if you're not sure exactly what you're looking for, you can end up wasting an hour shoveling through the plenitude of stream-able crap in search of the worthy gems. How are you supposed to Netflix and chill if you spend all your free time scrolling instead of chilling (in whichever sense of the word you please)?
Well, that's where we come in. We've sifted through Netflix Instant's many offerings to find the best films currently available. We've got something for your every mood — no, like, every mood. And we'll keep you updated week by week, adding new movies and getting rid of any no longer streaming. So click through our picks, stock up your queue, and fire up the 'flix. Happy viewing!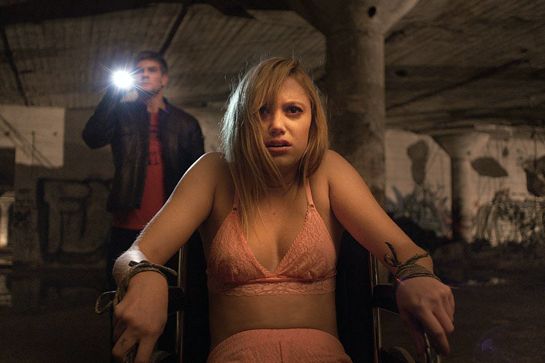 If you're up for being scared shitless sans gratuitous gore, watch…
It Follows (2014)
This brilliant supernatural/psychological horror film takes more than a few cues from Halloween: its lack of violence, eerie wide shots, teen girl well-earned scares and suburban setting. The concept is simple: "it" follows you. Forever. Everywhere you go, it will be moving towards you. What is "it," exactly? And how does it choose its victims? We wouldn't spoil the mystery for you. Turn on the lights, grab a friend or five, and watch for yourselves. (Seriously, do not watch alone.)
Photo: Courtesy of RADiUS-TWC/Dimension Films.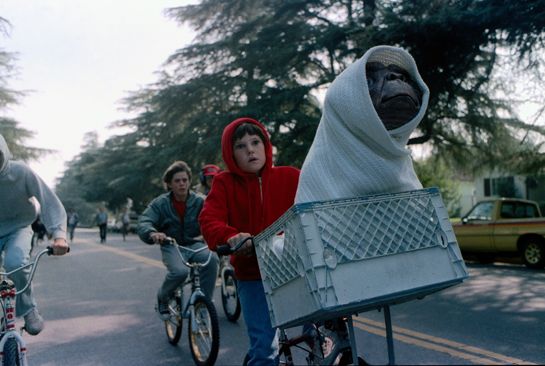 If you're up to revisit a magical childhood favorite, watch…
E.T. The Extra-Terrestrial(1982)
It's hard to believe that Spielberg's sci-fi classic is 35 years old this June. But the wondrous movie holds up surprisingly well all these years later, elementary special effects and all. That's because the heartwarming movie tells a timeless story of belonging and friendship between a lonely boy and a gentle, lovable alien.
Photo: Courtesy of Universal Pictures.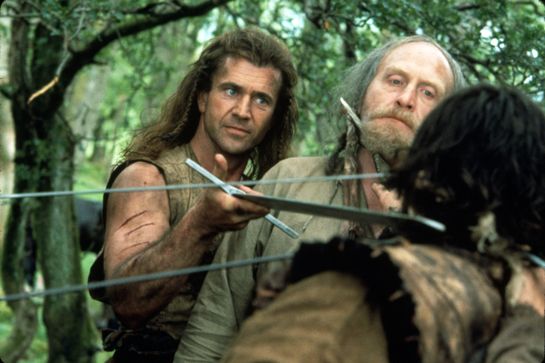 If you're in the mood for an epic dramatization of a brutal chapter of Scottish history, watch…
Braveheart (1995)
Mel Gibson directs and stars in this war movie based on the true story of 13th century Scottish warrior William Wallace. Wallace led Scotland in the bloody First War of Scottish Independence. It was nominated for a stunning 10 Oscars and won five, including Best Picture and Best Director. Sophie Marceau plays his love interest. Warning: you will sob.
Photo: SNAP/REX/Shutterstock.

If you're in the mood to see a woman take her selfish, sexist husband to trial, watch…
Big Eyes (2014)
Amy Adams ravishes once again as Margaret Keane, the American artist whose life this bio-drama is based on. You probably know the story: Her husband Walter Keane (played by a perfectly villainous Cristoph Waltz) made the dick move of claiming credit for her beloved, lucrative paintings featuring portraits of people with, well, big eyes. Watching their personal and artistic relationship crumble in and out of the courtroom is fascinating, and the ending is as gratifying as you'd hope.
Photo: Courtesy of The Weinstein Company.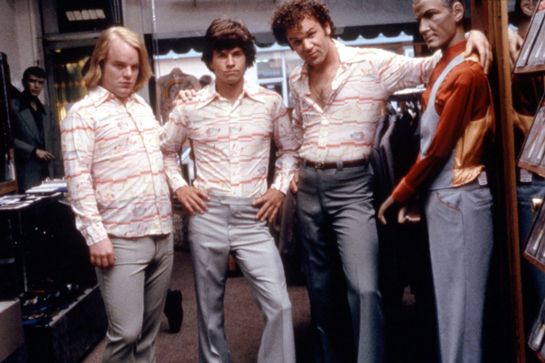 If you've ever fantasized about Mark Wahlberg as a young porn star watch…
Boogie Nights (1997)
Paul Thomas Anderson's surprisingly smart and heartfelt (and often funny) drama follows busboy-turned-porn-prodigy Eddie (stage name: Dirk Diggler) through his rise during the late '70s Golden Age of porn. Like any good movie chronicling a young star's rise and fall, stardom takes its toll after a time — as do the drugs. Wahlberg is great, and the cast is of a surprisingly high caliber: Julianne Moore, Burt Reynolds, John C. Reilly, William H. Macy, Heather Graham, Don Cheadle, and Philip Seymour Hoffman costar.
Photo: Courtesy of New Line Cinema.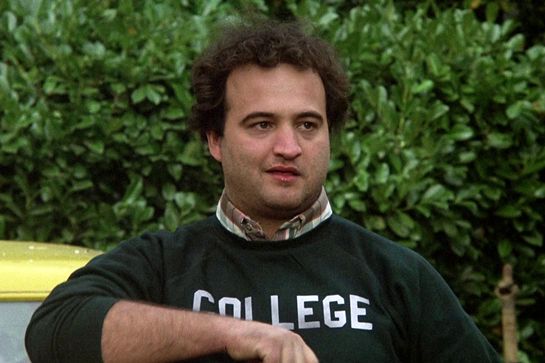 If you're in the mood to watch the original Old School , watch…
Animal House(1978)
The National Lampoon spin-off became a classic college comedy in its own right. Jim Belushi plays chief bro in the ragtag fraternity Delta Tau Chi of Faber College. It has all the ingredients of a good old-fashioned Greek get-down: Beer-chugging, awkward sex, wild hazing and toga parties galore. Of course, it's incredibly stupid-funny. And Donald Sutherland is fantastic in his deadpan portrayal of the bewildered college dean that the frat goes to war with.
Photo: Courtesy of Universal Pictures.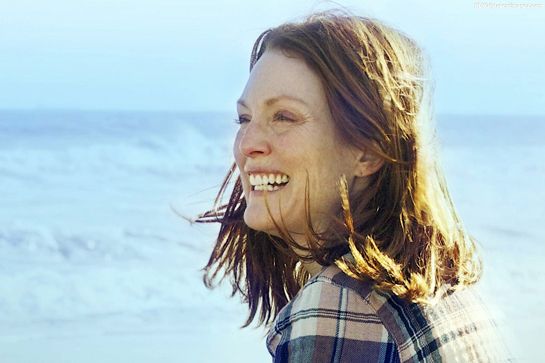 If you're in the mood to see Julianne Moore's greatest, guaranteed-to-make-you-cry performances, watch…
Still Alice(2014)
This indie drama based on the bestselling 2007 novel of the same name stars the always wonderful Julianne Moore as Alice, a linguistics professor at Columbia who is diagnosed with Alzheimer's. Watching her lose her grip on the life she loves — including her husband, played by Alec Baldwin, and her adult children, played by Kristen Stewart, Kate Bosworth, and Hunter Parrish — is heartbreaking. Moore took home the Oscar and the Golden Globe for her incredible performance.
Photo: Sony Pictures Classics.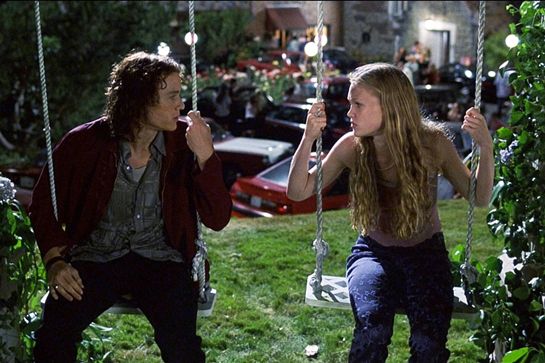 If you'd like to see the perfect '90s rom-com, watch…
10 Things I Hate About You (1999)
Shakespeare's Taming of the Shrew gets a modern reboot starring Joseph Gordon-Levitt, Julia Stiles, and Heath Ledger in breakout roles. Love triangles, deception, smitten teens, moody teens, feuding sisters, odd couples, smart dialogue: This deftly-written flick fuses a classic with the American high school culture perfectly.
Photo: Courtesy of Buena Vista Pictures.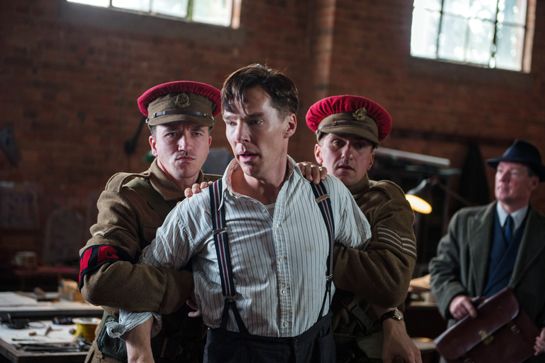 If the only thing you know about Alan Turing is that he conceived of the Turing test, then watch…
The Imitation Game(2015)
Benedict Cumberbatch star plays Turing, the brilliant computer scientist and cryptanalyst at the center of this heartbreaking historical drama. Turing's greatest contribution was breaking coded German messages in WWII, helping the Allies get a step ahead of Nazis. The last part of the film, which goes into how the British government punished their hero for being gay, is hard to watch but necessary to see. Co-stars Keira Knightley
Photo: Courtesy of The Weinstein Company.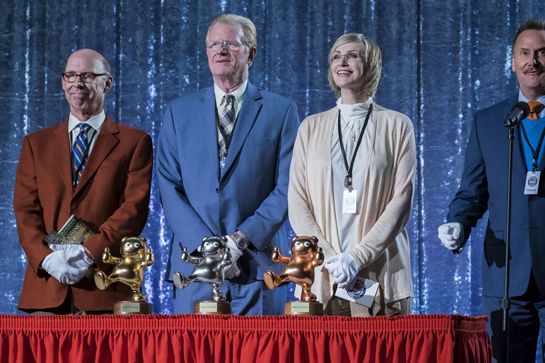 If you're a big fan of Best In Show and This Is Spinal Tap, watch…
Mascots (2016)
Christopher Guest's new Netflix-only film doesn't stray far from the stuff that makes his classics so great: Strong casting, deadpan delivery, and acute satirical hilarity. The comedy dives into the ridiculous dog-eat-dog world of professional mascot competitions. The large and talented cast includes Jane Lynch, Chris O'Dowd, Bob Balaban, Jennifer Coolidge, Zach Woods, Parker Posey and more.
Photo: Courtesy of Netflix.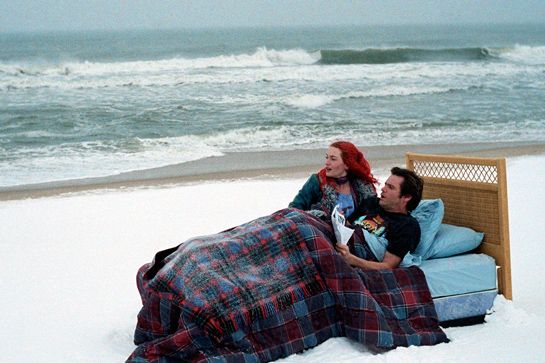 If your outlook on relationships swings between hopeless romanticism and total cynicism, watch…
Eternal Sunshine of the Spotless Mind(2004)
Kate Winslet and Jim Carrey star as Clementine and Joel, two ex-lovers who have had their memories completely purged of each other so they can move on from their painful breakup. The movie switches back and forth from Joel's surreal subconsciousness and the present-day, where on a train to Montauk, Clementine and Joel encounter each other again — this time, as total strangers. The question is whether they'll want to move forward together if they find out the truth about their past. Co-stars Kirsten Dunst, Mark Ruffalo, and Elijah Wood.
Photo: Courtesy of Focus Features.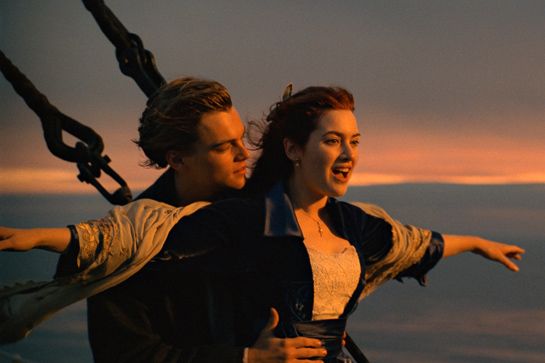 If you want to experience the forever greatest cinematic romance of our times, watch…
Titanic (1997)
Do we even need to describe what this is about? I think it will suffice to say that we can all agree on a few things: Kate and Leo make a most magical onscreen couple; this movie holds up 20 years later; classist assholes and giant icebergs are the worst; and there was definitely room for two on that damn door.
Photo: Courtesy of 20th Century Fox/Paramount Pictures.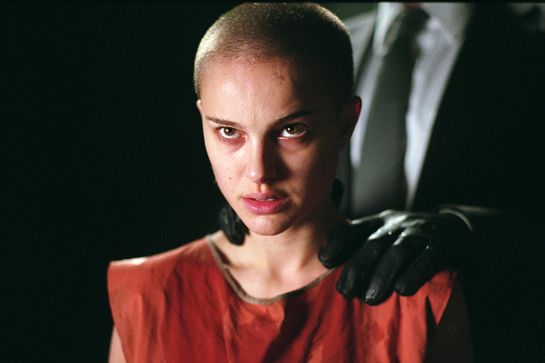 If you're looking for inspiration to overthrow an oppressive regime and/or shave your head, watch…
V for Vendetta (2006)
Natalie Portman stars as Evey in this dystopian political thriller, set in a hellish future England that is basically a a neo-fascist police state. Evey is recruited by V (Hugo Weaving) — a mysterious anarchist freedom-fighter who sports a now-iconic Guy Fawkes mask — on his mission to spur a revolution and topple the totalitarian regime. It's fun, philosophical, and downright terrifying.
Photo: Courtesy of Warner Bros.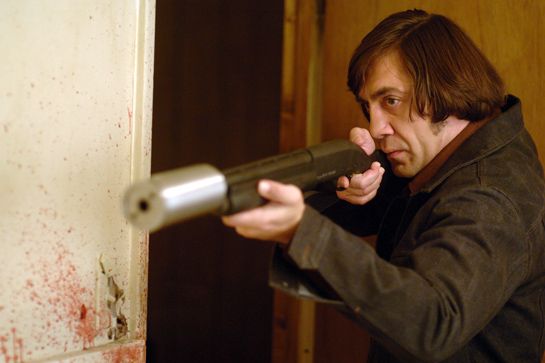 If you're in the mood for a dark, twisted neo-Western, watch…
No Country for Old Men(2007)
The Coen Brothers masterpiece — adapted from the Cormac McCarthy novel of the same name — stars Tommy Lee Jones as a well-intentioned sheriff, Javier Bardem as an indefatigable hit-man, and Josh Brolin as a hunter in the wrong place at the wrong time. All three deliver stalwart performances as men who get caught up in a deadly game of cat-and-mouse involving a briefcase full of two million dollars that unfolds bloodily across the Texas desert in 1980.
Photo: Courtesy of Miramax Films/Paramount Vantage.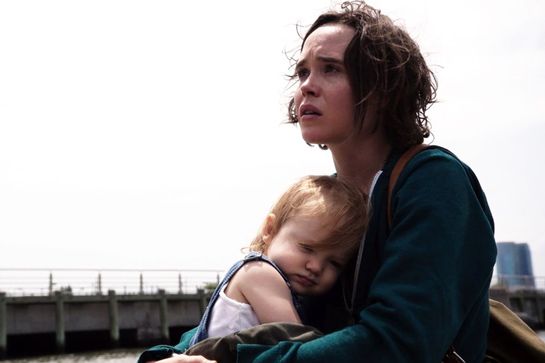 If you want to watch Ellen Page and Allison Janney light up the screen with their fiery chemistry, watch…
Tallulah (2016)
There's a lot to love about this emotional drama, one of Netflix's freshest offerings. Tallulah (Page) was just abandoned by her boyfriend. With nowhere to go, she does what anyone would do: Steal a baby, show up at your ex's mom's (Janney) doorstep with said baby, and tell the woman it's her grandchild. Yes, the plot is ludicrous — but the characters are so genuine that you won't mind.
Photo: Courtesy of Netflix.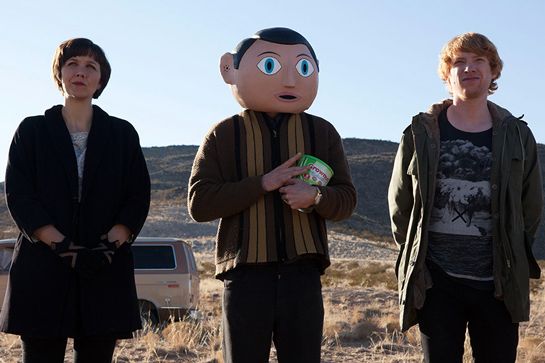 If you want to see a different kind of brilliance from Room director Lenny Abramson, watch…
Frank (2014)
Michael Fassbender stars as the titular character in this offbeat dramedy. Frank is the enigmatic front-man for an experimental rock band whose keyboardist has become suicidal. (There are funny parts, we promise.) The lovely Domnhall Gleeson co-stars as the aspiring musician who fills in. The wholly original film has the perfect balance of whimsy, punk, tragedy, and bromance. The only drawback? Fassbender's face is covered by the giant paper-mâché head he wears the whole time.
Photo: Courtesy of Magnolia Pictures.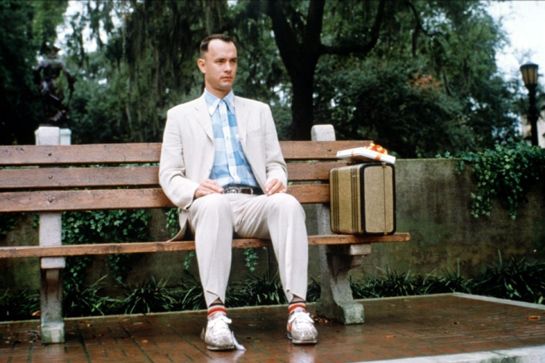 If you're in the mood for a look at America from the '40s to the '80s from a very unique point-of-view, watch…
Forrest Gump(1994)
Tom Hanks stars as the ridiculously endearing titular character. Forrest has an IQ of 75, a heart of gold, and knack for athletics like ping pong and long-distance running. The movie is alternately tender, funny and heartbreaking as it documents Forrest's incredible life. He plays a serendipitous role in historic events like ping-pong diplomacy, fights in the Vietnam War, captains a shrimping boat and falls in love.
Photo: Courtesy of Paramount Pictures.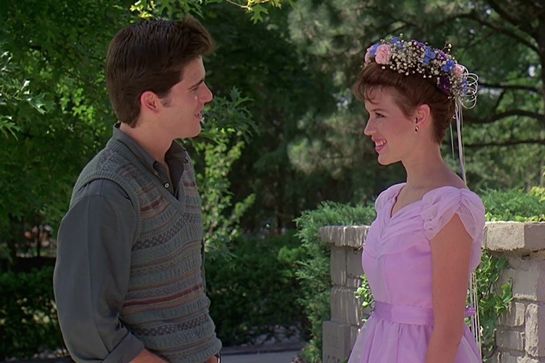 If you're in the mood for a high school comedy that plays as well today as it did in the '80s, watch…
Sixteen Candles (1984)
John Hughes' beloved high school rom-com is one of the most popular Brat Pack classics for a reason. It's full of sympathetic characters (like Molly Ringwald's angsty protagonist Sam) who spout hilarious, authentic dialogue. There are as many moments of tenderness as there are of teenage hijinks, fueled by alcohol and hormones. 16 never looked so bittersweet.
Photo: Courtesy of Universal Pictures.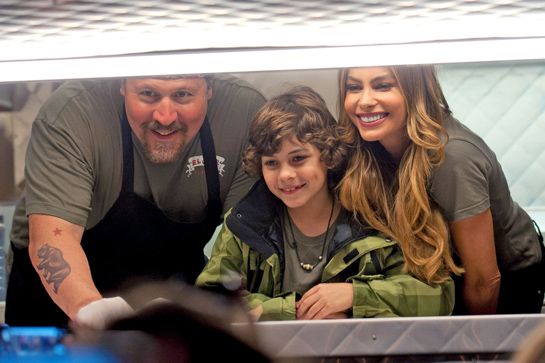 If you want to see a sweet-not-saccharine redemption story that will make your mouth water, watch…
Chef(2014)
Jon Favreau wrote, directed, produced, and stars in this low-key dramedy. Favreau plays Carl, a chef who quits his restaurant job after clashing with the owner and berating the food critic (Dustin Hoffman) who pans the boring menu Carl is forced to serve. He heads to Miami, where he reignites his passion for cooking and reconnects with his son and his ex-wife (Sofia Vergara). They help him open up a food-truck serving up Cubanos — and, yes, smiles.
Photo: Courtesy of Open Road Films.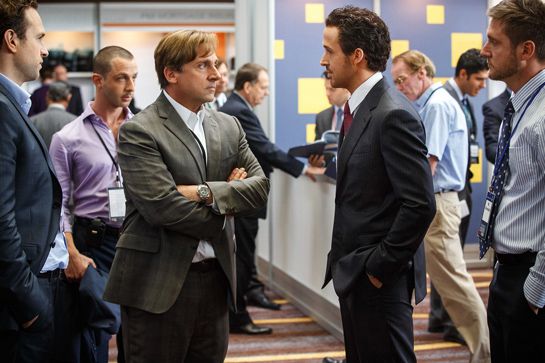 If you're interested in the most entertaining explanation of the 2007-2008 financial meltdown you'll ever see, watch…
The Big Short (2015)
Ryan Gosling, Brad Pitt, Christian Bale, and Steve Carrell all give some of the best performances of their careers in this clever retelling of the lead-up to the real estate bubble collapse. The eccentric cast of characters, all based on real people, includes greedy but unwitting bankers and brokers — as well as the guys who saw the financial meltdown coming and profited massively off of it. It's a fascinating and funny but sobering close-up of a dark economic turning point for our country.
Photo: Courtesy of Paramount Pictures.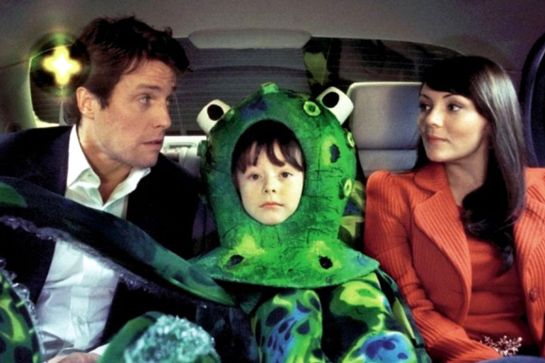 If you're in the mood for a dose of holiday spirit any time of year, watch…
Love Actually(2003)
The modern classic is the perfect fusion of a holiday movie and a rom-com. Eight interconnected stories are acted out by a stellar ensemble cast, including Hugh Grant, Liam Neeson, Colin Firth, Laura Linney, and Keira Knightley. It's heartrendingly sweet at some moments — think that now iconic-scene where Andrew Lincoln's character silently declares his love for his BFF's wife (Knightley) — and totally hilarious the next, thanks to Bill Nighy.
Photo: Courtesy of Universal Pictures.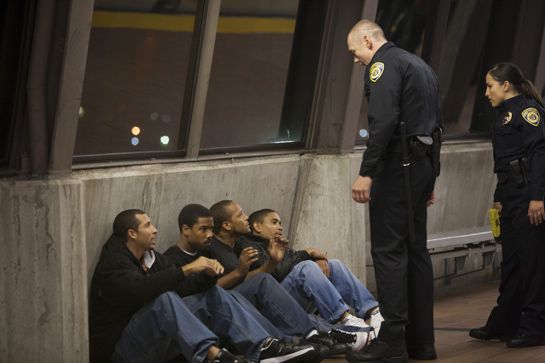 If you want to see a movie that is depressingly relevant to recent headlines, watch…
Fruitvale Station(2013)
This harrowing and important drama is based on the tragic 2009 story of Oscar Grant (Michael B. Jordan, incredible), a 22-year-old Black man who was unarmed and face down on the ground when he was shot dead by a transit police officer at an Oakland, CA, train station. (The officer, convicted of involuntary manslaughter, said he meant to use his taser gun.) It's a story we've seen played out again and again in instances of police brutality in the past couple of years — and this reconstruction of the final 24 hours of Grant's life will break your heart once more.
Photo: Courtesy of The Weinstein Company.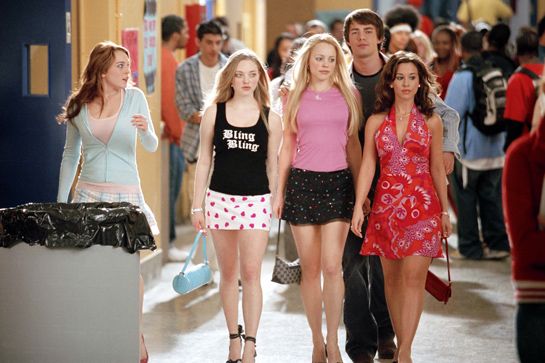 If you're in the mood to get excited for the upcoming Tina Fey-penned musical based on the best teen comedy of all time, watch…
Mean Girls (2004)
A sharp script from Fey, the best performance of Lindsay Lohan's career, and a hilarious supporting cast come together perfectly in this movie, the best thing that happened in the year 2004. Rachel McAdams is the perfect villain as queen bee Regina George, and Cady's (Lohan) transformation from fish-out-of-water nerd to certified mean girl is actually a fascinating character arc. And in practically every scene, there's a now-classic quote. So fetch!
Photo: Courtesy of Paramount Pictures.

If you want to see the only other recent musical dramedy that's actually on par with 2007's Once, watch…
Begin Again (2014)
Keira Knightley plays talented New York singer-songwriter Gretta, who is discovered by a just-fired record exec (Mark Ruffalo) after breaking up with her longtime boyfriend and songwriting partner (Adam Levine). This sweet little movie watches the bond between the two lost souls blossom — but it's really more of a tribute to New York City and the power of music than any one romance. Co-stars Hailee Steinfeld, James Corden, and CeeLo Green.
Photo: Courtesy of the Weinstein Company.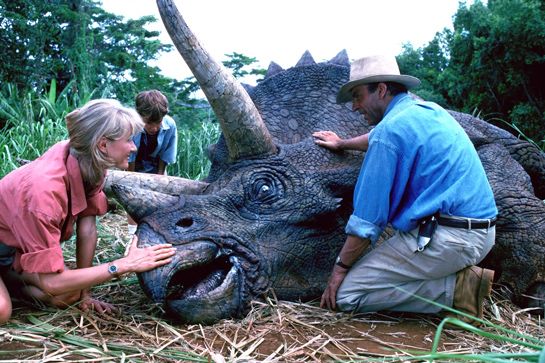 If you want to see the prehistoric but powerful ancestor of 2015's Jurassic World, watch…
Jurassic Park (1993)
The original movie is based on the book by Michael Crichton. It stars Sam Neill and Laura Dern as paleontologists/lovers, and Jeff Goldbum as a wacky chaos-theorist. Oh, and then there's those scary-smart Velociraptors. The movie holds up remarkably well more than 20 years later. If you're already a fan, it's fun to revisit. And if the first Jurassic Park movie you saw was last summer's Jurassic World? We bet you'll appreciate recognizing the homages that the blockbuster followup made to the original (e.g. Blythe Danner's character's white skirt-suit is a little tribute to park founder John Hammond's all-white getup).
Photo: Courtesy of Universal Pictures.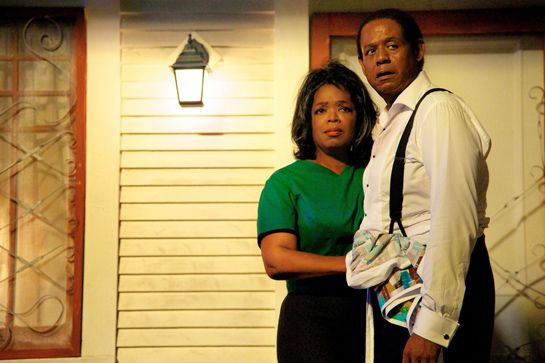 If you want to see how racism shaped America throughout the 20th century through the eyes of a Black man in the White House, watch…
The Butler (2013)
Forest Whitaker stars as Cecil Gaines in this drama based on the life of Eugene Allen, who worked as a butler in the White House for an astounding 34 years. Gaines experiences the historic sociopolitical upheaval the U.S. undergoes over the span of four decades from his unique position of privilege and oppression. The all-star supporting cast includes Oprah Winfrey, John Cusack, Cuba Gooding, Jr., Terrence Howard, Jane Fonda, Lenny Kravitz, Robin Williams, David Oyelowo, James Marsden and Alan Rickman.
Photo: Courtesy of the Weinstein Company.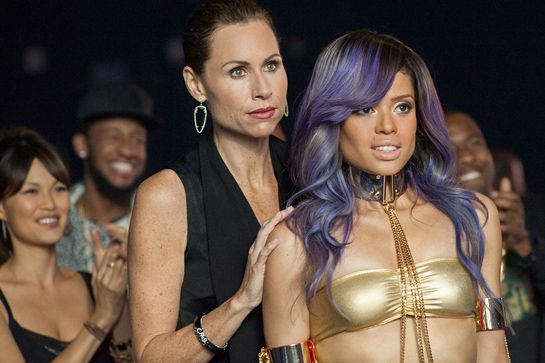 If you want a fictional take on the perils of pop stardom that is probably closer to reality than we'd like to believe, watch…
Beyond the Lights(2014)
Gugu Mbatha-Raw delivers a powerful, vulnerable performance in this slightly formulaic and melodramatic but raptly entertaining drama. Mbatha-Raw plays Noni, a troubled young pop artist whose overnight success is enjoyed by everyone but herself. Watching the outwardly confident but inwardly insecure Noni crumble under the pressure of instant fame, her critical and cold mother (Minnie Driver), and mounting identity crisis is riveting.
Photo: Courtesy of Relativity Media.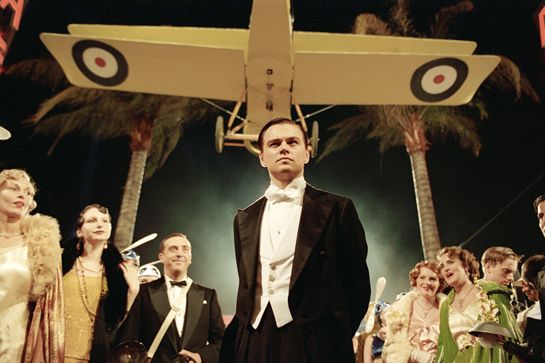 If you're in the mood to see one of Leo's many Oscar-nominated performances 12 years before he actually won one, watch…
The Aviator(2004)
Martin Scorsese's sweeping biopic of troubled aviation pioneer Howard Hughes is grandly cinematic and stunningly acted — and not just by Leo. The incredible supporting cast includes Cate Blanchett in a marvelous turn as Katherine Hepburn — as well as Kate Beckinsale, Jude Law, Alec Baldwin, Gwen Stefani, Ian Holm and John C. Reilly playing the many individuals who fell in and out of Hughes' life. The ambitious eccentric battled increasingly severe OCD, paranoia, and self-isolation throughout his adventurous but at times tragic life.
Photo: Courtesy of Warner Bros Pictures/Miramax Films.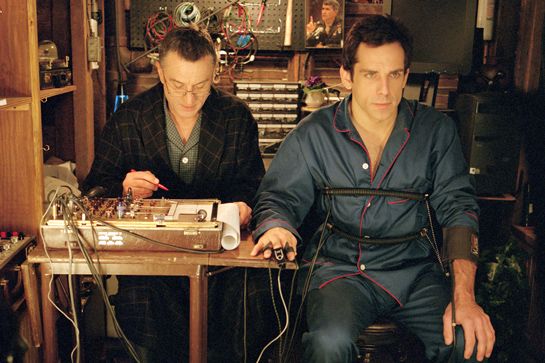 If you're in the mood to feel better about the time you totally embarrassed yourself in front of your in-laws, watch…
Meet the Parents(2000)
Ben Stiller and Robert De Niro go head to head in this modern-day classic about a male nurse named Greg (Stiller) meeting his fiancée Pam's (Teri Polo) parents Jack and Dina (De Niro and Blythe Danner) for the first time. Quite literally everything goes wrong. Greg talks about milking the family cat at the dinner table, leads Jack to believe he's a pothead, shatters an urn full of Jack's mom's ashes, floods the yard with sewage, gives Pam's sister a bloody nose during water volleyball, and more. Just as hilarious every time.
Photo: Courtesy of Universal Pictures.

If you're in the mood to see the inspiring real-life story of one bold woman holding a corrupt corporation accountable, watch…
Erin Brockovich (2000)
In this biopic, Julia Roberts plays the real-life titular badass who took on Pacific Gas & Energy — and, spoiler alert, won. In the early-'90s, the single mom — who had no formal law education — played a key role in bringing a landmark class-action lawsuit against the company. She took up the cause after discovering that PG&E was knowingly contaminating the drinking water of a California town — causing cancer, miscarriages, serious health disorders, and deaths. Roberts won an Oscar for the role.
Photo: Courtesy of Universal Pictures.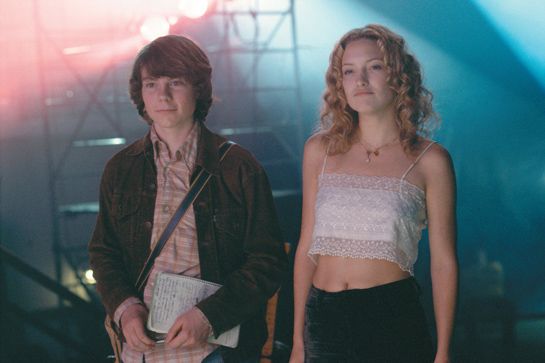 If you're in the mood to see a truly great Cameron Crowe movie that puts his subpar
Elizabethtown
and
Aloha
to shame, watch…
Almost Famous(2000)
The '70s-set dramedy is the coming-of-age story of William (Patrick Fugit), a 15-year-old aspiring music journalist who worships Led Zeppelin and Lynyrd Skynyrd. He lands a Rolling Stone cover story on fictional rock band Stillwater and befriends a groupie named Penny Lane (Kate Hudson). But his backstage tour pass reveals that rock gods aren't all they're cracked up to be.
Photo: Snap Stills/REX/Shutterstock.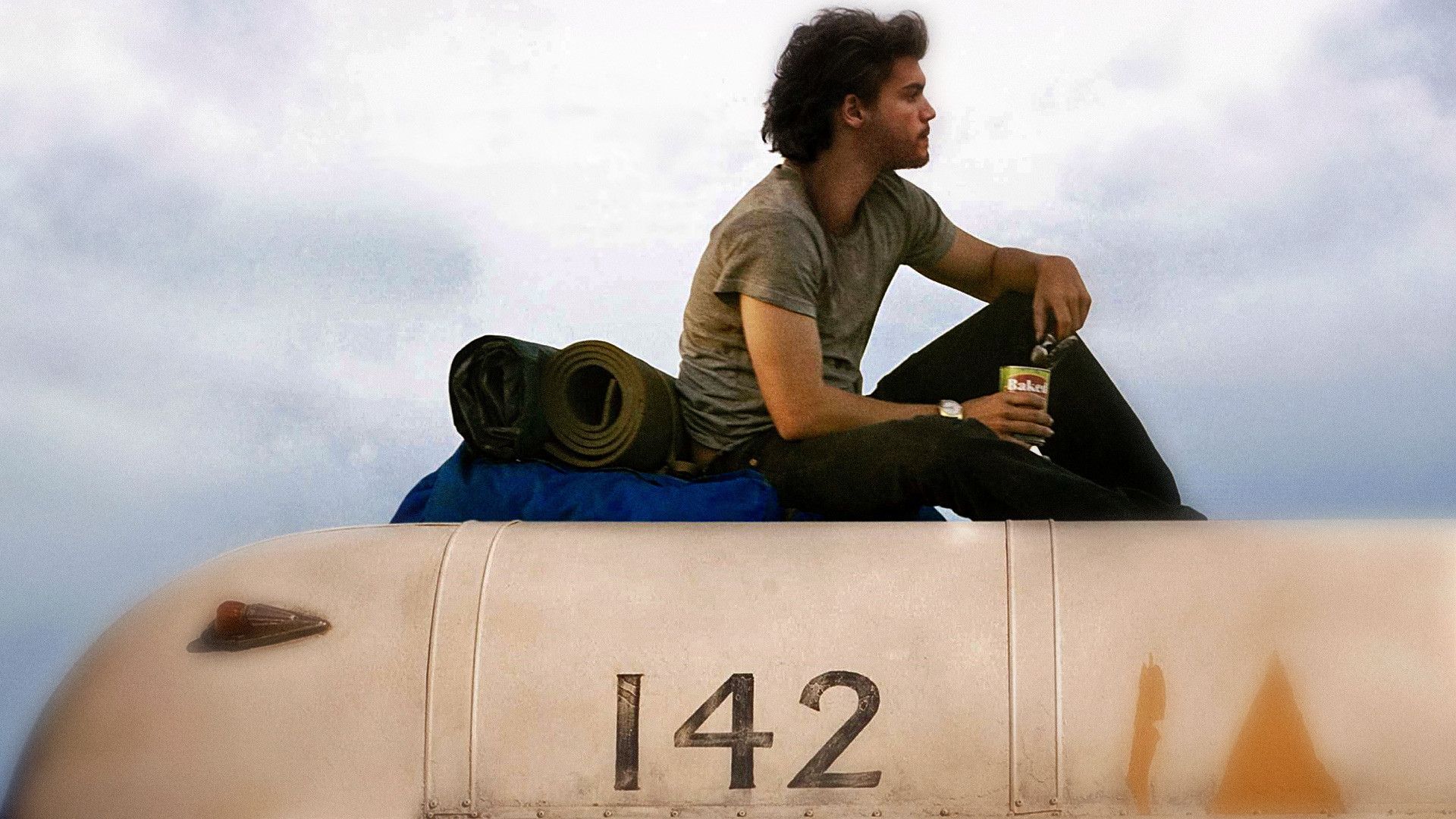 If you're in the mood to (vicariously) embark on an intense spiritual and physical journey while grappling with the futility of man against nature and the meaninglessness of human civilization, watch…
Into the Wild (2007)
Emile Hirsch stars as Christopher McCandless, the real-life subject of Jon Krakauer's 1996 book of the same name. This beautiful Sean Penn-directed adaptation jumps between two crucial times in McCandless' life: the two years he spent traversing the Southwestern U.S., California and Mexico, and the following period of stark solitude he spent in the Alaskan wilderness. And the Eddie Vedder-composed score is a work of art in itself.
Photo: Courtesy of Paramount Vantage.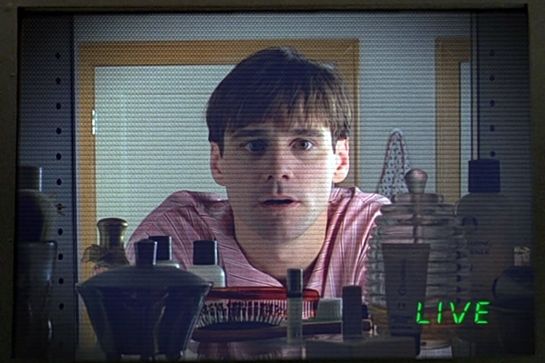 If you're in the mood to unleash that inner paranoia lurking just below the surface of your consciousness, watch…
The Truman Show (1998)
Jim Carrey is superb as Truman, a man living a perfectly happy, perfectly average life (with a Stepford wife played by Laura Linney). But that contented monotony turns to curiosity — and then debilitating paranoia — as he realizes that something larger is behind the bizarre coincidences of his daily routine. His life is a little too orchestrated, his world too insulated. Entertaining yet extremely unsettling.
Photo: Courtesy of Paramount Pictures.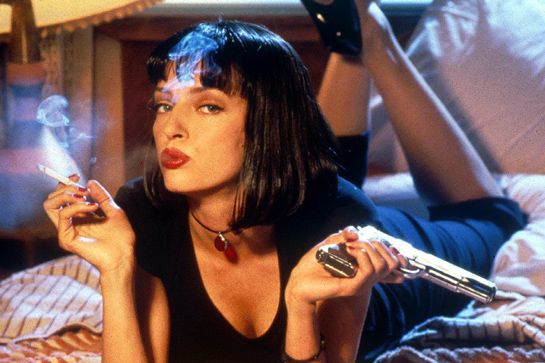 If you're in the mood to watch an innovative film that successfully dared to buck the stale Hollywood formula, watch…
Pulp Fiction(1994)
Quentin Tarantino's neo-noir crime comedy (yes, that's a genre) is dark, humorous, original, and yes, very violent. The script is considered one of the most well-written of all time, while the highly stylized look of the film has become iconic. But it's John Travolta, Uma Thurman, and Samuel L. Jackson's career-making performances that will keep you glued to the screen.
Photo: Courtesy of Miramax Films.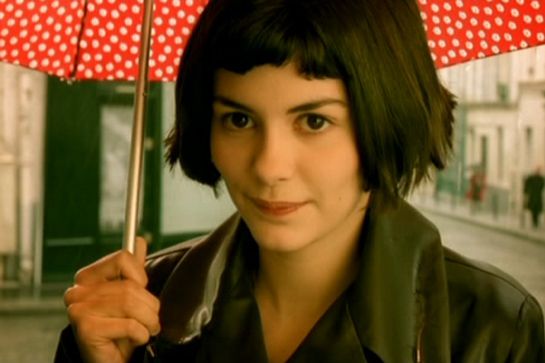 If you're in the mood for an atypical, whimsical rom-com, watch…
Amélie (2001)
This understated French charmer is the story of a lonely, shy Parisian woman who makes it her mission to bring joy into the lives of the people around her — a coworker, a neighbor, a blind stranger, her father. Audrey Tautou is quietly charming in the titular role.
Photo: Courtesy of UGC-Fox Distribution.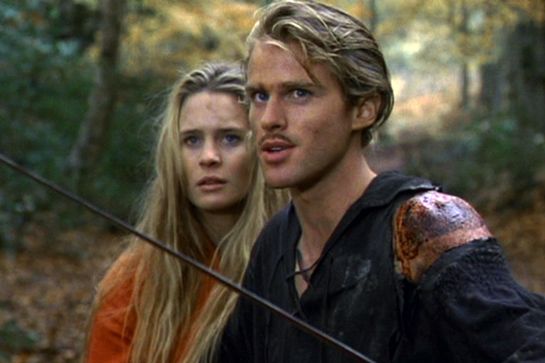 If you're in the mood to find your one true Netflix love in a smart and hilarious fairy tale for grownups, watch…
The Princess Bride (1987)
Robin Wright delivers the polar opposite of the icy Claire Underwood as Princess Buttercup, the true love of honorable pirate Westley (Cary Elwes). The film is rife with charisma, thanks in large part to the charming Elwes, a clever screenplay, and a very young Mandy Patinkin as Inigo Montoya — an alcoholic Spanish swordsman set on avenging his father. Billy Crystal also makes a great cameo.
Photo: Courtesy of 20th Century Fox.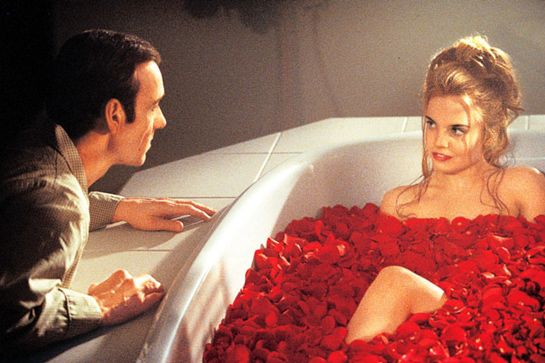 If you're in the mood to question the meaning of love, beauty, success, and, um, America, watch…
American Beauty(1999)
As an utterly average American in the midst of a mid-life crisis, Lester Burnham (Kevin Spacey) is no Francis Underwood, but he's got a questionable conscience — not to mention, a thing for inappropriate relations with an attractive young woman. This dark, twisted drama — an unsettling satire of and meditation on the pitfalls of middle-class suburbia — is as fucked up as anything we've seen thus far on House of Cards. The Oscar winning film co-stars Annette Bening, Thora Birch, Mena Suvari.
Photo: Courtesy of DreamWorks.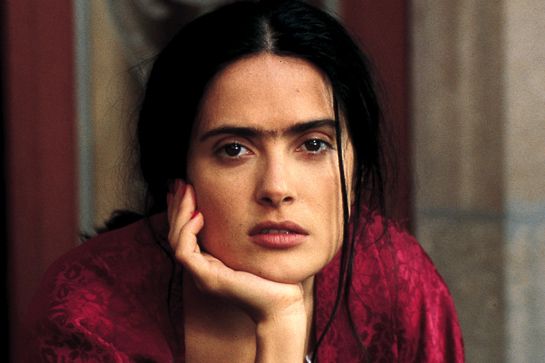 If you're in the mood to see Salma Hayek rock a unibrow, watch…
Frida(2002)
Hayek is fantastic as the titular artist, famed Mexican surrealist painter Frida Kahlo. The biopic zooms in on Kahlo's bisexuality (a radical identity back in the '30s and '40s when she rose to fame), creative process, alcoholism, and, most intimately, her dysfunctional relationship with her husband (Alfred Molina) — a fellow artist and a very complicated man.
Photo: Courtesy of Miramax.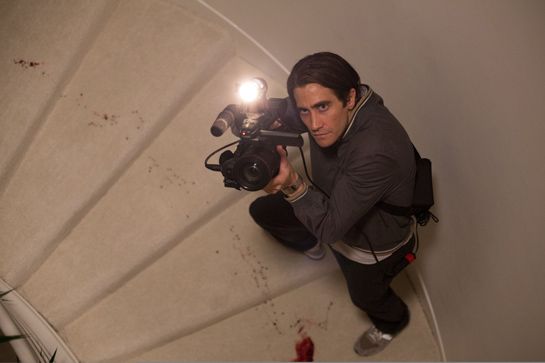 If you're in the mood to experience the impossible: revulsion at the sight of Jake Gyllenhaal — watch…
Nightcrawler (2014)
Gyllenhaal plays the gaunt-faced, empty-eyed loner Louis Bloom in this creepy neo-noir crime thriller. Desperate for work, Bloom becomes a stringer, a freelance cameraman catching nauseating, up-close footage of grisly crime and accident scenes in Los Angeles — and selling it to news channels at a hefty price. Watching him nudge the ethical boundaries further and further to get the perfect shot is disturbingly entertaining.
Photo: Moviestore Collection/REX Shutterstock.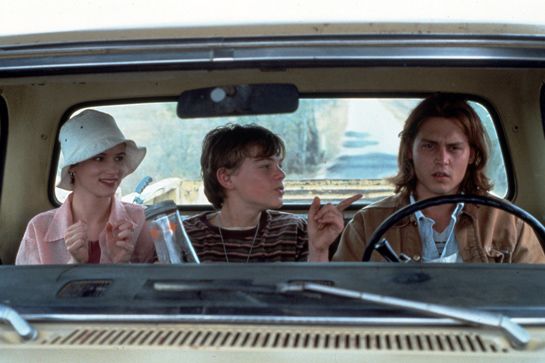 If you're in the mood to celebrate Leo's big win by seeing his very first Oscar-nominated performance, watch…
What's Eating Gilbert Grape(1993)
Gilbert (Johnny Depp) is feeling the pressure of caring for his morbidly obese mother (Darlene Cates) and developmentally disabled little brother, Arnie (DiCaprio). When a fresh face and free spirit (Juliette Lewis) rolls into town, she becomes a romantic interest to Gilbert and a surrogate big sister to Arnie. The movie is full of heart — and Leo's heart-wrenching performance is on par with The Revenant.
Photo: SNAP/REX Shutterstock.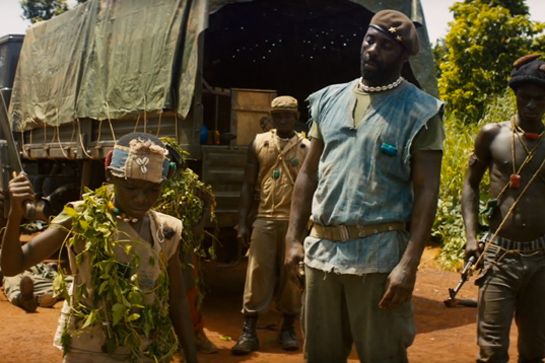 If you're in the mood to get riled up about the #OscarsSoWhite debacle again, watch…
Beasts of No Nation(2015)
Idris Elba delivers a terrifying — and indubitably Oscar-worthy — performance as the brutal leader of a West African rebel faction. He takes a young boy separated from his family under his wing while the country is ravaged by civil war.
Photo: Courtesy of Netflix.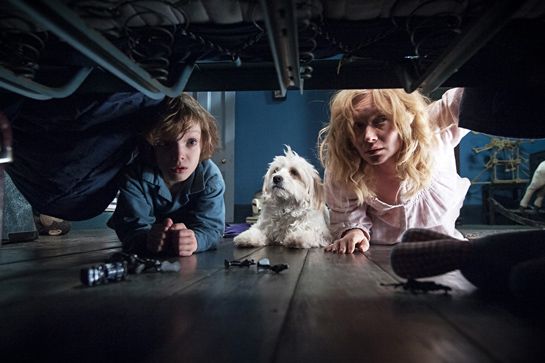 If you're in the mood to piss your pants in a classy, Sundance sort of way, watch…
The Babadook (2014)
This Australian-Canadian psychological horror film is about a single mom, her 6-year-old son, and the scariest pop-up book of all time. Do not save this for one of those late-night, insomnia-fueled solo viewings.
Photo: Courtesy of IFC Films.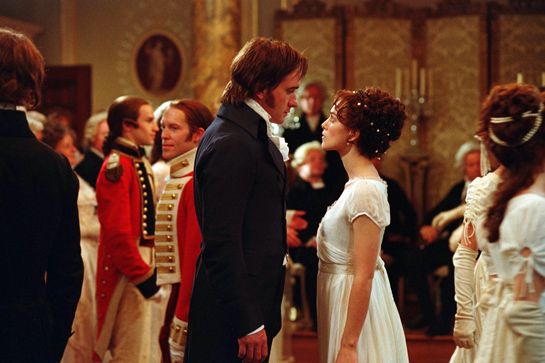 If you're in the mood to see Pride and Prejudice and Zombies minus the zombies, watch…
Pride & Prejudice (2005)
Keira Knightley slays — alas, only metaphorically — as the corseted, sharp-tongued heroine Elizabeth Bennet in this unapologetically romantic interpretation of the Jane Austen favorite. A modern classic as far as literary adaptations and period pieces go.
Photo: Courtesy of Focus Features.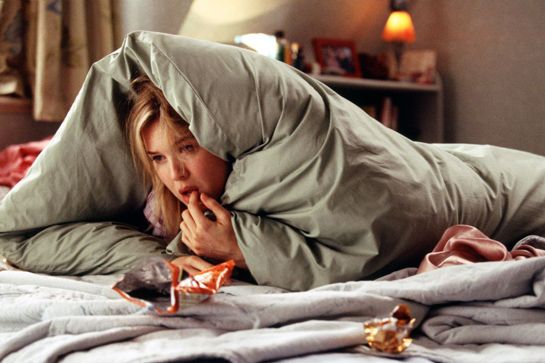 If you're in the mood to see Pride and Prejudice re-imagined as a 21st-century rom-com, watch…
Bridget Jones's Diary(2001)
Renée Zellweger shines as the insecure, embarrassment-prone, bumbling Brit Bridget Jones. Hugh Grant plays the charming asshole, while Colin Firth is so stubbornly cute as Darcy, you'll forgive him for calling our heroine "a verbally incontinent spinster who smokes like a chimney, drinks like a fish, and dresses like her mother."
Photo: Courtesy of Miramax Films.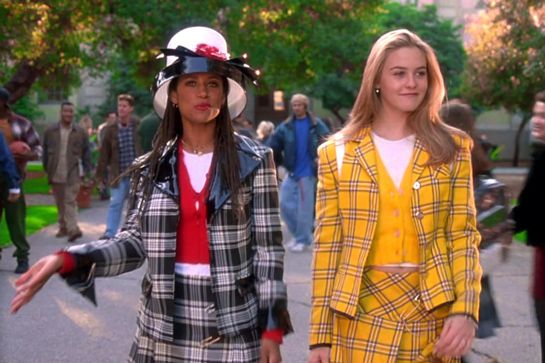 If you're in the mood to remember that Stacey Dash was a decent actress before she became a rando who says
ignorant
shit
, watch…
Clueless (1995)
Did you know this '90s classic is based on another Jane Austen novel, Emma? Alicia Silverstone's Valley Girl Cher is a bubbly, well-intentioned matchmaker — but her meddling backfires when she falls for her step-brother (Paul Rudd). Co-stars Brittany Murphy.
Photo: Courtesy of Paramount Pictures.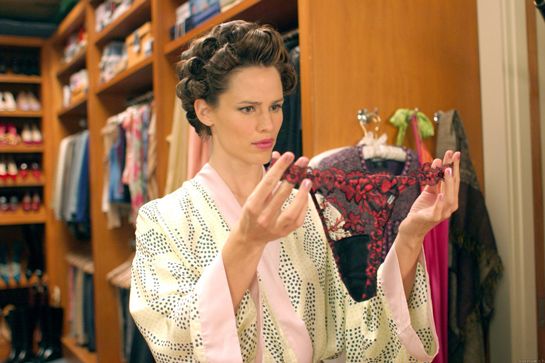 If you're in the mood to see Jennifer Garner and Mark Ruffalo remake Big, watch…
13 Going on 30(2004)
This perfectly charming rom-com stars Garner as an angsty, boy-crazy teenager whose wish to be "30, flirty, and thriving" is magically answered. Her childlike wonderment and the '80s-heavy soundtrack are tons of fun — plus, like any rom-com worth its salt, it co-stars Judy Greer.
Photo: Courtesy of Columbia Pictures.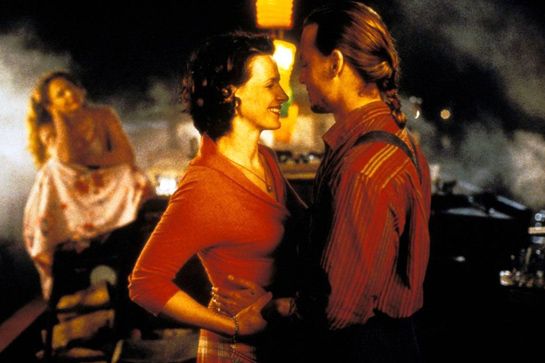 If you're in the mood to salivate over oodles of chocolate and/or Johnny Depp in his prime, watch…
Chocolat (2000)
Juliette Binoche plays young single mom and kindred chocolatier Vianne, who moves to a small French town with her daughter to open up a chocolate shop. Her nom-noms and liberal attitudes shake up the traditional townspeople's lives, and Johnny Depp rocks a braid.
Photo: Courtesy of Miramax Films.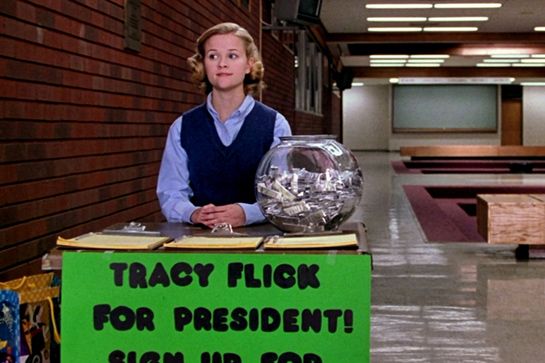 If you're in the mood to see a presidential election even more laughable than the one currently brewing, watch…
Election (1999)
Tracy Flick (Reese Witherspoon) is a high school junior with lots of ambition and questionable morals. Her face-off with her dumb jock opponent (Chris Klein) is a hilarious satire of both high school and politics.
Photo: Courtesy of Paramount Pictures.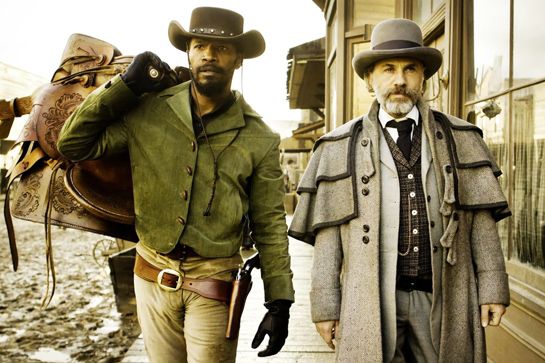 If you're in the mood to see Jamie Foxx kicking ass and Leonardo DiCaprio being deliciously evil, watch…
Django Unchained(2012)
Quentin Tarantino's version of a Spaghetti Western is set in the antebellum Deep South and centers on a slave turned bounty hunter trying to get back to his wife (Kerry Washington). It boasts a killer soundtrack — and one of the most outrageously satisfying revenge scenes in movie history.
Photo: Courtesy of The Weinstein Company.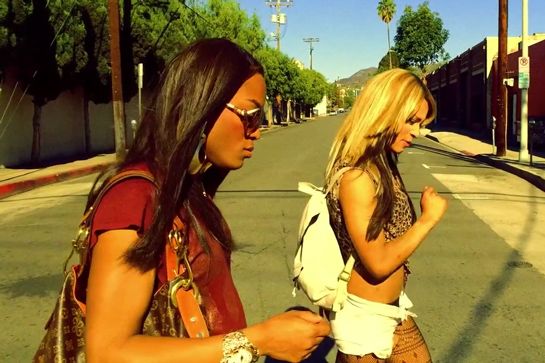 If you're in the mood to see multidimensional trans characters played by actual trans women, watch…
Tangerine (2015)
One of last year's best films is a day in the life of a trans sex worker named Sin-Dee (Kitana Kiki Rodriguez) who, having just been released from prison, recruits her BFF to exact revenge on her pimp/ex. It's impossible not to fall in love with Sin-Dee, and the movie will surprise you with both its heart and its humor.
Photo: Courtesy of Magnolia Pictures.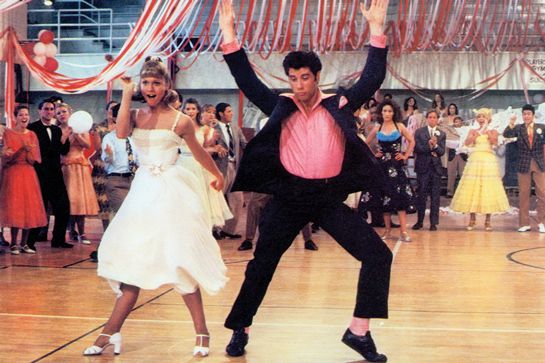 If you're in the mood to revisit the even-better original after seeing the live musical, watch…
Grease (1978)
Even if you hate musicals, you love Grease. Olivia Newton-John and John Travolta are smokin' as unlikely lovers Sandy and Danny, and literally every musical number is a classic — "Greased Lightnin," "Beauty School Dropout," "Summer Nights," and "You're the One That I Want," for starters.
Photo: Courtesy of Paramount Pictures.

If you're in the mood to see Gwynnie pre-Goop and Joseph Fiennes before he became that white guyplaying Michael Jackson, watch…
Shakespeare in Love (1998)
The witty Best Picture-winner poses itself as the untold origin story behind Shakespeare's greatest romance — and the film itself is a Romeo and Juliet story, complete with feuding (play)houses and star-crossed lovers. Paltrow and Fiennes sparkle as the leads, but Judi Dench steals the show with her Oscar-winning turn as a shrewd Queen Elizabeth.
Photo: Courtesy of Miramax Films.

If you're in the mood for a less pretentious, slightly more realistic version of Girls, watch…
Frances Ha (2012)
The fabulously talented Greta Gerwig co-wrote and co-stars in this refreshing black-and-white comedy about a twentysomething Brooklynite looking for a career, love, and a general sense of purpose. Sound familiar? Adam Driver even shows up.
Photo: Courtesy of IFC Films.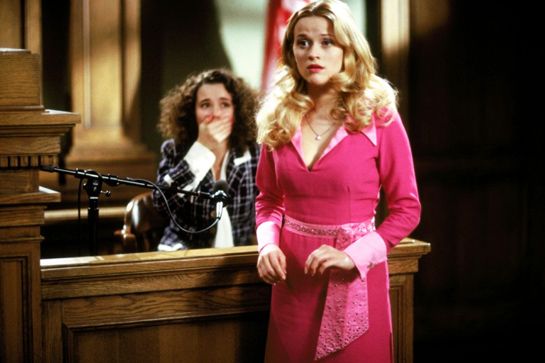 If you're in the mood for a pink-coated punch of girl power, watch…
Legally Blonde (2001)
Reese Witherspoon was born to play Elle Woods, the sorority girl turned Harvard Law student with a Barbie wardrobe and Annalise Keating's courtroom sensibilities. The unexpected supporting cast is a delight; it includes Luke Wilson, Selma Blair, Jennifer Coolidge, Victor Garber, Ali Larter, and a permed-out Linda Cardellini.
Photo: Courtesy of MGM.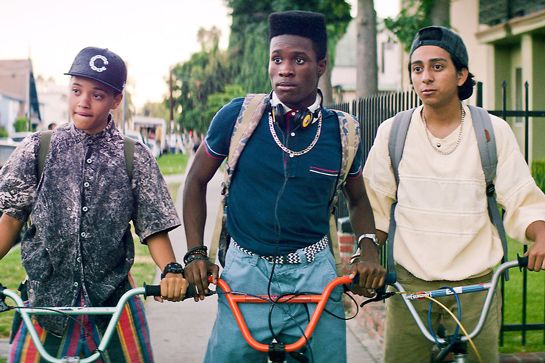 If you're in the mood for a film succinctly reviewed by its own title, watch…
Dope (2015)
Three '90s hip-hop-obsessed geeks (Shameik Moore, Kiersey Clemons, and Tony Revolori) get mixed up with gangsters and embark on some wild misadventures. It's a very 2015 coming-of-age story, told from a fresh perspective. Oh, and the soundtrack is da bomb.
Photo: Courtesy of Open Road Films.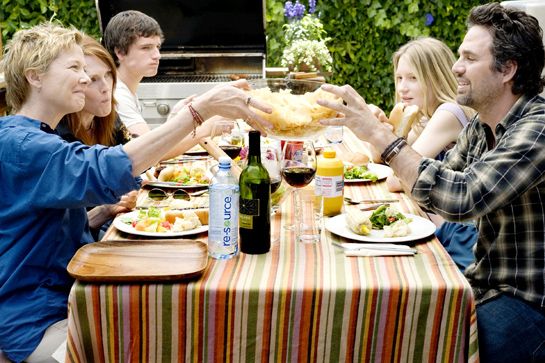 If you're in the mood to see on-screen evidence that non-hetero women over 50 do indeed have interesting stories, watch…
The Kids Are All Right (2010)
The phenomenal Annette Bening and Julianne Moore play a refreshingly realistic Los Angeles couple. Their relationship is tested when their children (a baby Josh Hutcherson and Mia Wasikowska) bring their anonymous sperm donor — a sexy, bohemian Mark Ruffalo — into the fold.
Photo: Courtesy of Focus Features.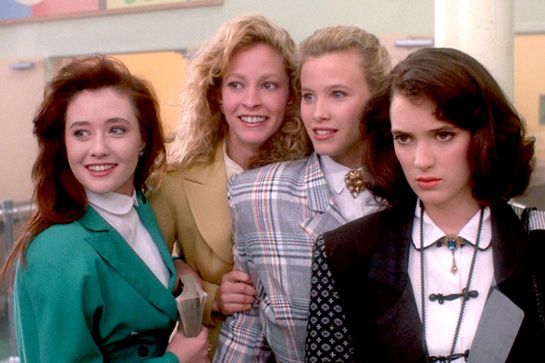 If you're in the mood to see
Mean Girls
on crack, but
really
dark, watch…
Heathers(1988)
Winona Ryder, Christian Slater, and Shannen Doherty star in this black comedy cult hit. There's cliquey gossip, alcohol, sex, cheerleading, manipulation, murder, and a cover-up (or two) in this unapologetically dark, hugely entertaining take on high school drama. Strip croquet, anyone?
Photo: Courtesy of New World Pictures.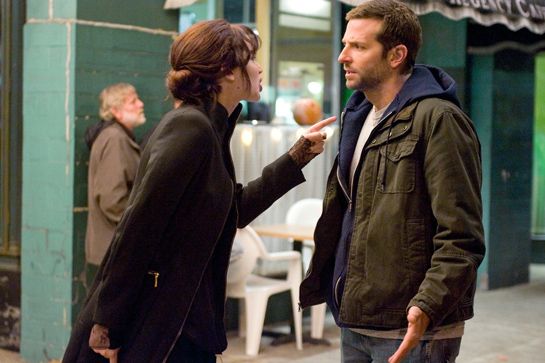 If you're in the mood to see where Bradley Cooper and Jennifer Lawrence's insane chemistry began, watch…
Silver Linings Playbook(2012)
When Tiffany and Pat (Lawrence and Cooper) meet, she's mourning the death of her husband, while he's still in denial about the loss of his wife after she cheated on him. It's a messy, emotional, and at times darkly funny rom-com about beautiful, flawed people falling in love.
Photo: Courtesy of The Weinstein Company.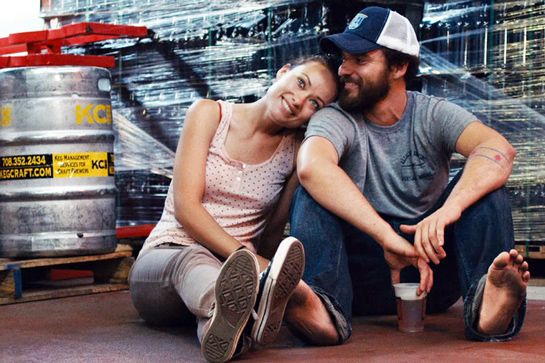 If you're in the mood to make yourself feel a little better about a recent poor decision you made under the influence, watch…
Drinking Buddies (2013)
Two couples — Olivia Wilde and Ron Livingston, and Anna Kendrick and Jake Johnson — spend the weekend at a cabin together and things get, well, a little incestuous. A flirty but bittersweet (open-ended) answer to the age-old question: Can men and women just be friends?
Photo: Courtesy of Magnolia Pictures.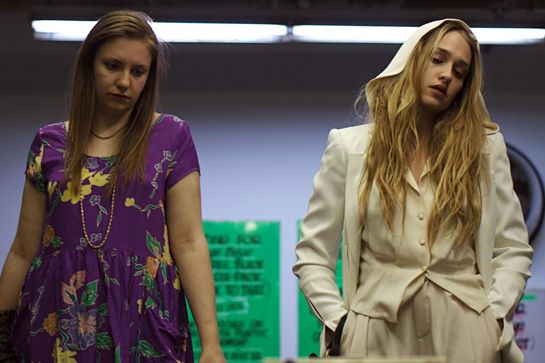 If you're in the mood for the sadder, feature-length version of Girls, watch…
Tiny Furniture(2010)
Meet Aura, a prototype of Hannah Horvath who spends the summer after graduation crashing at her family's Tribeca loft, getting over her recent breakup, looking for work, and generally having a quarter-life crisis. Girls ' Jemima Kirke and Alex Karpovsky co-star, while Dunham's real-life mother and sister play Aura's mom and sis.
Photo: Courtesy of IFC Films.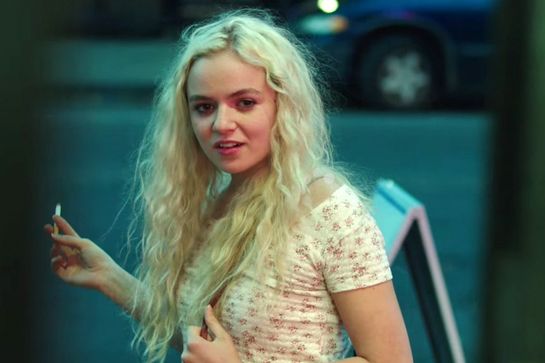 If you want to see a troubling but prescient portrait of a pocket of youth drug culture (and crime) today, watch…
White Girl (2016)
Up-and-comer Morgan Saylor (Homeland) stuns in her breakout film role as Leah, a rebellious college student living in Queens. Leah gets more involved in drugs — doing and then dealing them — as she becomes more romantically attached to her cocaine dealer boyfriend. The movie, a Sundance favorite, is raw and gritty; it doesn't shy from potentially controversial scenes and is at points hard to watch.
As i-D put it, " White Girl is the most explosive portrait of NYC youth since Kids."
Photo: Courtesy of FilmRise.
Click HERE to read more from Refinery29.



Loading ...