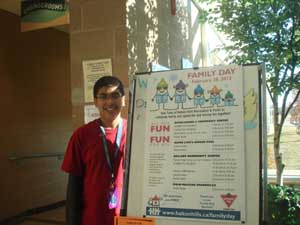 This article was last updated on April 16, 2022
Canada:

Oye! Times readers Get FREE $30 to spend on Amazon, Walmart…
USA:

Oye! Times readers Get FREE $30 to spend on Amazon, Walmart…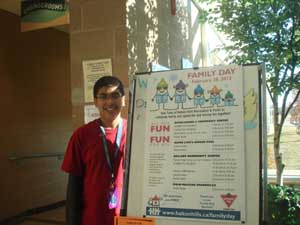 William Saroyan, the famous Armenian American author, once said – "The love of a family is life's greatest blessing." In my opinion, I believe Family Day, which we celebrate in Canada, really helps bring a family closer together and makes them realize they need to spend some quality time with each other outside of their extremely busy lives in a frenetic society. My goal in writing this article is that you will learn more about the history of Family Day which began in Ontario in 2007; my Willow Park Ecology Centre (WPEC) family day experience and last but not least the fantastic, fun-filled Family Day I had at the Gellert Community Centre in the early morning.
Every year since grade 4 I await this day and celebrate it by uniting the family spirit all around me and building stronger family bonds.
This holiday celebrates the importance of families and family life for people and their communities. Family Day dates back to 1990 when it was first established as a public (statutory) holiday for Alberta only. After a long seventeen years, Ontario became the third province, right after Saskatchewan, to declare it a local holiday. Did you know that in Ontario, the Family Day has only really been around for 5 years and in such a short time it has already been declared as one of the many Canadian favourite holidays.
Family Day fell on February 20
th
this year (the 3
rd
monday of the month always) and there was a ton of Family Day events and admission deals
throughout the province for all ages.
At WPEC a small crowd of families braved the cold weather by staying extremely close together and replenishing their body heat. They played games such as "The STICKS". We were given chopsticks and shown how to play in a unique way – the goal is to catch as many sticks as you can. You place a chopstick on your wrist, let it go and try to catch it before it hits the ground, which has a strong gravitational pull. As you slowly get better with one chopstick, then you add another and another for a trickier challenge. Try it! Before our invitees arrived, I decided to go and check out the geese on the Credit River and what a sight! There were hundreds of them sitting or waddling in the water in the wintery morning breeze. Then I noticed a beaver on the far side of the river gnawing on some wood. I found out that a
beaver can fell a medium sized tree in a single night! Did you know that the b

eaver's teeth never stop growing, so it is believed that beavers need to constantly chew wood to prevent their teeth from growing to long and of course to build their dams
I had never actually seen one in real life so it was a great experience just to stand there and take in another one of Mother Nature's wonderful creatures.
The rest of my fantastic, fun-filled family day was spent volunteering at the Gellert Community Centre from the morning 'til noon. I volunteered for the Yoga/Zumba Dance as well as for arts & crafts and had a great time guiding people to their specific station and helping the staff to set up the activities to entertain the kids with arts & crafts. It was fun playing with the toddlers who really enjoyed playing board games with the youth like myself.
In conclusion, I would like to state again, as I said at the start of my story, that "Family Day" really helps bring the family together and encourages us to spend quality time with one another. I propose that we make family volunteering grow. This also helps build a strong local community and even improves the local economy..
Without further adieu, I hope this short story has inspired you to spend more quality time with your own family whether in the bowling alley or just volunteering as a family for a charity you really want to help.
"I believe in the old adage – 'there is more joy in giving than receiving' and our world needs a good dose of joy and giving these days!
Article viewed on Oye! Times at www.oyetimes.com
You can publish this article on your website as long as you provide a link back to this page.