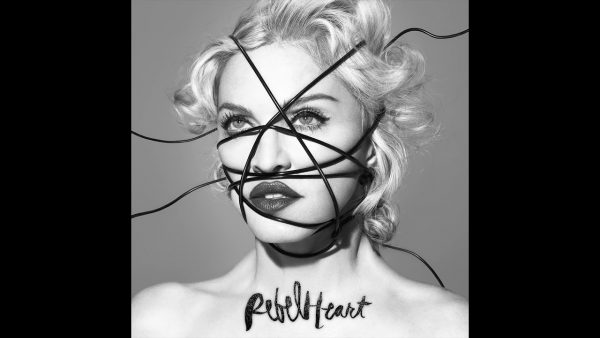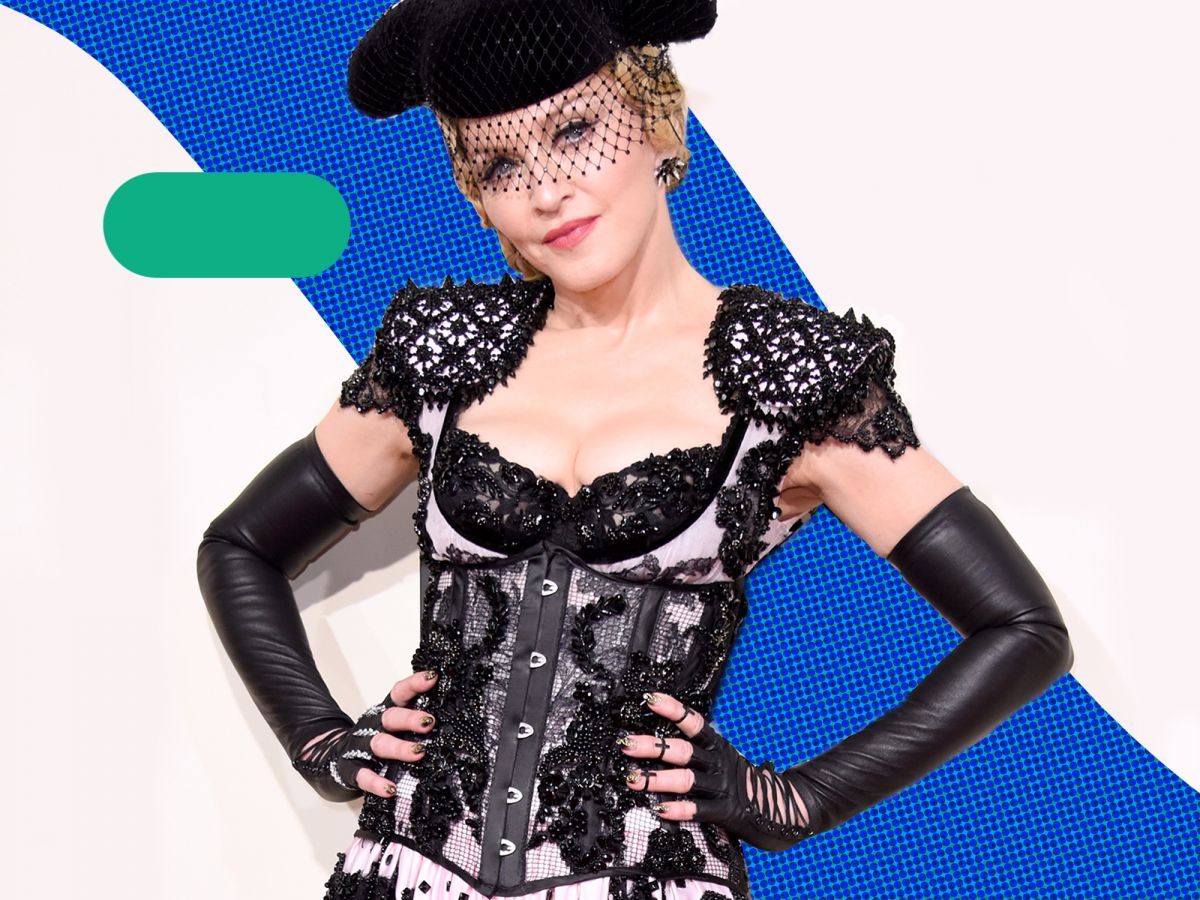 Hello! You may have thought today is August 16. You might have even felt like it's Thursday, also known as the fifth day of the week, the day after Hump Day, or Friday, the prequel. Well, we hate to be the bearer of bad news, but you're wrong: It's actually Madonna's 60th birthday. That's right. The queen of pilates and pop, the self-proclaimed unapologetic bitch, the mother of six is turning the big 6-0, and we're celebrating. We're jamming out to everything from Like A Prayer to Rebel Heart, we're watching Madonna: Truth or Dare, we're reading Sex, and we're revisiting her iconic fashion moments along the way.
In our gratuitous, sweat-inducing search of thousands of Madonna looks, we noticed something similar with all of those red carpet appearances. No, not that red carpet moment. But so many others. Over the decades, Madonna has perfected a signature stance that many aspire to but few have attempted: the ultimate, completely unrepentant power pose. What is a power pose, you ask? It's that thing where Madonna puts her hands on her hips, spreads her feet about hip- or shoulder-length apart, sticks out her "pleasure zone" (you'll find out what that means later), and stares directly into the flashing cameras. It sounds a bit like this: make 'em wait for it… boom.
Ever the calculated queen, Madonna and her image are carefully crafted — which means everything has to mean something, right? So, out of pure, unadulterated curiosity, we decided to investigate her red carpet post — and enlisted the help of a few body language experts to aid us in our quest for useless yet utterly fascinating information. In the slideshow ahead, you'll hear what author and body language expert Traci Brown and Blanca Cobb have to say about the possible hidden meaning(s) behind Madonna's power pose, and whether or not fashion plays a role in how she slays for the camera. Because sure, celebrities are people, too, but Madonna is a superwoman.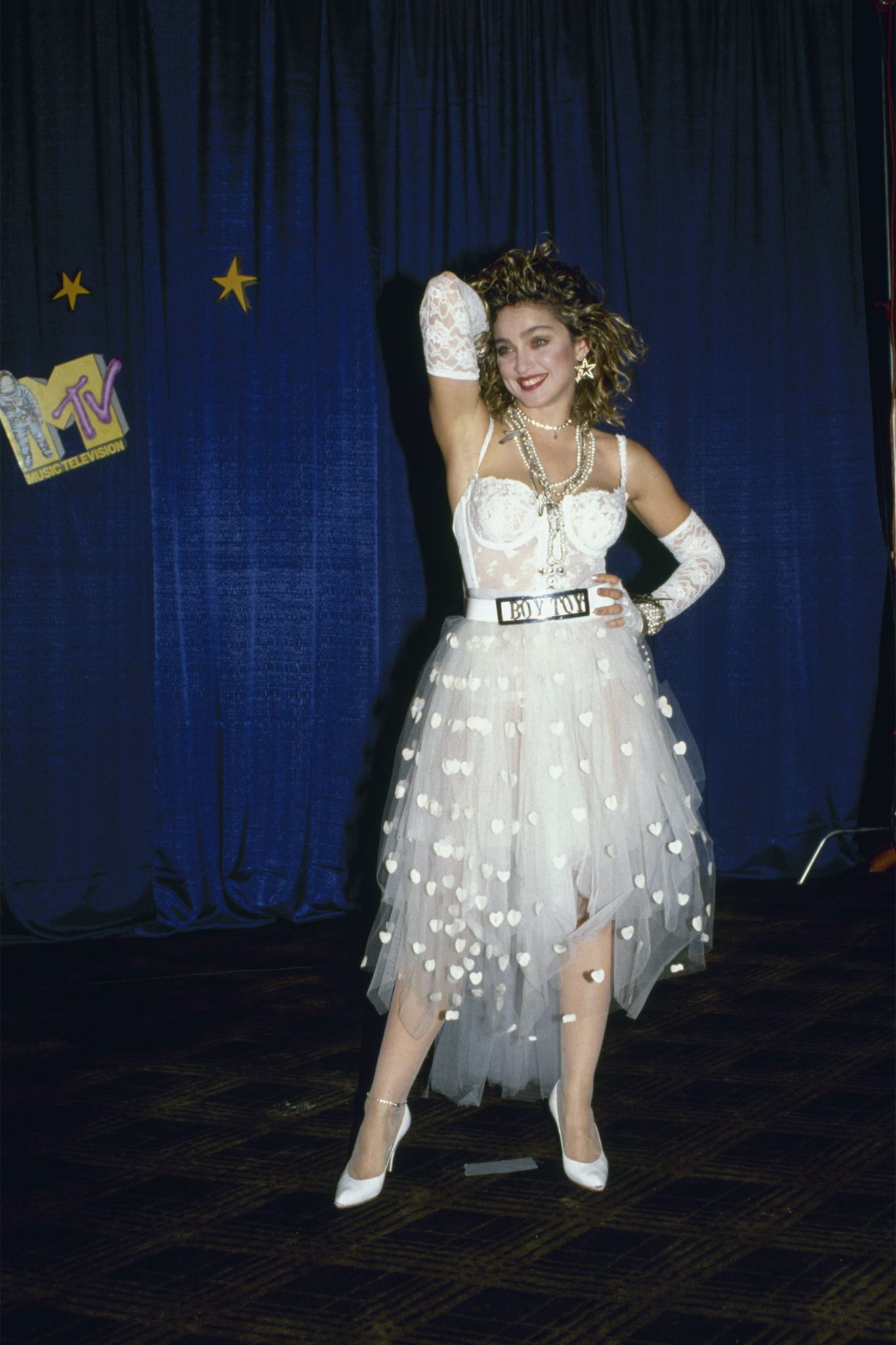 The VMAs, 1984
"No matter how her image has changed over time, Madonna is a woman who is very comfortable with how she looks. There's no bashfulness to her. She's been in the limelight too long."
— Blanca Cobb
Photo: David McGough/Getty Images.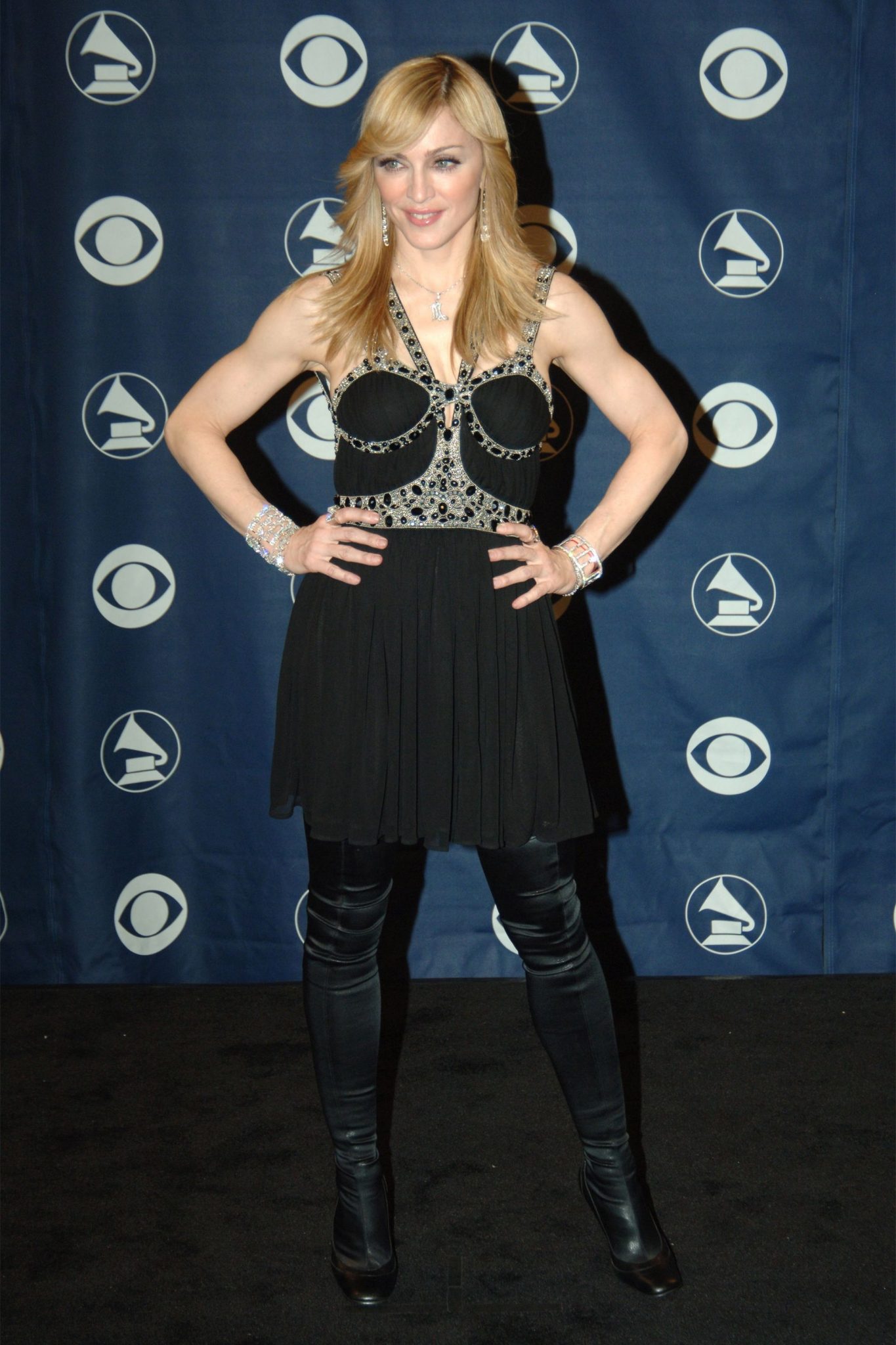 The Grammys, 2006
"She's a very confident woman. What happens when people are confident is they take up a lot of space. They do this naturally. It's not like they do it on purpose; it's what happens subconsciously. They feel good when they're taking up space. It's a way of showing or exuding that confidence. You will naturally stand with your feet hip-distance apart."
—
Cobb
Photo: Jeff Kravitz/Getty Images.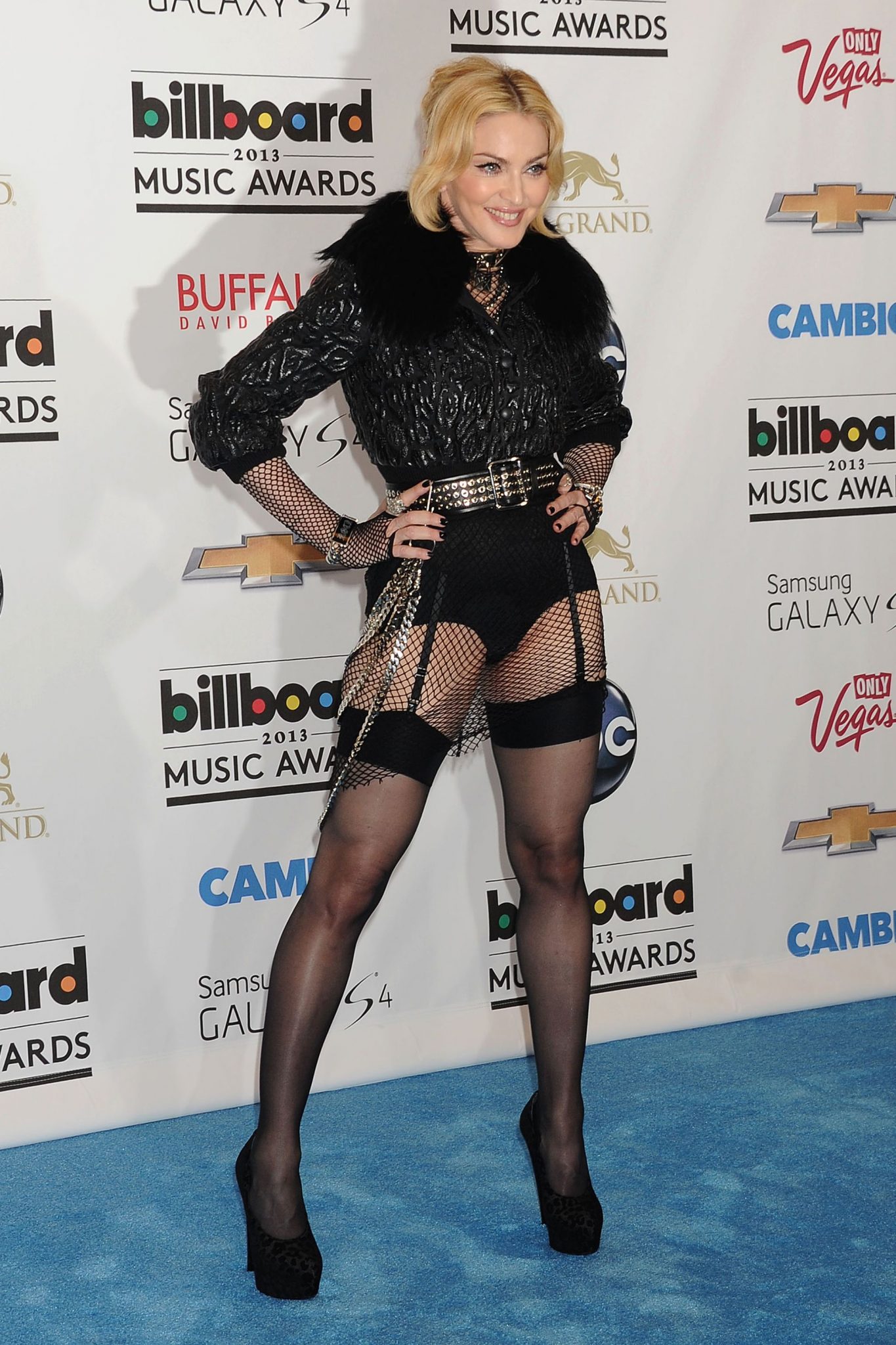 Billboard Music Awards, 2013
"If you're going to wear what she does and expose that much of your body, you have to come across confidently. If not, it's not going to look good and it's going to tarnish the image you're trying to project. You can't sit there in fishnet stockings and cross your legs or have your hands covering your pelvic area (a.k.a. the 'pleasure zone'). That would go against the image she's trying to project."
— Cobb
Photo: Jeffrey Mayer/Getty Images.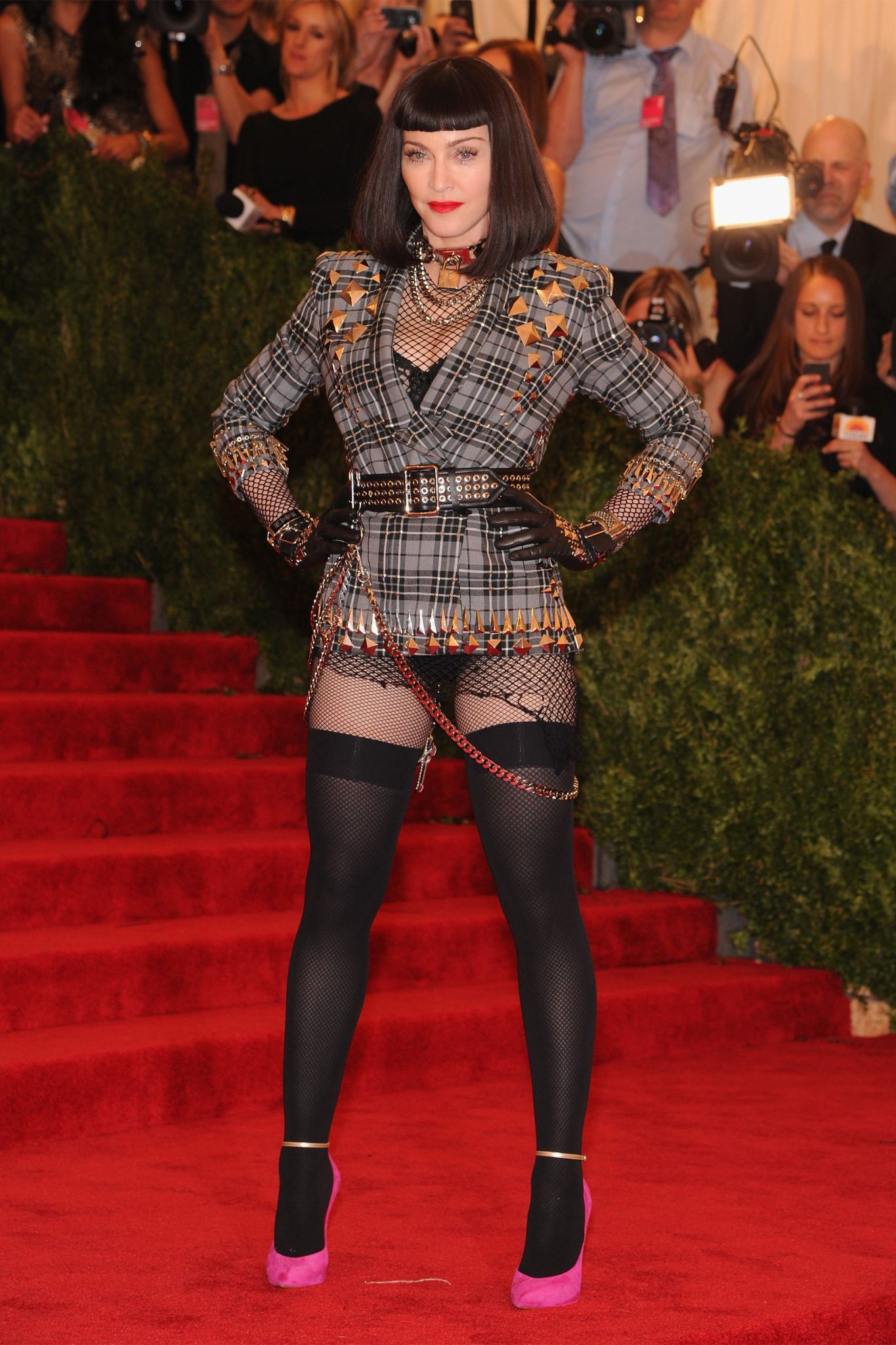 Met Gala, 2013
"She's also very sensual. She's a sexy woman and she shows that because she does what I call 'hip popping.' (It's when you have your hips jutting out to one side.) And she puts her hands on her hips. I don't know Madonna personally but, usually when people work out a lot — and we do know that Madonna works out and takes care of her body — it helps your muscles look a little more defined."
— Cobb
Photo: Jamie McCarthy/Getty Images.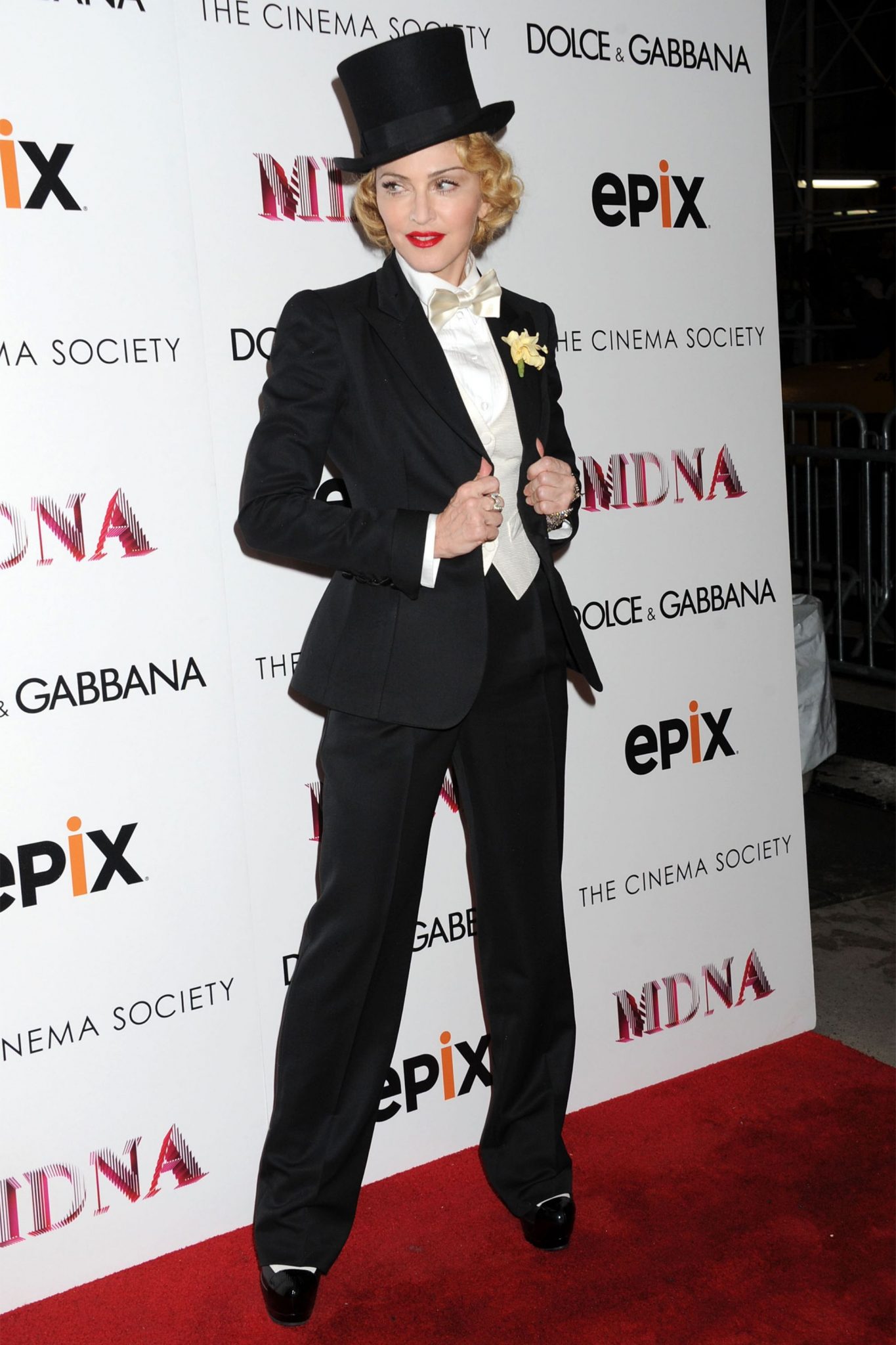 Madonna: MDNA World Tour Premiere, 2013
"It's her way of owning her age. She's a public figure and a role model for so many women; not only women her age, but women who are younger than her. She's owning it and being carefree."
— Cobb
Photo: Jennifer Graylock/Getty Images.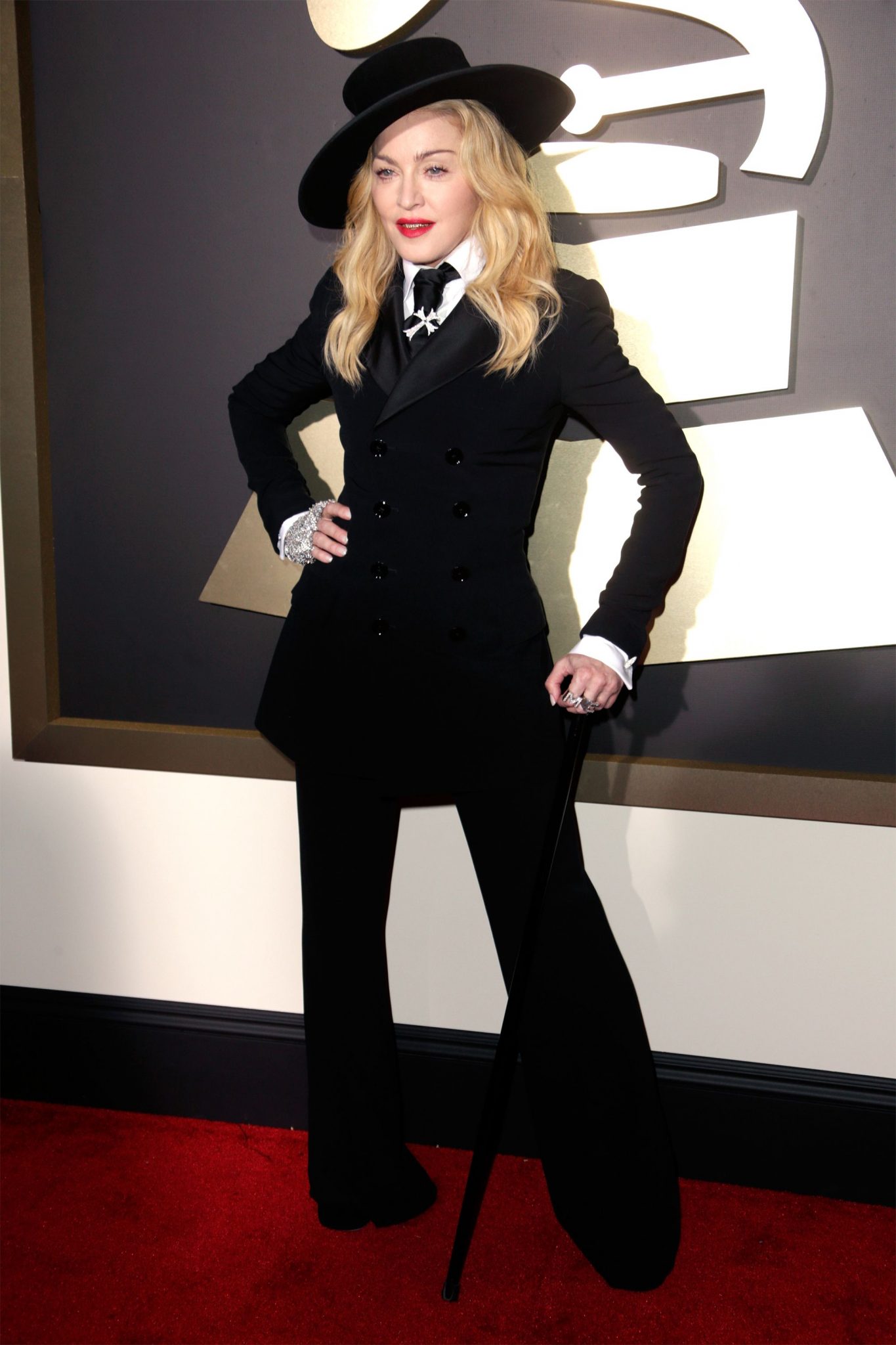 The Grammys, 2014
"She shows consistency. It shows her commitment to professionalism, her commitment to her brand — and what she wants to put out there. What we always see is that her hands are on her hips. And that shows, Hey, I'm here and I mean business. It's a power position; it's a ready position (for whatever's going to happen next)."
— Traci Brown
Photo: Jeff Vespa/Getty Images.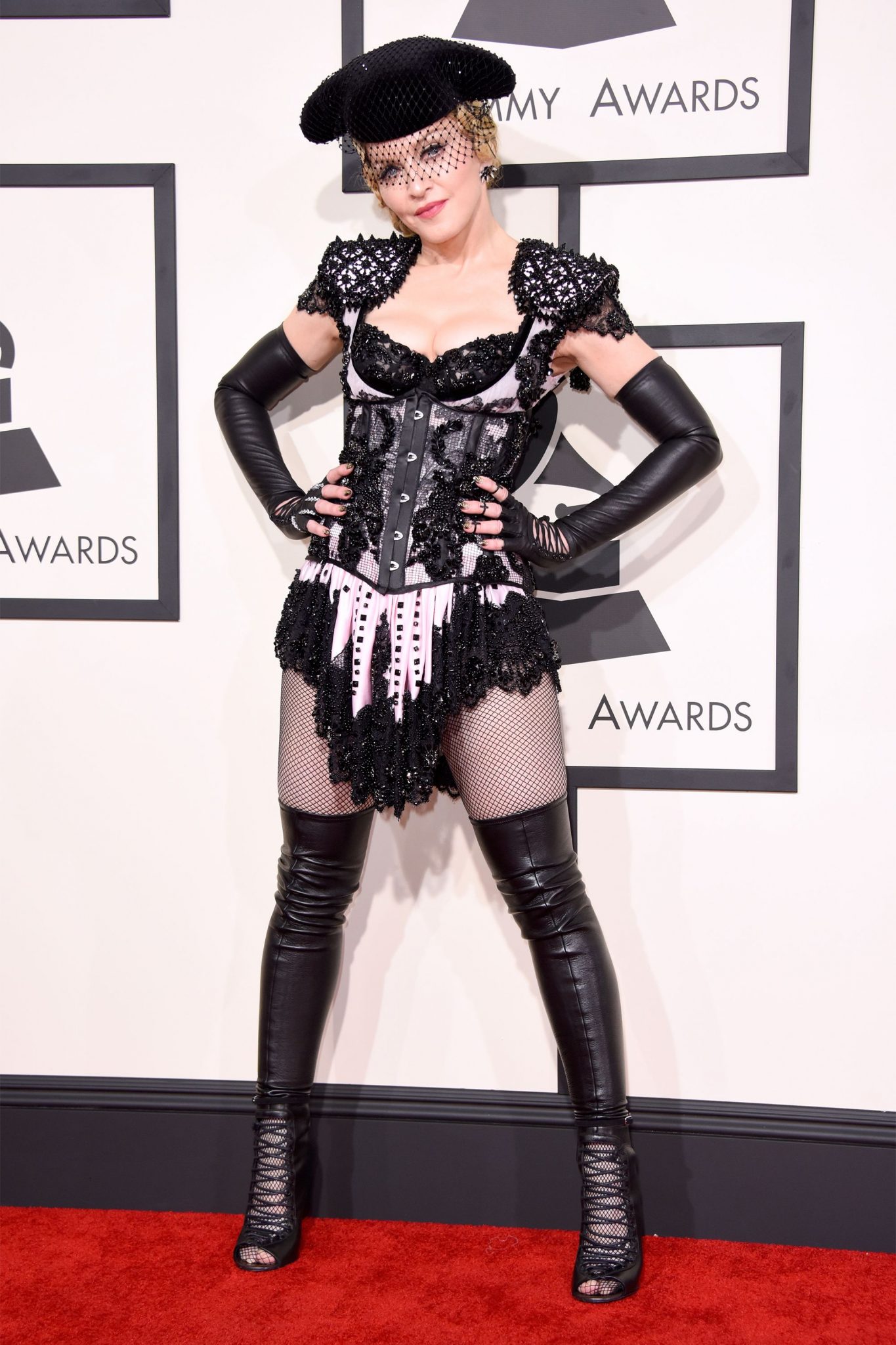 The Grammys, 2015
"She's pushing her pleasure zone out just a hair. It's powerful. That takes a different level of guts and confidence that most women won't own in public and she does."
— Cobb
Photo: Jeff Vespa/Getty Images.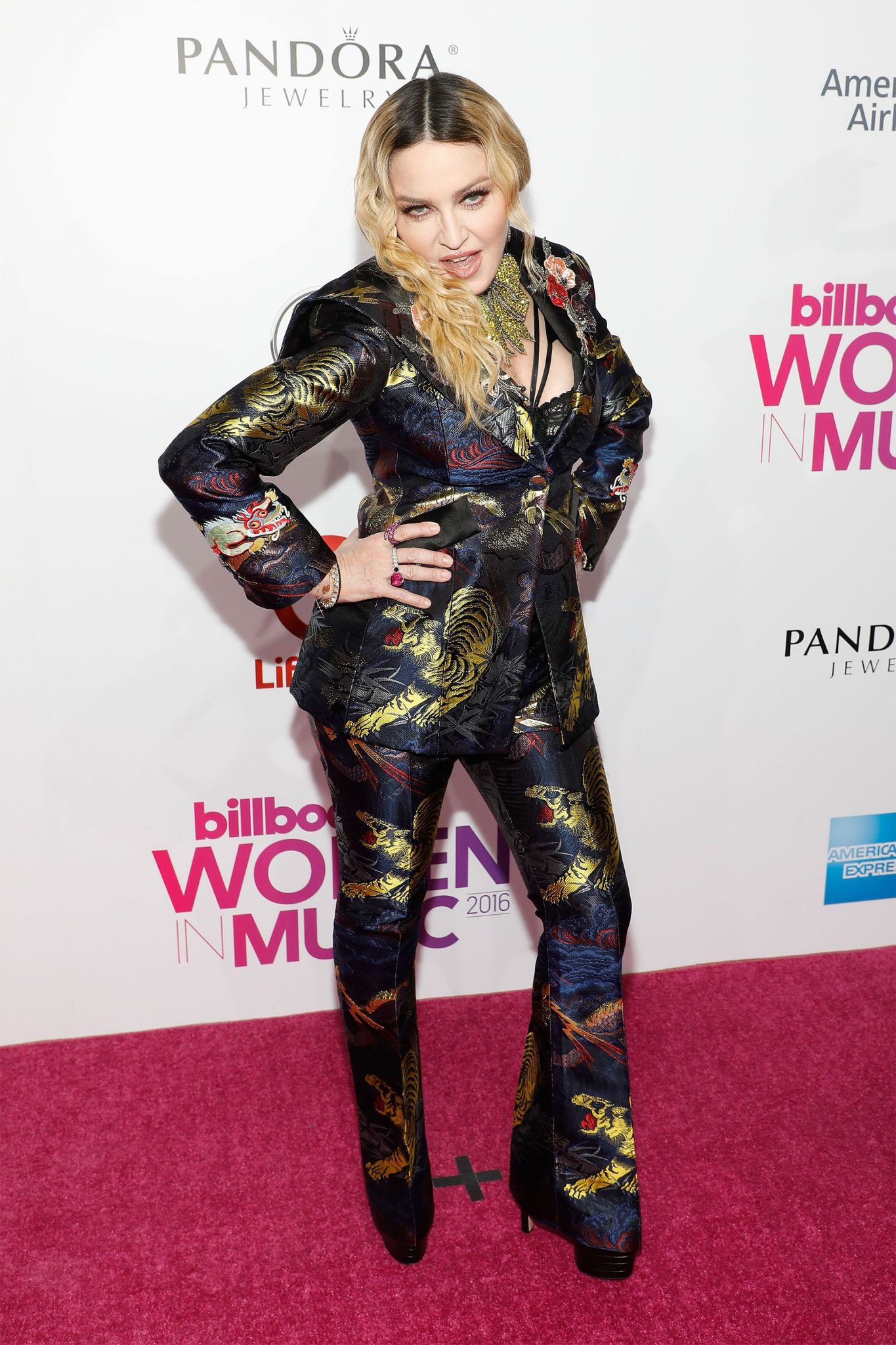 Billboard: Women In Music Awards, 2016
"She's also always wearing pretty high heels. If you lean back, you'll fall, so pushing her pelvis forward like that could be a balancing technique, as well."
— Brown
Photo: Taylor Hill/Getty Images.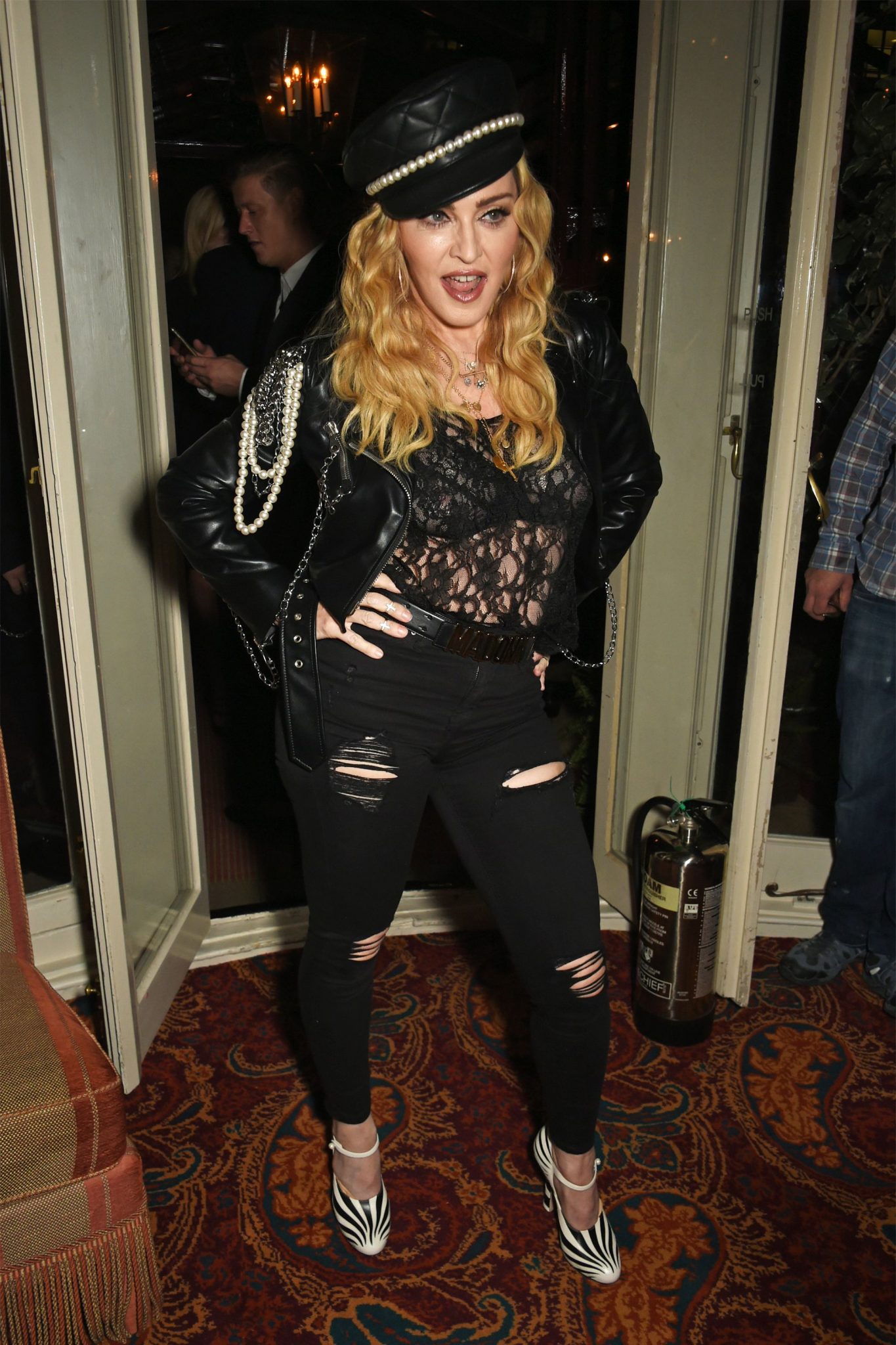 Dinner for Edward Enninful, 2016
"Her body language reflects so many years of her being in the spotlight and how she couldn't — and still can't — be beat."
— Brown
Photo: David M. Benett/Dave Benett/Getty Images.

Met Gala, 2016
"Her feet are always shoulder-length or further apart. She's not doing what we see from most other stars on the red carpet where they cross their legs, such as one foot crossed over. That says another thing. She's fully playing to that power when she shows up to a red carpet. She's doing the opposite of what most people do."
— Brown
Photo: George Pimentel/Getty Images.
Click HERE to read more from Refinery29
Landon Peoples


Loading ...