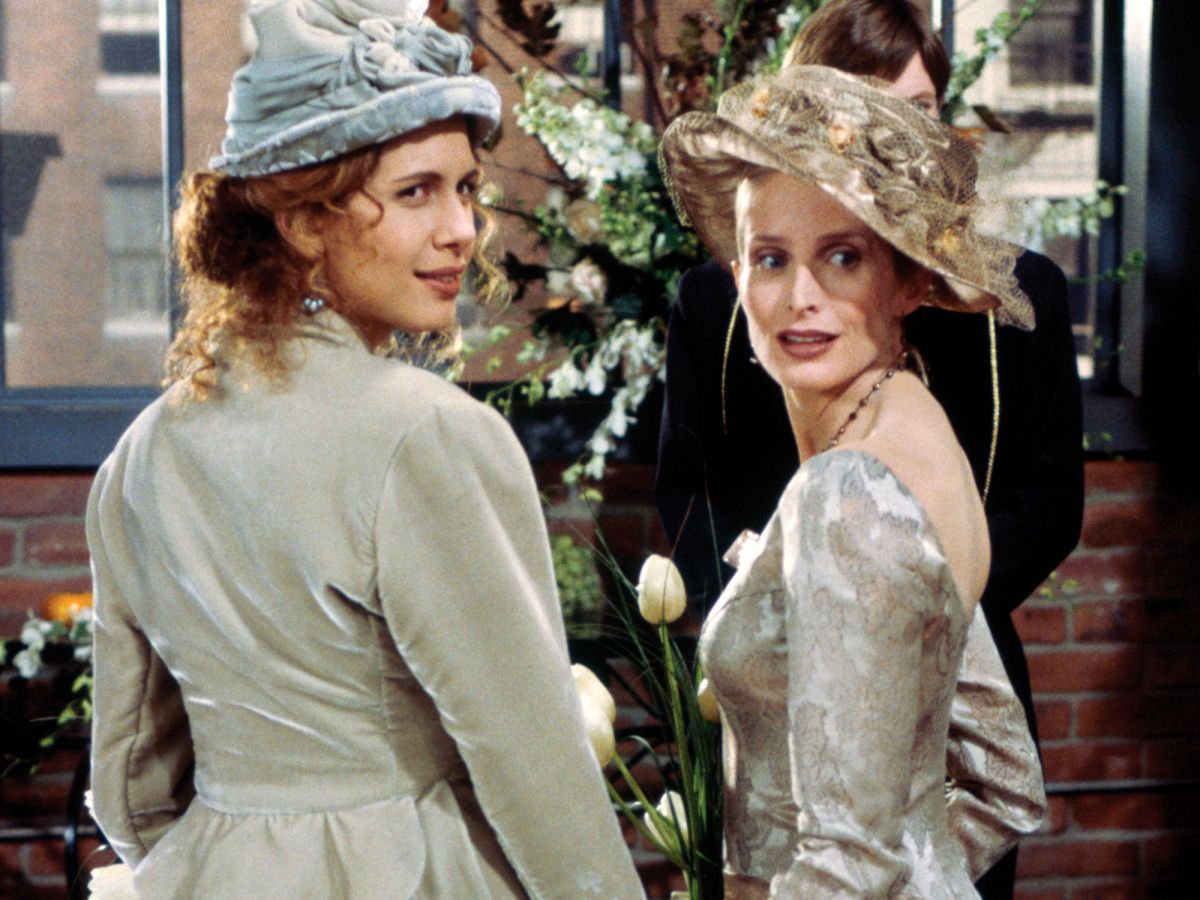 What does a lesbian wedding look like? Probably like nothing in particular, but I'm trying to plan mine and I keep coming back to the hats that Carol and Susan wore to theirs on Friends. My only cultural reference of two women getting married is adorned with a (frankly hideous) gold net number and a crushed velvet handbag that's been upturned and squashed onto Susan's head. There is something so obviously bad about their style choices — particularly these ones — but I'm still stuck on them, 15 years after I first watched the show, enchanted by the fact that two women were allowed to love each other on-screen.
The fashion of Friends has been talked to death, but in our constant search for the cheap thrill of nostalgia, we've overlooked the style prowess of Carol and Susan. Though they only appeared together in 12 episodes, their waistcoats and sensible jackets had a big impact on me as a young girl who doth protest too much to herself about her sexuality.
In a 2016 interview with The Telegraph, the show's costume designer Debra McGuire said she worked with the production designer and set decorator "to coordinate an ensemble look that was unique and visually enticing on a two-dimensional surface, considering color, line, and texture." If the six central characters fit together, Carol and Susan sit on the edge. Secondary characters both within the show and in society-at-large, they are feminine and conventionally attractive enough not to 'intimidate' the male gaze, all the while rebuffing it with the disdain for men that oozes out of their clothes. The result is terrible, and genius.
There's something to be said about the lesbophobia that permeated the show both on and off screen. Aside from all the fun, hilarious jokes Ross makes, Jessica Hecht has said she was cast as Carol's life partner because she "didn't look like a lesbian." What that actually means is that butch or, as Hannah Gadsby says, "gender not-normal" women who don't pander to a heteronormative male gaze don't warrant screen time. This is still largely the case — how often do you see non-feminine women on TV, regardless of sexuality? — and a major problem.
I say all this with reflection, though. When I first saw them, all I thought about was how cool they were, and how much I wanted to be like them. Carol with her polite, blonde exasperation and Susan with her disdain so heavy you could practically taste it — they were the perfect foil to an otherwise rigidly heteronormative, often homophobic show. This is not to say there is anything inherently 'lesbian' about their outfits. Besides the fact that ascribing characteristics to a sexuality is dicey at best — though all queer people, of course, reserve the right to call anything queer as seen through their eyes — much of what they wore was just the fashion of the era. But they did it so well, and deserve credit. They gave me a window into what would in some way become my reality (minus the ex-husband and long hair and baby) and I've subconsciously been trying to dress like them ever since. I'm currently searching for a similar crushed velvet masterpiece to force my girlfriend to wear on our special day. (If you're reading this, babe, I'm kidding. Mostly.)
Here are some of their best outfits, accompanied, as always, by Susan's disdain for every ignorant thing Ross says. Enjoy.
Ah, our introduction to Susan. Carol too, but that's not the real Carol and she's wearing a paper gown, so we'll slide past that. What a fun hospital visit that must have been for them all! Susan's outfit is the kind of lazy femininity I could never achieve, try as I might. The loosely tied pussy bow on the floral dress and trailing brown leather belt are so casual, so 'I just threw this on.' I'm not suggesting we should go back to belting every single item as we did back in the '00s (look, Mom, I have a waist!) but it works so well here. Especially paired with that tidy white socks-and-plimsolls combo.
YouTube
This outfit deserves its own slide for two reasons: It accompanies the line my girlfriend and I have probably quoted more often than any other, and Susan is wearing mom jeans. If you told me you hadn't seen a queer woman in this exact outfit in the past week, I wouldn't believe you. Bleached mom jeans are equal parts frumpy and flattering; they are practical and insouciant and say 'I'm not going to ignore you, but I am in the middle of some D.I.Y. and politely waiting for you to leave.' Which is exactly what you want your outfit to say when your partner's ex comments on how many "books about being a lesbian" you have.
YouTube
Why hasn't Carol's green velvet pregnancy top been recreated and sold nationwide? What is the point of fast-fashion if we leave such things to die in 1994? I may not be pregnant with my ex-husband's baby but I would 100% wear on the regular. Strong use of a scrunchie, too.
Susan's suit, on the other hand, would not be in my regular wardrobe rotation, though I desperately wish I could be that woman. We've got no idea what she does during the day but it's clearly some kind of office job? Or a somewhat uncouth Victorian nanny? How else do you explain a gray maxi skirt suit. On anyone else it would look drab, but here it just makes sense.
These are the collars I'm talking about! That open-neck shirt under a fully buttoned waistcoat under a brown shoulder-padded blazer. So impractical for practicing breathing exercises but what a power play. Also, another punt at the maxi skirt suit; I appreciate the dedication.
Here we, here we, here we fucking go. Look at those hers and hers waistcoats! Okay so Susan's is a sweater vest but that makes it even better. The 'urge to merge' is a stereotype in our community but far too often it's true and I gotta give a big hand to Carol and Susan for doing this so well, especially mid-pregnancy panic.
Once again, Carol's style decisions are out of her hands, given she is about to go into labor, but Susan is working hard for the both of them. The 'white T-shirt under a slip dress' gets attributed to Rachel, but give credit where credit is due: Susan's mastered it in her 'my girlfriend is about to give birth' look. And the hoodie around the waist is a great touch.
I know nothing about softball except that it's a lesbian stereotype and softball players, I imagine, wear hoodies around their waists. I myself haven't worn a hoodie around my waist since I was 15 and trying in vain to mask my body and suppress my same-sex desires, so it's nice to see it being reclaimed.
Carol's shirt here is so delightfully busy. I love the boldness of the pattern; find me desperately searching 'bold '80s silk shirt VINTAGE' on Depop for the next hour or so. And again, Susan with the maxi skirt! This pinafore dress is a real Miss Honey moment (another woman responsible for making thousands of children aware of their sexuality) and it complements Carol's shirt b-e-a-u-tifully. What great parents they seem to be, in those outfits, drinking breast milk.
This is the big one. It often makes me cry. Not because it was moving to see two women get married on TV, but because the outfits are so overwhelming I don't know what to make of them. Two beige shades that somehow make them blend together yet stand out in a sea of oversized suit jackets and slicked-back hair. I'm not saying these are good outfits but they are a kind of genius. Susan looks like a secondary character in a lesser Sarah Waters novel, and Carol looks like the mother of the bride. Every aspect of their onscreen style is here. Velvet? It's concertinaed onto Susan's head. Unbecoming necklines? Carol's dress is at once flush to her skin and falling off her shoulders. Beaded necklaces! Unnecessarily large buttons! But it's beautiful because it's SO un-self-conscious, unlike so many TV weddings. And as the first lesbian wedding on TV, that feels right.
(Shout out to Lea DeLaria for bringing lesbian BDE to our screens with her inspired cameo.)
Can anyone work out what that necklace is? Is it a bullet, a pencil or a whistle? Either way — peak lesbian behavior. Paired with that utilitarian jacket and a slogan tee, Susan has once again nailed practical nonchalance. And the muted gray and bright green is such a good color combination. Carol's collar is a dream! Don't they look good together?
We're actually blessed with two outfits in this clip. If you skip to 2.23 you'll see another inspired pilgrim hat from Carol, and a red jacquard maxi dress I could only dream of finding. Brava.
This isn't the last we see of our intrepid heroes, though it might as well be. Carol and Susan are phased out of the show for the second half of season three, although they appear briefly in season six to make the point that Carol and Susan were always going to get together (duh) but this is the last time we see them in the same episode. All I will say is that Carol invented monochrome dressing, Ross invented petty jealousy, and two days after I revisited this episode I bought a practical, purple jumpsuit and am readying myself to tell off a straight man for once again jumping to conclusions. Time is a flat circle.
Click HERE to read more from Refinery29


Loading ...