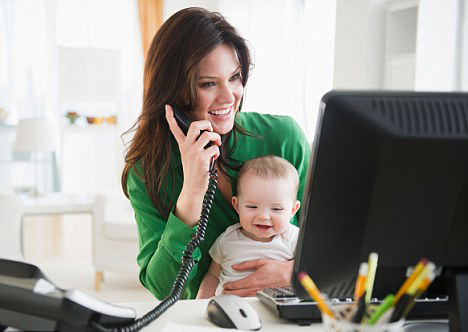 I've been working in the virtual office industry for years, so for me, the idea of working from home with the kids around was never an issue. It was just business as usual.
Or so I thought.
I'll admit, it wasn't as easy as I thought it would be. The hardest thing to overcome was the constant sense of needing to be in two places at once. You can't be completely in work mode or 100% in dad mode — you have to be somewhere in the middle. And that's really hard. When you're home with the kids, you want to spend quality time with them and give them all of your attention. But when you've got meetings scheduled or deadlines looming, you have to get those things done, too.
It can be pretty tough balancing parenting with work, especially when you're working from home a lot of the time. So here are a few tips I've learned along the way.
Create some sort of schedule. I realize that kids don't stick to schedules. They can make life pretty inconvenient like that! So I work around their schedule instead. I'm an early riser, so I get up early and sneak in some work time before breakfast. Just as you have set hours in the office, work on designating set hours in the day for completing tasks and try to develop a routine that you all stick to. For instance, depending on the age of your kids, you could do a little work during their naps. Even if you spend that time replying to emails or doing quick jobs, it will help you make the most of your time later on.
Prioritize your work. When the kids are around, you really have to make the most of every spare moment. That means spending the time you have working on the most urgent tasks. Prioritize your to-dos and keep chipping away at the important jobs; it really helps to channel your energy and when you know you only have a small window of time to get those tasks done, believe me, you get them done!
Hire some help. There are times when you can't do everything. Some days, you need to be 100% there for your child. Other times, you need to spend a few solid hours focusing on work, especially if you're knee-deep in a project. When that happens, call in some help. Whether it's family, friends, or a hired babysitter, even a few hours can make a huge difference. In fact, try to schedule a regular pattern every week and use that time to focus on work.
Create a separate area for your home office. This is really important for me. Some people can concentrate on work while the kids are playing alongside them, but I find I need a designated place where I can focus on certain tasks. Also, it helps to create that boundary so that you can close the door on work at the end of the day, both literally and metaphorically.
Get out when you can. There are a growing number of coworking spaces that now provide creche areas. I find this a great solution for all of us — the kids get to spend time playing with others in a safe and supervised environment, while I go to work in a coworking space with other entrepreneurs. It's surprising how isolating working at home can be, even when you're speaking on the phone with people regularly. In a coworking space, you can escape the home office and spend time working alongside other like-minded people, sharing knowledge and learning new things.
These are some of the tips I learned to live by during the early years. Now my kids are older and in school it's much easier to focus on work during the day, although routines and schedules are as important as ever. It's difficult to find balance but my advice is to keep at it, and sooner or later you will find a formula that works for you, for your family, and your career.