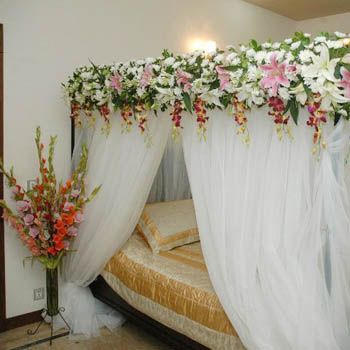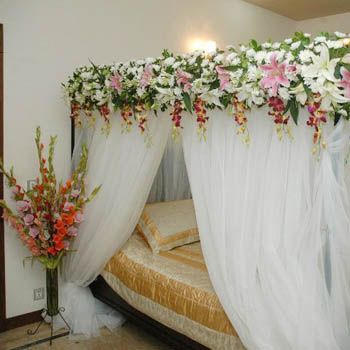 Wedding is the most special and important day for everyone. Wedding associates itself with celebration, happiness and joy. In a competitive world weddings are one of those aspects where every other family wants to arrange and celebrate in a unique way. The room of the bride keeps a top priority in this context, where the whole family of the groom especially his brothers and cousins wants to decorate the
bridal room
in unusual and exclusive way.
The most important aspect that you should keep in mind in bridal room decoration is to highlight the importance and love for your life partner. Various types of the bridal room decorations are in fashion and latest trend of 2013
Bridal room decoration starts with trendy and comfortable bed cover like white, silver, blue, ivory because it holds importance for good scenery. You can add the curtain in the bed for the interior to make it look more beautiful.
If you follow the tradition while decorating your bridal room, then fill it with roses, layers in your room. Hang all these layers on the top of the roof and then leave the other ends. They will spread around the bed making a triangular shape from all sides. This is the most typical and traditional way of decorating your bridal room.
If you want to follow latest trends of bridal
room decoration
style 2013 then here are few tips for you:
Flowers are the most important element that plays a vital role in creating beautiful and pleasant atmosphere. In 2013, the red floral and petals arrangements has switched to white, lilac and mint green to add more soothing and fresh effect in the bridal room. You can spread the petals on the bed and roof as they look more enhancing.
The other important element is to place objects and accessorize the bridal room. I will suggest you to burn oil of the therapy aroma as air freshener and use laltins rather than lamps. The latest trend is to use one single flavor candles besides the bed and on the mirrors to give sparkling effect.
You can also use net curtains or different style of curtains to give it a different impact but make sure color of the net is very important. Do not use more than two colors at all. You can use the hand net curtains around your bed.
You can also put ribbon bows on the corner of the curtain but try to match the color of ribbon with flowers or bed sheet. In 2013, single color decoration with a sparkling effect of one bright color will highlight the essence of love and uniqueness in your bridal room.
If you are looking for unique and romantic decoration then use the bed that is settled on the floor and not only flowers but petals also spread on the floor. The whole walls should be covered with curtains. Candles are lighted in the whole bridal room to create a romantic image.
Put juice and wine glasses in your bridal room. Most importantly don't forget to play a romantic music in your room on wedding night give a classy touch.
Click HERE to read more from Fashion Central.