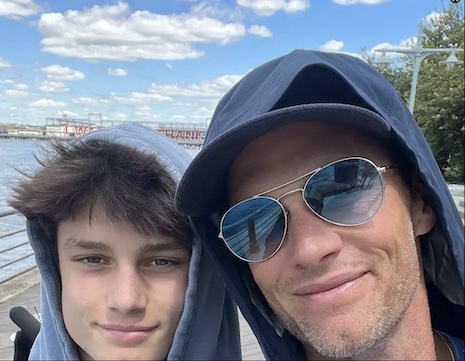 This article was last updated on September 15, 2023
Canada:

Oye! Times readers Get FREE $30 to spend on Amazon, Walmart…
USA:

Oye! Times readers Get FREE $30 to spend on Amazon, Walmart…
Tom Brady's oldest son, 16-year-old Jack, is not just making waves on the football field like his father, but he is also capturing attention in the fashion industry, following in his mother's footsteps. Jack's mother is former model turned actress Bridget Moynahan, and it seems that the photogenic teen is being sought after by top modeling agencies and fashion designers to appear in advertisements. Assisting him in navigating the modeling world is his former stepmother, supermodel Gisele Bundchen. Expect to see Jack in upcoming ads for prestigious clients such as Ralph Lauren.
Modeling Success Runs in the Family
The apple doesn't fall far from the tree, and this holds true for Tom Brady's son, Jack. Not only has he inherited his father's athletic prowess, but he seems to have also inherited his mother's modeling genes. Bridget Moynahan, famous for her work as a model before entering the acting world, has undoubtedly passed down her good looks and modeling talent to her son.
Top Modeling Agencies Pursue Jack
Jack's striking features and natural charisma have not gone unnoticed by the fashion industry. According to insiders, top modeling agencies are eager to sign Jack and see him as the perfect face for their campaigns. Designers and brands like Ralph Lauren are among those interested in having Jack represent their products.
Gisele Bundchen Supports Jack
Jack's father, Tom Brady, may be known for his success on the football field, but his former stepmother, Gisele Bundchen, is a world-renowned supermodel. With her vast experience and connections in the industry, she is playing a pivotal role in guiding Jack's modeling career. Gisele is using her influence to help him secure modeling opportunities and ensure his success in this competitive field.
Jack's Journey into Modeling
At just 16 years old, Jack is slowly making a name for himself in the modeling world. As he follows in the footsteps of his parents, he is undoubtedly facing high expectations. However, Jack is not one to shy away from challenges and is determined to carve his own path in the industry.
A Rising Star
Despite his young age, Jack has already caught the attention of industry insiders and fashion photographers. With his striking features, tall stature, and confident presence, he possesses all the qualities necessary to make it as a successful model. Jack's unique blend of Brady and Moynahan genes has undoubtedly given him an appealing and marketable look.
Assistance from Gisele Bundchen
Gisele Bundchen's experience and connections have given Jack a significant advantage in the competitive modeling industry. Gisele, who was a Victoria's Secret Angel and has worked with countless renowned fashion houses, is mentoring Jack and helping him navigate the industry. Her guidance and advice have proven invaluable in Jack's journey into the world of modeling.
A Diverse Range of Opportunities
With his rising popularity, Jack is being presented with opportunities to work with top designers and fashion brands. Ralph Lauren, known for their classic and timeless style, is one brand that is interested in having Jack represent their products. These opportunities open doors for Jack to showcase his talent and establish himself as a prominent figure in the fashion industry.
Jack's Future in Modeling
As Jack's modeling career begins to take off, the future looks promising for the young star. With the support of both his parents and the guidance of industry veterans like Gisele Bundchen, he is poised to make a significant impact in the fashion world.
Ambitions Beyond Modeling
While Jack is currently focused on his modeling career, he has expressed interest in exploring other avenues within the entertainment industry. Following in his mother's footsteps, there is a possibility that we may see Jack venturing into acting as well. With his determination and versatile skill set, he has the potential to excel in various creative endeavors.
Continuing the Family Legacy
Being the son of Tom Brady and Bridget Moynahan, Jack is already part of a successful and well-known family. With his foray into modeling, he is adding another layer to the family's legacy. It is evident that talent and ambition run deep in the Brady-Moynahan lineage, and Jack is the embodiment of this rich heritage.
You can publish this article on your website as long as you provide a link back to this page.