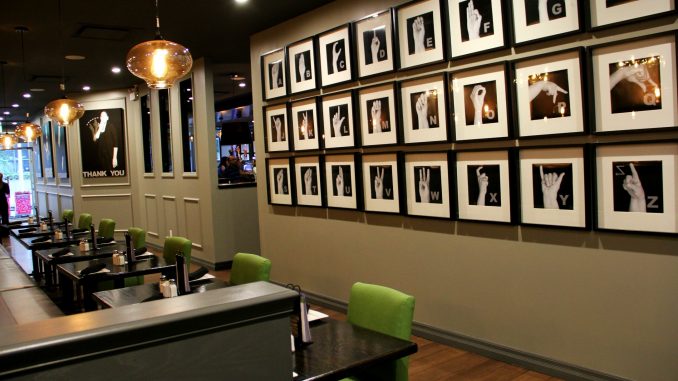 In a couple of months since SIGNS Restaurant and Bar has opened their doors they have certainly made an impact on the Deaf and the Hearing community. Recently, forty five members of a deaf, U.S. based hockey team met at SIGNS, for lunch. The hockey team were already well versed in the art of American Sign Language (ASL) and were very comfortable placing their order by Signing. The entire team was able to interact through their specialized knowledge of Signing.
Lately, SIGNS has also welcomed many tourists. Some originating from the U.S., the U.K., Germany, and from India. Our international menu is a big attraction for visitors to our city and the concept of hiring deaf servers is new to them. They were excited about learning to Sign and participate in this memorable experience.
The feedback from Hearing restaurant patrons has been very positive, as well. They are learning a new language and enjoying placing their orders by (ASL) Sign language, thanks to the excellent tutelage from the servers. The bonus is the fact that they are also learning to interact more closely with the Deaf community.
The Restaurant's owner, Anjan Manikumar, has been delighted with all the accolades he and his staff have received since the restaurant has opened. He indicates, "Since there isn't another restaurant of its kind in Canada we are blazing new trails and learning new skill sets along the way. I have learned so much from our Deaf servers, on staff. It's been fantastic for myself and for the Chef and for all of us involved in creating a unique experience for our restaurant patrons."
"I want to particularly show my appreciation and express my thanks to the Bob Rumball Centre for the Deaf (BRCD) and the Canadian Hearing Society, as well as the Toronto Association of the Deaf (TAD) and the Ontario Association for the Deaf (OAD). They have been so supportive of our endeavours and have helped streamline our restaurant operations as far as training our Deaf servers, which incidentally total thirty five, the number we have hired since our opening."
"These associations for the Deaf have helped simplify my job considerably and I'm pleased that I'm also now fluent in the art of Signing. As a result, of their extension training, Signing is now an automatic form of communication for me."
SIGNS is continually working to perfect their menu, which is an exciting blend of Canadian and International cuisine, along with an extensive wine list. They would like to host various business luncheons and association meetings at their restaurant. For those special occasions, such as: Birthdays, Engagement and Retirement parties, and thinking ahead to Christmas and New Year's parties; they suggest booking advance reservations for dinner. Of course, if you are just looking for a great evening out, hopefully you will join them for dinner. Please keep in mind that Gift certificates are now available for special occasions and are valid anytime.
Manny Manikumar, Anjan's father, who looks after the financial area of the Restaurant, is excited about the growth potential of SIGNS Restaurant and Bar. "We have just nicely opened and already we are receiving inquiries as far as away as the U.K. Individuals and companies are curious about our concept of hiring Deaf servers and they have been very supportive in wishing us continued success. It is part of our mandate to bring the Deaf and the Hearing communities closer together."
Dinner reservations are recommended, to reserve, please call: 647-349-7446
For more information, regarding SIGNS Restaurant and Bar call us at: 647-349-7446, or contact us by E-Mail: management@signsrestaurant.ca and visit our website: www.signsrestaurant.ca
Facebook: facebook.com/signsRestaurant
Twitter: twitter.com/signsrestaurant.