This article was last updated on May 27, 2022
Canada:

Oye! Times readers Get FREE $30 to spend on Amazon, Walmart…
USA:

Oye! Times readers Get FREE $30 to spend on Amazon, Walmart…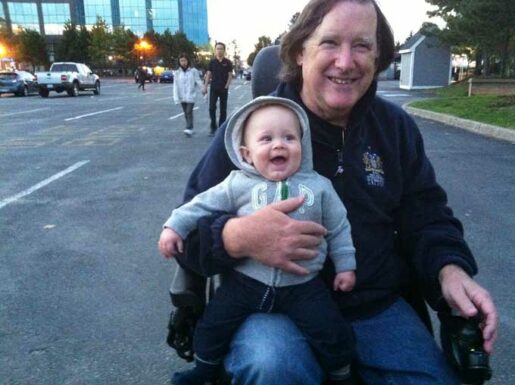 There are plenty of little joys in life in a wheelchair
By Stephen Pate – My almost 3-year-old grandson stayed overnight Saturday and reminded me once again it aint' so bad being a granddad.
My wife and our two daughters did most of the heaving lifting caring for and spoiling him. He has his toy box, a converted clothes hamper, with a jumble of cars, trucks, stuffed animals and building blocks.
I am always amazed he finds a place in his little heart and memory for his different granddad, the one who takes him for wheelchair rides. He knows I am on his side. When the toy box gets put away, he asks me to put it right beside the TV where he knows it fits.
Yesterday he built a fort behind the coach, our old game. He knows I want to see it even if I can't join him. Yesterday we played throw the monkey on the pillow bridge, a new fort feature. The fun is letting the monkey slide off the pillow into the hide out. Oh where did the monkey go?
We have had plenty of babies that wanted wheelchair rides over the years but they all grew out of it. Each time he arrives, I wonder if my grandson will forget. He is getting so old and independent as he gets closer to his 3rd birthday.
But there comes a time each day when he stands in front of me with his arms up and wants to climb into my lap.
"Where do you want to go?"
"Around," he says over and over.
Zoom, zoom we go around the house making truck or lawn mower noises and then down the hall to the bedroom for his nap.
He likes that we both take naps after lunch although he will grow out of if and I won't.
After he learned to walk with assurance, he took me by the hand one day. I did a momentary panic. I could fall if I got out of the wheelchair. However, you can't refuse him so I stood up and stepped out a few times and then got down on the floor to play, which is his favourite place anyway.
This weekend I let him play with the Roland TR-8 drum machine, the kind that makes dance and techno music. With a little help, it took my grandson about 1 minute to figure out which buttons made it cool.
He had his aunt doing stop-time dancing among other moves. We tried the guitar before but he's a little small. The keyboard was too complex but the 808 machine is just perfect.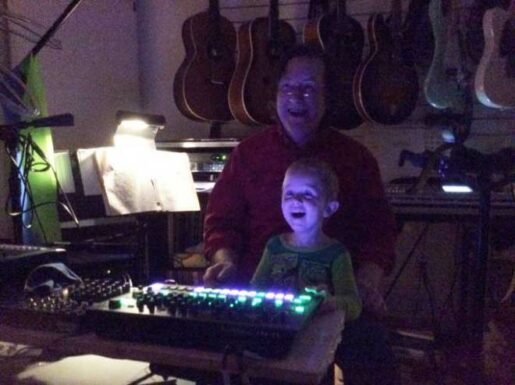 I used to worry I would disappoint him as he grows since I can't go fishing with him or walk across fields or play baseball anymore.
I will probably always be the "different granddad" but that's OK. We'll get along in our own special way. He will make me stretch beyond my comfort zone because he's a boy who knows no limits.
I have 7 grandchildren but he's the first to only see me in a wheelchair.
By Stephen Pate, NJN Network
You can publish this article on your website as long as you provide a link back to this page.