Instagram is the one-stop shop where we digest news, creep on our crushes, and find a ton of beauty inspo. But in my humble opinion, one of the coolest aspects of the app is the fact that each user has a totally different experience based on which accounts they follow. While your timeline might be chock-full of Colourpop-painted lids and Lime Crime lips, you may not be clued in to some of the smaller Black-owned brand accounts that exist.
Visibility is so crucial, and often, new and smaller labels end up living in the shadows of their more established counterparts. Which is something we want to change — now. Ahead, check out the Black-owned brands that have the potential to take over your timeline. Prepare to click the follow button eight times.
MDMflow
Followers: 18.2k
Talk about Black girl magic. Cosmetic scientist Florence Adepoju used her smarts to create her brand out of her parents' shed across the pond. Now, the line of hip hop-inspired lipsticks has evolved into a brand available at Boots and Topshop, among other retailers.
"I was interested [in beauty] in the sense that I wore makeup, but it wasn't really an aspiration," Adepoju told
Cosmopolitan
. "I was more a consumer. I didn't want to work in the beauty industry until I started working for Benefit. We went on a training session and we got to go to the head office. It was really inspiring. I learned the founding story, got to see a bit more behind-the-scenes. That's when I got the first light bulb moment, that every product has a founder. That made me explore more how I could get a longer or broader career within the beauty industry."
Each Instagrammable gold bullet of lipstick is swoon-worthy, but fans seem to flock to Bossy, a light brown shade. (That's "Bossy," as in the Kelis song, ICYWW).
MDMflow Lipstick in Bossy, $12, available at MDMflow.
Photo: Via @mdmflow.
The Lip Bar
Followers: 65.5k
We named Melissa Butler, The Lip Bar's founder, as the Lipstick Pioneer in our 30 Under 30 list with good reason. "I wanted women to be proud of being women," she told Refinery29 in 2013, one year after Lip Bar launched. "To explore new shades, to step out of the traditional makeup box, and to ultimately be bold enough to be who they were created to be!"
Now, the former Shark Tank reject has gotten the last laugh. She calls Taraji P. Henson and Jordin Sparks fans, and even has a hashtag for her fanbase: #lipbarbabes.
Even though some of the brand's most popular shades, like Bawse Lady and Prima Donna, are currently out of stock, we're totally fine with adding the aptly-titled Purple Rain to our carts.
The Lip Bar Lipstick in Purple Rain, $12, available at The Lip Bar.
Photo: Via @thelipbar.
Juvia's Place
Followers: 343k
Chichi Eburu, a native of Nigeria, was sick and tired of makeup brands excluding women with her skin tone. "I took a look at the beauty industry and there was nothing that truly represents black culture," she told Black Girl Long Hair. "I feel like the market is here, we're here [black women] and we're beautiful and nobody is listening. To me the idea of the a Nubian queen is representative of a beautiful black woman and that's what I wanted my company to show."
Perhaps that's why so many people are fans of her Nubian Eyeshadow Palette, a rich blend of earthy browns, golds, and neutrals fit for kings and queens.
Juvia's Place Nubian Eyeshadow Palette, $25 on sale, available at Juvia's Place.
Photo: @juviasplace.
AJ Crimson
Followers: 92.6k
Crimson is another entrepreneur who aimed for inclusivity. "I wanted to create a product …all women could find ownership in and believe in," he said on his site. "So often, makeup has been designed with a one size fits all mentality. My cosmetic line contains shades for women of every ethnic background."
Being a makeup artist himself, Crimson knows the struggle of finding a perfect foundation match. That's why his Match Me Perfect Sample Kit is so clutch: It comes with 12 shades of the brand's foundation to get your swatch on.
AJ Crimson Match Me Perfect Sample Kit, $35, available at AJ Crimson.
Photo: Via @ajcrimson.
Sacha Cosmetics
Followers: 55.3k
My little sister is notorious for her mile-long Christmas lists. But last year, she only had one — ok, ok, ALMOST one — item on her list: Sacha Buttercup Setting Powder. Long before Laura Mercier offered a deeper option, bloggers and vloggers reached for the brown-girl friendly powder perfect for setting, baking, and getting rid of shine.
Sacha Cosmetics Buttercup Powder, $20, available at Sacha Cosmetics.
Photo: Via @sachacosmetics.
Coloured Raine
Followers: 596k
If Rihanna cosigns your movement, you're pretty much set for life. The singer looked red-hot (sorry) in Coloured Raine's Cherry Blossom liquid matte for her opening performance at the 2016 VMAs. Other fans of the cruelty-free brand include Chanel Iman, Monica, and Gabrielle Union.
Coloured Raine Matte Lip Paint in Cherry Blossom, $17, available at Coloured Raine.
Photo: Via @Colouredraine.
Koyvoca Cosmetics
Followers: 5.4k
Ohhh, that glow. Koyvoca, founded by Courtney Coates, is known for its expansive line of highlighters made with brown skin in mind. There are seven glorious shades, from the Champagne shade named $1,000,000 Babe to the bronzy Royal.
Koyvoca Cosmetics The Hilife Highlighter, $12, available at Koyvoca.
Photo: Via @koyvocacosmetics.
Liquid Courage Cosmetics
Followers: 14.6k
Roshell Rinkins put a lot of thought into naming her brand. "I worked for Procter & Gamble for eight years, and I remember reading a study that showed when most women [are wearing] lipstick, they feel more courageous, bold, and fearless," she told Mayvenn. "The name Liquid Courage was the immediate thing that stuck in my mind…We all need encouragement, and Liquid Courage is a lifestyle brand for women who are wives, mothers, business owners, community builders, and kicking butt in their industry. I really wanted my brand to represent that."
Feeling daring? Fruit Punch, a vibrant bright pink, packs a huge… well, you know.
Liquid Courage Cosmetics Matte Lipstick in Fruit Punch, $17.99, available at
Photo: Via @liquidcourage_cosmetics.
Click HERE to read more from Refinery29.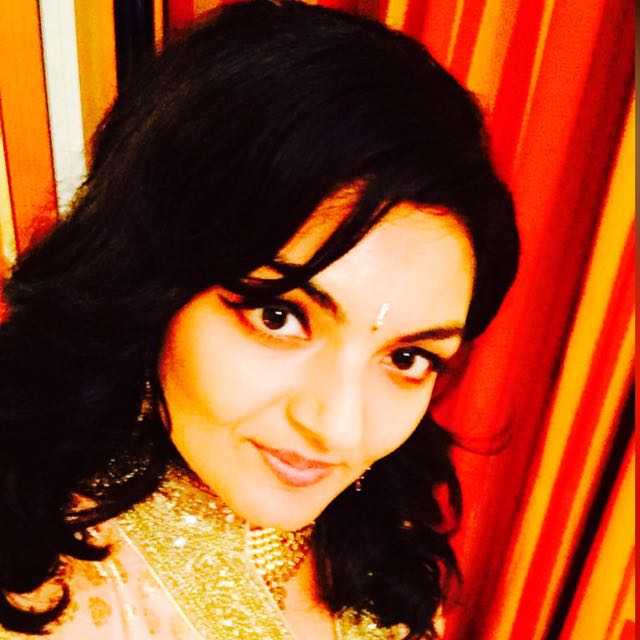 Vote for Shikha Dhingra For Mrs South Asia Canada 2017 by liking her Facebook page.


Loading ...