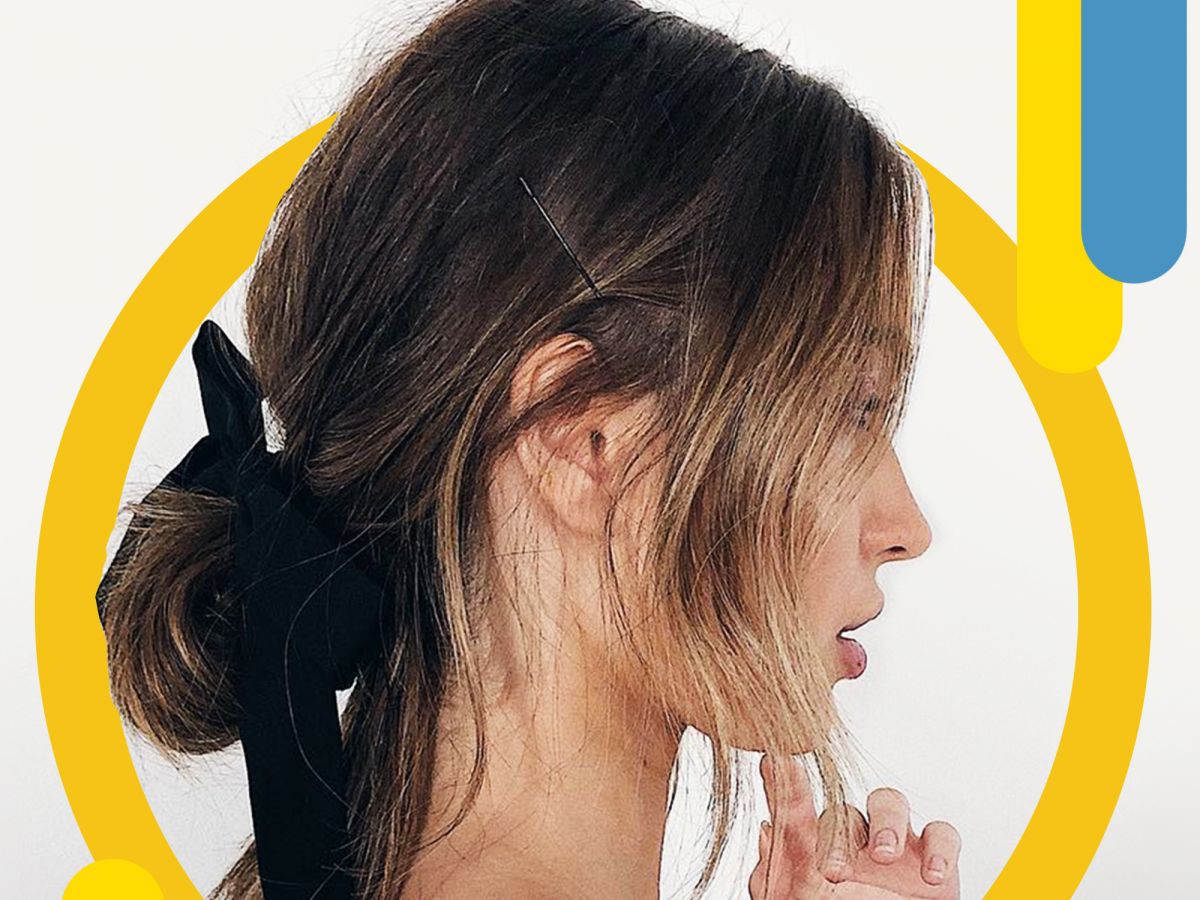 We're suffering from decision fatigue. Each day starts with the pressure of choosing an outfit (slacks or LBD). Then, we have to make tough choices like what to drink (tea vs. coffee). And don't even get us started on work-related decisions (so much email…). So when it comes to hair, we're all about taking the easy way out, which means a ponytail or an easy air-dried style.
As you can imagine, that can get real boring, real quick. So, we've browsed YouTube tutorials, Pinterest inspo boards, and our Instagram save s for hair ideas that won't take up too much mental energy. We've been archiving these selfie-worthy styles for the last month, collecting a variety of looks that fit with different lengths and textures. Make some space on your phone's camera roll, because you'll need to save these photos for later.
Ahead, check out 30 hair looks to try in November.
Give your bob a unique touch by cutting the shape into angles. As for the curls, stylist Mona Baltazar defined the strands with a diffuser and multiple products including mousse, a volumizer, and light hairspray for hold.
@themonacut
Why go for one topknot, when you could go for three and get a mohawk look?
@josephmaine
Experiment with your fall protective style by going for stitch feed-in braids, which have parts along the scalp for an added graphic element.
@r29unbothered
Hairstylist Jen Atkin said it best, "X marks the spot." These pearl pins are a part of Atkin's hair jewelry collection with
Chloe + Isabel
. This particular design is perfect for a Thursday Thanksgiving dinner.
@jenatkinhair
First, Lena Waithe showed us how to rock a razor-short buzz cut, and now she's proving that the grow-out phase doesn't have to be dreadful with some color and the right barber.
@lenawaithe
Got a happy hour coming up and want to dedicate a little extra time to your hair? Create an eye-catching style like this one that brings together bobby pins and ribbons.
@kathleen_hair
Be a risk-taker this November without risking the damage of bleach. This dark purple shade won't require hours lightening your hair.
@annaabananax3
If you're not feeling so daring, just give your blonde an autumn feel with an orange toner, like done here on Kat McNamara.
@mattshair
If you'd rather stay away from dyeing your hair altogether, invest in a good wig like this one from Youth Beauty Hair and color it yourself.
@glowprincesss
The possibilities are endless when it comes to protective styles, it's all about getting creative, practicing, and most importantly, taking care of your your hair.
@kreyolessence
Drop your hair ties, and accent your ponytail with a pretty French twist that works with any hair length.
@viola_pyak
Big hair, don't care. The angular shape of this Afro is a unique way to do a bob with natural hair.
@venitaaspen
Snatch a page from the notebook of your favorite celebs — like Ariana Grande and Vanessa Hudgens — and add some length to your ponytail with extra-long extensions.
@chadwoodhair
And it doesn't matter the texture, as proven here with this pony created by Vernon François.
@vernonfrancois
The childhood days of wearing sparkly ribbons and plastic barrettes is long gone, but that doesn't mean hair accessories are off limits.
@kristin_ess
Can't choose just one look? Give your Afro some flair by mixing in different styles, like this look that features a Bantu knot and cornrows.
@vernonfrancois
Just because Halloween is over, doesn't mean you can't go retro. Create a '50s-inspired pompadour hairstyle at the top of your head and give the rest of your hair gorgeous waves like seen here on Zoey Deutch.
@bridgetbragerhair
When she won the Artist of the Year award at the British Academy Britannia Awards, Emilia Clarke showed us why she deserves an award for her pixie haircut.
@emilia_clarke
We're not only adding merlot to our grocery lists this fall, but also to our list of color ideas to take to the salon. Red wine hair is trending, and it's perfect for the season.
@beautylaunchpad
Forget slicking back your baby hairs or cutting bangs, let the strands fall to frame your face with your sleek bun.
@gregoryrussellhair
Play with your cornrows by experimenting with sizes and patterns. Haven't mastered braiding yet? We can help.
@mini_marley
Give your bob an edge that's worth a thousand selfies with baby bangs that sit above your brows.
@allieoverholthair
…Or if bangs aren't your thing. No worries, just go for an even shorter bob that's just as selfie-worthy.
@erickinvisible
It's easy to run out of creative juice when it comes to your hair, but with adornments, you can easily get back to feeling like the Picasso of hairstyles.
@chamarmoore
Want to take your pixie cut to a whole new level? Get an undercut on just one side of your head. It'll make things extra interesting when you hit those different angles while posing for photos.
@pixiepalooza
Since it seems like the '90s are never going out of style, why not channel one of our favorite movie characters? Matilda, of course.
@owengould
Get fiery this fall with a hair color that instantly reminds you of the season's red leaves.
@_jiezheng
Who says you could only add color to your hair with a dye job or wig? Reach for a long colored string and add onto your style for that standout touch.
@justjiha
Bring your side bangs front and center with this J.Lo-approved look.
@chrisappleton1
Hats are the perfect accessory for the fall season. It's an easy way to upgrade a bad hair day, and it also gives you an extra layer of warmth. Double win.
@modestmandi
Click HERE to read more from Refinery29


Loading ...