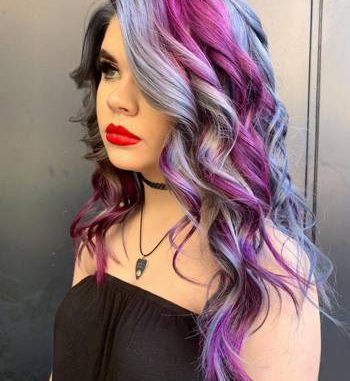 Purple hair is quickly becoming the trendiest look for hair color. And why not? With so many pretty shades of purple to choose from you can't go wrong!
If you aren't sure what shade of purple hair will work best for you, have no fear! We are here to help! We will give you some tips on how to choose the right shades of purple hair. As well, we have some pictures of some of the prettiest looks for purple hair color!
Tips for Purple Hair
If your complexion has warm undertones such as olive or yellow, you should stick with warm shades such as magenta or lilac. For those with cool, or pinkish, undertones; cooler shades such as deep violet and pastel lavender will best suit your complexion. If you are blessed with neutral undertones, you can pretty much go with any shade of purple hair.
Purple hair tends to fade quickly so you might have to schedule frequent trips to the hair salon. Or make time to touch up your hair should you choose to do it yourself. However, once you see how gorgeous it is, it will be well worth the effort involved.
If your hair is naturally dark, you should bleach your hair before coloring it. It is advised to wait at least 24 hours between bleaching your hair and dyeing it. Also, keep in mind, that excessive bleaching will damage your hair. You should only bleach your hair once every six months to a year. If you wish to change your color, you should strip your hair between bleaching so as not to cause extra damage.
To maintain your gorgeous purple hair, you should avoid over-washing your hair. Shampoo your hair once or twice a week at most. Use color-safe dry shampoo between washings and never use products that contain sulfates as they will strip your hair color. Avoid heat and direct sunlight to help preserve your purple hair color and keep it hydrated. Use leave in conditioner to keep your hair healthy.
Are you ready to trade in your everyday look for a glamorous blend of purple hues? Get ready to embrace your inner fairy princess or punk rock goddess with these awesome ideas for purple hair!
10 Inspiring Looks for Purple Hair
Check out these absolutely stunning looks for purple hair and get ready to embrace a fun and flirty new look!
This purple and pink balayage blend is enticing with its blend of bright and pale pink and purple hues. The contrast between the metallic fuschia pink and the pale pastel pink and lavender hues is ideal if you are looking for texture and depth. Go heavy on and then blend in soft shades of smokey pink and lilac. Curl your hair in long loose spirals for added dimension and a sexy mermaid vibe.
Metallic Hair With Purple Locks
This next look exudes multi tonal waves of deep purple and soft pink hues. Mix in a blend of velvety violet, grape ham and blush pink for a burst of stunning. Add in some soft lavender and cotton candy pink hues to balance it out. Soft beach waves will only accentuate the captivating blend of color.
Ribbons Of Velvet, Jam, Blush

Why settle for just purple when you can have it all? Taste the rainbow with this gorgeous blend of bright purple and pastel shades. Mix in canary yellow, lime green, baby blue, hot pink hues for a rainbow effect that will make you feel like you stepped out of a fairy tale.
Rainbow Hair Feathers

We can't get enough of this next look, Undercuts with hair tattoos are all the rage with those who want an edgy look and this pink and purple undercut is no exception. Ask for a pink hued undercut with wavy lines under your long wavy tresses. Dye your roots a dark purple and then mix in magenta and lavender highlights, Style your hair in a low ponytail with a wavy twist to show off your awesome undercut hair design.
Purple Roots With Lavender

If you are looking for a purple ombre fade, this sunset melt is positively breathtaking. Start off with amethyst and fade to a pale rose pink to a bright coral and finally end with a soft peach. This looks dazzling on long wavy locks as the color cascades into brilliant waves as it melts into a gorgeous sunset over the horizon.
Sunset Melts

We can't get enough of pretty balayage pink and purple hair! This next look is an enchanting blend of violet, ashy pink, lilac and hot pink tones. The multidimensional blend of colors looks extra stunning on romantic beachy waves.
Purple With Violet Streaks

How about a bright purple that will make you stand out? This plum purple is delightful! Blended with charcoal gray and magenta highlights, it will turn heads wherever you go! Style it in silky loose waves to add depth and texture.
Plum Purple

If you want a look that's bold and bright, this blend of brilliant purples and pinks is out of this world! Ask for bright rose, soft pink, dark grape and soft pink highlights. Style your hair in big loose waves to show off the depth and movement of this mesmerizing blend of colors.
Purple With Rose
This ombre balayage pink, peach and purple hair is amazing! Start off with a eggplant as the base color and the blend in smoky pink highlights. Then add a dusty peach for the finishing touch. This look is very feminine and chic and looks especially pretty when styled in an updo like the half-updo ponytail twist shown below.
Peach Ends Purple

If you love precious gems, you will flip for this final look. A gorgeous blend of amethyst, turquoise, opal, pearl and rose quartz, this balayage blend will make you feel like royalty! Show off your million dollar hair with soft romantic ringlets and you will truly feel like a mermaid princess!
Moonlight Jewels

Are you ready to rock one of these fabulous looks for gorgeous purple hair? Get ready to be the envy of your friends with one of these glamorous blends of brilliant purple hues!